Budget Galapagos land tour for 5 days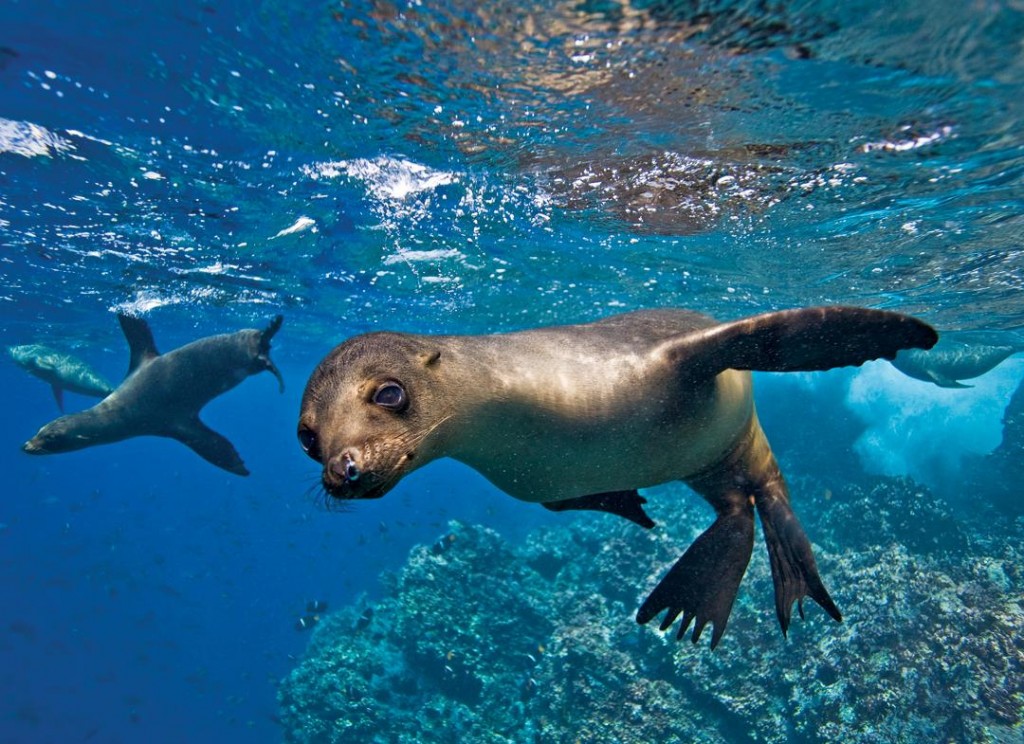 Now also posible to visit Galapagos on a budget.
You dont stay in expensive cruize boats, but stay in hotels / hostals from where you visit the islands and anymals.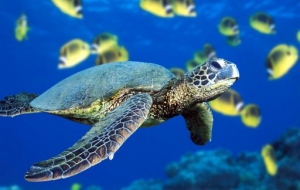 Day 1
Arrival at the island Baltra, where you will be met by your contactperson, who will accompany you to your hotel and explain the programme for the coming days. In the afternoon you have a three hour tour around Academy Bay that will offer the awesome opportunity to swim with sea lions and colorful fishes in front of Camaño islet, also known as Lobería (sea lion colony), you can have an encounter with blue footed boobies perched on the ledges of the cliffs. From the Canals white-tipped reef sharks can be seen, right across Franklin´s bay. You can climb to a viewpoint to observe the sharks from above and walk to the playa de los perros where dozens of marine iguanas bask in the sun over the rocks. Prickly pear cactus and other arid zone plants over the reddish environment and the turquoise ocean will form the perfect scenery for incredible photographs.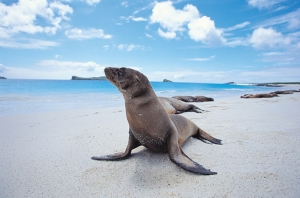 Day 2
Today is an early rise for a day tour to one of the following islands: Bartolomé, Plazas or North-Seymour, depending on availability. Your day tour includes snorkeling gear and a lunch on-board.
Bartolomé
Bartolomé has a surface area of only 1,2 square kilometres and the highest point of the island is at 114 meters. You can reach this point by taking a path through an almost surrealistic landscape and past recent signs of volcano eruptions. After a walk which is definitely worth it, you will reach the highest point of the island with a spectacular view over the lava in different colours, the many volcanoes and the deep blue see as well as the famous "Pinnacle Rock". In 1993 they constructed stairs on this path because it began to erode due to so many visitors. The beach at "Pinnacle Rock" is also worth a visit. Here you can find, from December till April, green sea turtles who come ashore to lie in the sun. This is special because in other places the turtles only come ashore at night to lay eggs. During the day they are staying in the safe water. Snorkelling is almost a must here. With a little luck you will see the "Moorish Idol", this is the most beautiful fish from the Galapagos.
Plazas
There are actually two islands, Plaza Norte and Plaza Sur. Only Plaza Sur, the southern bigger island is visited by tourists. This island has a lot to offer. The flora and fauna will astonish you. This island is mostly known for the many land iguanas that live on it. When you are a little further from the coast, it looks like you've walked into the movie "Jurassic Park", because you will be eye to eye with beautiful green, yellow and orange land iguanas. This is all surrounded by beaches, beautiful cactus and in the background the blue sea. At the coast the male sea lions live in peace. The militant lifestyle is only maintainable for males who are in their prime. The elder spend their last days in colonies, of which one can be found at Plaza Sur. It is sensational to see how the sea lions and iguanas mix. They play together as real pals. This island also offers a lot to bird lovers and a so called "birdwatchers paradise" can be found, a steep cliff with swallow tailed gulls, masked boobies, blue-footed boobies, tropical red bill birds, fregats, pelicans and Audubon's. The gulls, partners for ever, are always here cuddling or nesting.
North Seymour
North Seymour is located north of the island Baltra. The island has a surface area of only 1,9 square kilometres and is almost totally flat. At this island there are the breeding colonies of the fregats, the blue-footed boobies and the swallow tailed gull. To impress the female fregats, the male blows up his red throat bag. To attract more attention they fly around in the surroundings of the female. You can imagine that this is not too easy with a blown-up throat bag, because they lose their balance quicker. It is a fun to see.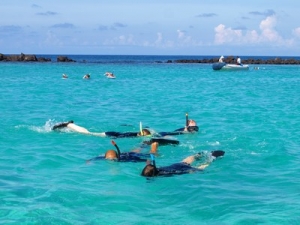 Day 3
Departure at 9AM by vehicle to the High part of Santa Cruz. Our first discovery will be the encounter with the giant tortoises in a local farm. They're actually in the wild, they just pass by the finca to eat and go down some months to reproduce, but the oldest ones always stay around, so you may see really big tortoises! Afterwards we'll go to a lava tunnel. This is a great and funny way to know more about the geological part of the island and their lava formation. And then we'll end with the visit of the Twin craters, which are actually more sinkholes than twin crater and where we can see the Escalesia trees and Darwin finches. The guide will leave you back to your hotel at the end of the tour. At 13h30 you will be picked up by our contact person who will take you to the ferry to San Cristobal Island, where you will arrive around 16h00 – 16h30. At San Cristobal you will be met by your contact person there at the harbor and will be taken to your hotel. The rest of the afternoon you have the time to stroll the boulevard and watch the many sealions that sleep there or go to one of the nearby beaches.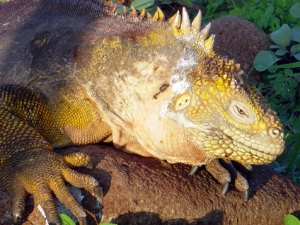 Day 4
This morning you have to be at the office at 08h30 to start your daytour to Isla Lobos and Kicker Rock. The boat ride to Isla lobos takes about 30 minutes. From the boat you can observe frigate birds, blue footed boobies and sea lions that inhabit the island. You will have about an hour to snorkel in the small canal between the two islands and will be able to swim with playful sealions and observe rays and turtles.   After this visit the tour will continue to Kicker Rock. This rock formation in the middle of the ocean is the home to many bird species. After a tour around Kicker Rock there is the opportunity to swim the canal through Kicker Rock. These are deep ocean waters where the Galapagos Shark, Hammerheads, White tipped reef sharks and sea turtles can be observed. The lunch will be had at Manglecito Beach. This white coral beach offers the opportunity to walk around and relax and swim in shallow waters before returning to Puerto Baquerizo Moreno at 16h00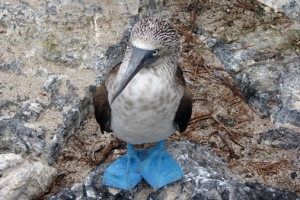 DDay 5
This morning you have the time to go to one of beaches around Puerto Baquerizo Moreno. Depending on your flight, you will be picked up at your hotel 1.5 hours before departure.
Please note that this tour can start any date, with a minimum of 2 people
Opcional Tours San Cristobal
Half day surfing at Carola
Our surf instructor will take you to Carola learn a bit about surfing ! You'll have first an explaination and then we'll practice a bit. Carola is the perfect place, the bay offers small waves that allow us to practice without any danger. Surfing with turtles and sea lions is great! NOTE: if no waves  (it happens!)  we´ll change the activity to snorkeling!
Half day kayaking in the bay
A nice activity to practice here is kayaking! We'll depart from the fisherman pier and pass by Playa Man and on to Tijeretas looking for blue footed boobies, sea lions, turtles! A Naturalist guide from the National Park will go with you and give you a chat about kayaking for the ones that have not practiced sea kayaking yet!
Half day biking to Loberia
We'll go with a naturalist guide of the National Park from the port to Loberia. The ride is easy and once we'll get there, we'll leave the bike behind and walk along the beach looking for marine iguanas and sea lions. We'll snorkel in the bay and then bike back to port.
Half day tour to La Galapaguera & Puerto Chino
La Galapaguera is a tortoise breeding center where you will find many examples of the San the Galapagos tortoise, a unique species not found anywhere else in the world. Once the tortoises are old enough, they are being transported to their natural environment, far from people. La Gualapaguera has maintained a very natural environment where the only cages are there to protect the very young and small tortoises (weeks till 3-4 years old when they still fit in the palm of your hand) from rats and other invasive species like cats and dogs. Walking through La Galapaguera you will come across giant tortoises sitting on the path or taking a bath in one of the pools. All the plants and trees you´ll see in La Galapguera are endemic of which especially the Manzanillo is very important, a plant poisonous for human but food for the San Cristóbal tortoise. Puerto Chino is a true tropical paradise. A soft, white sand beach surrounded by cliffs and with a nice swell coming in. This beach has beautiful scenery, great lookout points and is the perfect place to relax before flying back home. Puerto Chino is a beach you´ll never forget!   Afterwards you will be brought to the airport of San Cristobal for your flight back to the mainland.
Included:
*Transfer in from Baltra Airport – Puerto Ayora
*English speaking contact person in Puerto Ayora and Puerto Baquerizo Moreno
*Accommodation including breakfast
*Lunches during daytours (day 2 and day 4)
*Tours as mentioned in description, including English speaking guide and snorkeling gear
*Ferry from Santa Cruz to San Cristobal
*Transfer out to San Cristobal airport
Excluded:
* Meals not mentioned in description
*Personal expenses
*Ingala migration card ($10.00)
*Galapagos National Park entrance fee ($100.00 foreigners)
*Air ticket from mainland to Galapagos and back
Prices 
Ask for our Prices
You be amazed !
Budget hotels (Peregrina in Santa Cruz and Casa Jeimy in San Cristóbal)
Standard hotels (Casa Judy in Santa Cruz and Pimampiro in San Cristóbal)
Comfort hotels (Angermeyer Waterfront in Santa Cruz and Casa Opuntia in San Cristóbal)