Corto Maltes jungle lodge 3 or 4 days, Parrot Collpa, Sandoval Lake, tambopata, puerto maldonado, south peru jungle
This  favourite lodge you can do in 3 – 4 or 5 days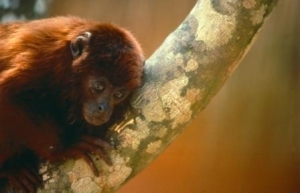 Jungle lodge with swimming pool
All in 1 lodge, corto maltes
* Parrot clay lick
* Sandoval lake
From the tranquility of our tropical garden and swimming pool until dawn in the magical collpa, the mystery of walking under the roof of trees; sighting of birds, insects and other animals; known medicinal plants used by the ancient newly discovered science, environment and enjoy the majestic paradise of Lake Sandoval, within the Tambopata National Reserve Candamo.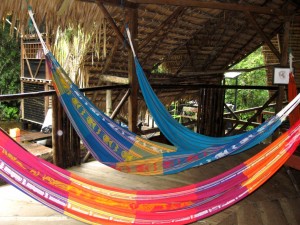 Day 1 arrive + cocktail + jungle walk
You will start at Padre Aldamiz International airport. Here your professional guide will await you. He will accompany you throughout your stay. From here we will go to our office to obtain the official waterway permits (you can also leave any luggage you won't need during your stay).  Meanwhile you can visit the town's main square and also take some photos of the beautiful scenery overlooking the confluence of the rivers Madre de Dios and Tambopata.
We will take boats from Capitania port, the destination being our lodge. We will navigate approximately 40 minutes down the Madre de Dios River in a typical Amazonian boat. We will then arrive at the Corto Maltes Amazonia Lodge. Here we will have a welcome cocktail. Afterwards you will be handed over the keys to your bungalow and we will have lunch. The kitchen of our Lodge stands out for the beautiful presentation and the exquisite tastes of the dishes prepared by our French chef. After that you will have some free time to get comfortable in your bungalow, or take a refreshing dip in our pool.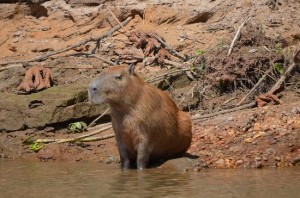 3:30pm: is the time to have our first contact with the jungle.  On this trek you will see a large variety of tropical trees, medicinal plants, insects, butterflies and other animals. We will make a small stop at a lookout. Here you can observe toucans, macaws and other species of birds upon your return for sunset. (Duration: between 2,5 and 3 hours) Returning to the lodge you can take a refreshing dip in the pool or have an exotic cocktail in our terrace bar. You could also watch the sunset in the relaxing, tranquility of palm and mango trees at our port.
7pm: Before dinner we will go on a night boat trip, a little safari trying to spot the white caiman (caiman crocodiles) that lives in the river banks.
8pm: After the delicious dinner, those who wish can have some small talk in our reclining seats or have some fun and make friends with other travelers in the bar. Another option is to take a bath in the pool (with bar) under the shining Amazon sky and marvel at the southern cross.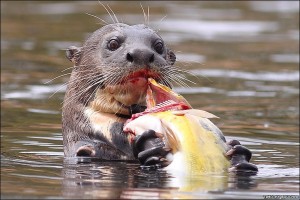 Day 2 Parrot clay lik + Sandoval lake
At 5:30am we will go on a trek of about 20 minutes until we arrive at the parrot clay- lick. Here a minimum of five different species feeds on special clay, vital to their metabolism. It's a truly marvelous, multicolored spectacle.
8am: Breakfast and free time to explore the splendid gardens of Corto Maltes Amazonia. We have dozens of varieties of exotic plants and flowering trees.
10:30am: Again we will navigate down the Madre de Dios River. This time on an expedition destined to "Monkey Island" where some species of these interesting and entertaining animals live in freedom. Following another boat ride of 30 minutes we will enter the territory of the Tambopata- Candamo National Reserve. We will trek for 5km through the dense vegetation of the tropical rainforest. Giant trees, snakes, monkeys, birds and sometimes even the illusive jaguar can be observed here
Our destination is heavenly Sandoval Lake. Its privileged settings are shared by numerous species of animals: Birds (in particular Hoatzins, Kingfisher, and Cormorants),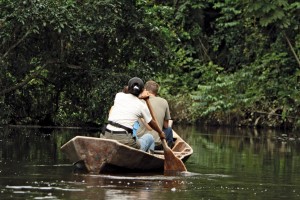 we will also see different species of monkeys (Squirrel monkeys, Howler monkeys, Capuchin monkeys). At the lake itself we can enjoy the spectacle of Giant River Otters. Black Caimans and Piranhas (sometimes we can even observe anacondas in the areas covered by reed). This is also the habitat of the giant Arapaima, a fish of more than 2,5m, weighing in at +200kg. Traveling by canoe, the sunset in the lake is a spectacular unforgettable sight. On our return to the river we might be able to spot some nocturnal animals.
8pm: The body demands rest and food after an active day in the jungle. You will enjoy the exotic tastes of our meals, especially our desserts. If you still have energy left you can share moments of music and conversation in the bar whilst having a cocktail or enjoy the sounds of the rainforest surrounding you from your hammock. After a long day full of activity you will enjoy the comfort of your bungalows and hammocks. You can also recover with a massage by the lodges' qualified masseurs.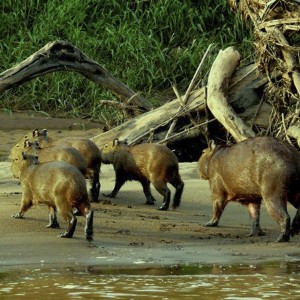 Day 3 
8am: Breakfast and free time to have a bath in the pool or maybe buy some exclusive Amazon handicrafts and jewelry in our shop.
9:00 am: After a 20 minutes boat trip down the river, we arrive at the chacra, that is a local farm owned by a typical family of the agricultural region, where domestic plants are carefully cultivated, without the use of chemicals, and which are later offered at the main market in Puerto Maldonado.
We will distinguish and even taste different tropical fruits of the season and other domestic products (cacao, banana, cocona, breadfruit, noni, manioc, lime,…).
Its project, located at Gamitada island works together with two families that will introduce us to the cultural values of their ancestors, their language, their customs, their garments and their dances. In an era where globalization rapidly changes traditional societies this is a great opportunity to have direct contact with this tribe of ancient warriors and hunters. As well as a chance to support them economically with the purchase of some of their handmade products.
Next we are received by a native family, who will show us some of their customs and demonstrate their main activities, that is fishing, hunting and handicraft, passed on by their ancestors from various indigenous tribes of the Rainforest. You will  learn about some natural products and how they are used to manufacture tools, dwellings, clothing and ornaments, playing an important role in the family's everyday life.
They will also reveal some secrets of their medicinal plants, notably the Ayahuasca.
The visit ends with an outdoor lunch, being an unique experience, both for the family  and their guests. Return to the lodge and relax on the swimming pool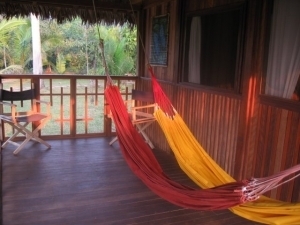 Day 4 departure
After breakfast it's time to say goodbye to the setting and staff of Corto Maltes Amazonia. Your guide will accompany you on your way back to the city. We will pass by our office again to collect your baggage. Following that we will visit the local market to show you agricultural products of the region; especially fruits of the Amazon. Afterwards our personnel will accompany you to the airport wishing that your stay was as pleasant for you as it was for us to show you this beautiful corner of Peru.
This lodge you can do in 3 – 4 or 5 days program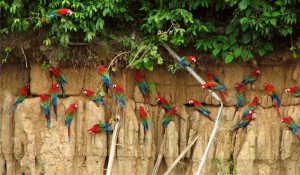 Included
*Transfer from/to the airport.
*Accommodation in bungalows.
*All meals
*Bilingual guided excursions.
Not Included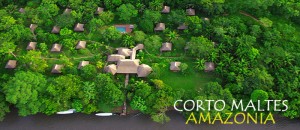 * Drinks in bottles.
* Airfare.
It is also possible to do an Ayahuasca ceremony.
What is Ayahuasca ?
Ayahuasca is a sacred medicine of the Amazon that has been used for a very long time by more than 70 ethnic groups that inhabit the Amazon basin and constitutes the core of their traditional medicine. In Quechua, Ayahuasca means "Spirit vine".
It is prepared by mixing and cooking two plants: a vine, Ayahuasca (Banisteriopsis caapi) and the leaves of a bush, chacruna (Psychotria viridis). The result is a thick and bitter, earth-colored beverage, with endogenous and emetic effects. Each ethnic group, including each individual may add ingredients (or substitutes) to increase the potency of the beverage and its medicinal effects. The beverage is given different names according to its geographical location: for the Shuar in Ecuador it is known as "natema"; in Brasil as "jurema" or "daime"; and for the Cashinahua, "nixi pae". In the Peruvian jungle, it is better known as "Ayahuasca" and is commonly called purga due to its cleansing effects.