Individual North Peru, only the highlights of North Peru in 16 days
Tour  16 days north Peru
hotels/transport and excursions included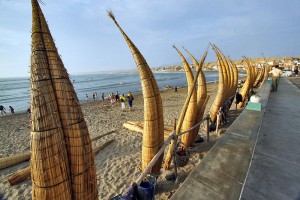 From Lima  to —Lima
Also possible to start in Huaraz and finish In Tarapoto/ to fly Back to Lima
You can choose this tour in 3 opcions 
1 Budget tour : in hostals/ local transport / excursions in international group
2 classic tour: in 3* hotels/ mix local transport – private / mix private excursions – internat group
3 Luxe tour: all 4 * hotels /( where possible) private transport / private excursions/ included entree fees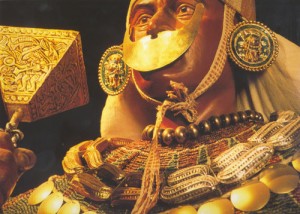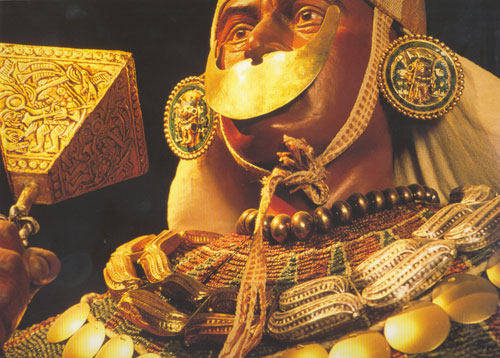 How do we work
In our packet, you travel all by yourself, Southamerica planet take care for you, we reserve all your hotels and transport. When you arrive in Peru you find in your first hotel an envelop with all the vouchers for hotels /buses and excursions. The excursions you do in International groups with English speaking guides.
Our local agent arrange also your transfers and give you the bus tickets to go from  A to  B, like this, you travel around by yourself but without worry's, all arranged thru  southamerica planet. If there are any problems, you always find support by contacting our office in Cusco or Lima!
What is included?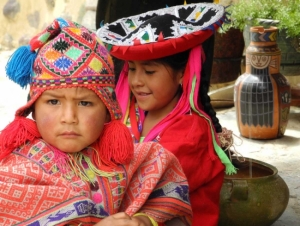 *All bus/ all hotels/hostals and all the tours as indicated in the program.
*All your vouchers, information packet, like general info over all the places you visit.
*All hotels are based on double room with private bathroom, single rooms on request for an extra price, all buses are based on good buses
*Transfers
Not included
*Your food, in the hotels is breakfast included.
*The entry fees and taxes
* national flights ( we can arrange)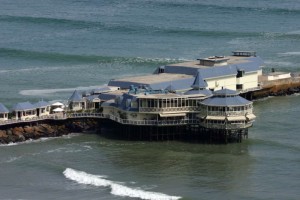 Day 1: Lima
Arrive at Lima airport, someone from Southamerica planet pick you up from the airport and bring you to your first hotel in Lima or Miraflores.
First day  in Lima. Today you have a half day city tour in Lima. The tour begins with a visit to historic downtown Lima, also known as "the City of the Kings". Stops include the Main Square of Lima, upon which sits the Government Palace, the Cathedral, the Archbishop's Palace, and the City Hall, next on the itinerary is a visit to the Santo Domingo Convent. You also drive thru Miraflores and san isidro. In the afternoon you can visit by yourself Colonial Barranco,  museo national de Arqueologia, in pueblo libre or larco museo" the best museum in Peru". Or walk at the seafront in Miraflores. The city tour is with an english speaking guide, it takes 3 h. The tour start and finish in your hotel.
included
city tour in lima
Transfer
hotel/hostal in lima
not included
entree fee
meals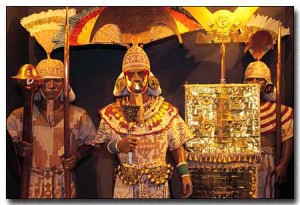 Day 2: Chiclao 
Transfer to the airport, flight to Chiclao, transfer to your hotel in Chiclao. In the afternoon you can visit Chiclao and the busy market , there's also the witches market, hotel in Chiclao
included
Transfer in lima
Transfer in Chiclao
hotel/hostal in Chiclao
not included
Airporttax
meals
Flight to Chiclao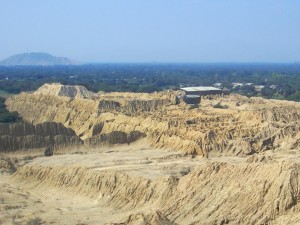 Day 3: Chiclao
Tour Sipan (full day)
After breakfast, drive 40 minutes North from Chiclayo to visit the Archaeological Complex of Tucume or Valley of the Pyramids, an important Archaeological Complex of the Lambayeque Culture (BC 1,000 / 1,350 AD), consisting of Pyramids from which the extensive pre-Columbian urban site can be surveyed. After lunch we visit to the Royal Tombs of Sipan Museum, where we can appreciate a Lord of Sipan Tomb replica, additionally we will be able to see several ceramic pieces. Nowadays, this museum is one of the best and modern in South America.
included
Excursion in Chiclao
Hotel – Hostal in Chiclao
not included
entree fee
meals
Day 4:Chiclao 
Today you can visit beautiful Sican Museum in Ferrenafe. These tours are optional!  In the afternoon you will take the night bus to Chachapoyas, it takes about 11 h .
included
Transfer to the busterminal
Nightbus to Chachapoyas
not included
Excursions
Meals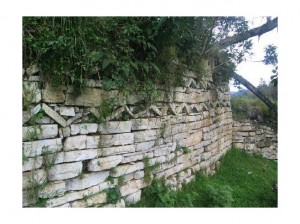 Day 5 :Chachapoyas
You arrive early in Chachapoyas and go to your nice hotel , today you can relax in this border jungle town and walk around to surrounded viewpoints, hotel Chachapoyas.
included
hotel/hostal in chachapoyas
Transfer inn
not included
Transfer
meals
excursion
Excursion to Karajia and Quiocta Cave
Your first stop is the town of Cruzpata, wher we start for the hike to the Karajia sarcophagi, 1000 year old tombs placed at the top of a cliff. Each sarcophagus stands almost 2 meters tall, are made of mud. After lunch we can visit  Quiocta Cave, a major natural attraction in the town of Lamud. There are cave paintings, usually shapeless, as well as animal and human bones at the cave entrance. The Chachapoyas used caves for burial sites. The first cave formations are seen nearly 300 meters from the mouth of the cave, including stalagmites, stalactites, flowstone, columns.
You will spend the night  in Chachapoyas.
included
hotel/hostal in chachapoyas
Excursion in internat group
not included 
Meals
This morning we start our next adventure. We drive thru villages and climb up to the amazing pré – Inca  Ruins of  "KUELAP",  situated at  3000m and discoverd in 1843. A major archeological site built by the Chachapoyas. It is a massive stone structure located at the top of a 3000 meter tall mountain. It is located on the left bank of the Uctubamba River in the Province of Luya. t covers 450 hectares and consists of more than 500 circular houses and other buildings surrounded by finely-worked stone walls, some of which rise to 30 meters high. Seen from above, the city has the shape of a bird's wing. Experts place its construction with the golden age of the Chachapoyas culture. In their native language, Kuelap means "cold place", and while this site is in the rainforest, it enjoys a temperate climate, dry during the day with extreme drops in temperature at night. Comparing Kuelap with Peru's most famous destination, Machu Picchu, and we can say that Kuelap was more impressive because of the lack of visitors.  You will spend the night at in  Chachapoyas. There is a cable car sinds 2017.
included
hotel/hostal in chachapoyas
Excursion in internat group
not included 
Meals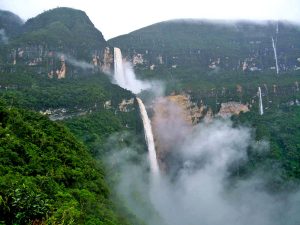 Day 8 :Chachapoyas
Today visit of  Gocta Falls
The day trip begins at the small town of Cocachimba, which is en route to Gocta Falls, the world's third largest after Angel Falls in Venezuela. You will have to walk 5 kilometers to reach the site of the waterfall on a trail that cuts through thick vegetation, but the effort is well worth it for you are rewarded with a wonder of nature set within a lovely locality.
The Gocta Falls have been known in the area for centuries but it was not until 2002 that a German engineer saw the size of the Gocta Falls and measured that they could easily fall into the top ten highest falls on earth. The falls are 771 meters high. The falls are divided in two sections with the tallest section measuring 540 meters. The falls are located in an area about 2800 meters above sea-level which is known for its virgin rainforest. The region is not widely travelled and one of the true unknown gems Peru has to offer to outdoor enthusiasts. Later this evening we take the night bus to Chiclao.
included
Transfer out
Nightbus to Chiclao
Excursion in internat group to gocta
not included 
Meals
Day 9 Trujillo
We arrive early in chiclao. There a private car waith for us to bring us in 3 h to Trujillo / huanchaco. Huanchaco where you can relax in a hotel close to the beach.
Hotel Huanchaco
included
Private Carr to Huanchaco
Hotel- Hostal Huanchaco or Trujillo
not included 
Meals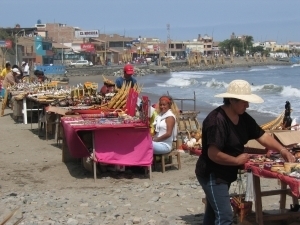 Day 10 Trujillo

We visit today or  yesterday Chan Chan, the capital of the Chimú Empire, It extended over more than 18 km2.The Tschudi Palace, placed in the southwest of Chan Chan, is one of the most well-preserved and well-decorated palaces. It is decorated with geometric shapes and low-relieves animal draws. You'll also visit the ceremonial places, the grain stores and the cemetery. It's a huge urban complex made of a kind of mud called adobe. The greatness and perfection of this city is expressed in its high decorated walls, long passages, ceremonial squares, palaces, workshops and warehouses. There was room for 100,000 people, virtually a city-state.After this we drive to the pyramids of "Arco iris" , also known as "Huaca El Dragon", built by the Chimu culture between the 11th and the 15th century and surrounded by a 6 meters high wall. and "Huaca de la luna and sol ", here the archaeologists still do every day new discoveries.
included
Excursion Trujillo in internat group
Hotel- Hostal Huanchaco or Trujillo
not included
Meals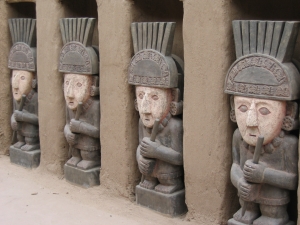 Day 11 Trujillo
Today you have free time or you can visit complejo brujo met senora de Cao. we take in the  late afternoon the nightbus for around 10 h to Huaraz, the cordillera blanca ! You climb up a winding road to 3090 mt altitude. This is a luxery bus
Luxe nightbus tu Huaraz
not included
meals
Excursions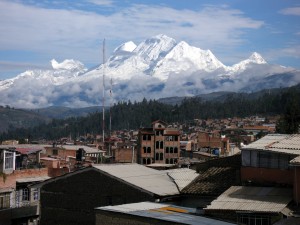 Day 12 Huaraz
Transfer to your hostal or hotel. Today you can discover this scenic city In the morning you can visit the busy market ,in the afternoon you take local transport, up to the ruins of willkawainfrom the Huari empire, from here we have a beautiful view over Huaraz ,than you can walk down, about 2 ½ h to Monterrey from where you take a local bus back to Huaraz.
included
hotel/hostal in Huaraz
Transfer in
not included
Excursion
meals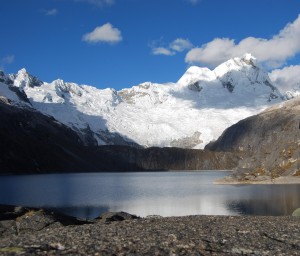 Day 13:  Huaraz
Today you go to Laguna de llanganuco, you drive thru the beautiful valley and pass by Yungay, the village who was completed destroyed by a massive earthquake and mudslide in 1970, 20.000 people lost their lives. Or you can go to the glacier of Pastoruri. Hotel in Huaraz .
included
hotel/hostal in Huaraz
Excursion in Spanish
not included
Entree fees + English speaging guide ( optional )
Day 14 : Huaraz 
This day you can go to the Fortress temple of Chavin de Huantar,this is the oldest and one of the most import cultures of Peru from 800 BC , the tour takes a whole day.
People who do the Chavin de Huantar trekking finish after 3 days trekking in Chavin. Arrive in the afternoon in the hotel in Huaraz.
Persons who like to have some activity, can do the excursion 3 days 2 nights  trekking from olleros to Chavin de huantar, this is a beautiful trek, amazing snow caped mountains, not many tourist, you real feel the pure nature. But this is a hardtrek !! The first day you sleep in tents around 4000 Mt altitude and the second day you cross the pass of punta yanashallash, 4700 Mt ,the third day you go down to chavin. Here you visit the ruins. This trek you do with guide, cook, tents, and mules who carry al the gear.You just walk with your daypack. Look in trekkings on this website for more information .
There's also the Sunta cruz trek, 4 or 5 days
Included
hotel/hostal in Huaraz
Excursion in Spanish
not included
Entree fee and English speaking guide ( optional )
meals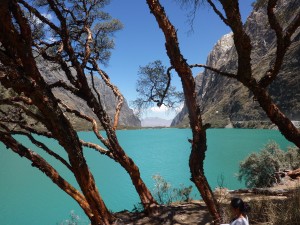 Day 15: Huaraz
Today you take the bus for 7 to 8 h to Lima , transfer to your hotel in Lima /Miraflores , enjoy and relax on the seafront of the shopping center of Largo Mar
included
hotel/hostal in Lima
Transfers
Day bus to Lima
not included
Meals
Day 16 Transfer
Transfer to the airport
included
At the hour of international flight transfer to airport or continue to the south part of peru
not included
airporttax
General informacion  Click below