Individual Cusco, Peru to Santiago Chile in 16 days
Tour for 16 days Cusco to Chile
Hotels/transport and excursions included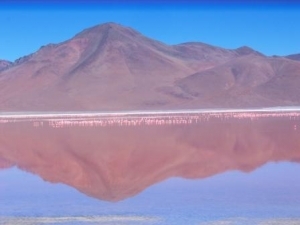 From Cusco to Sandiago de chile
With the amazing 3 day jeep tour over the salt lakes!
You can choose this tour in 3 opcions 
1 Budget tour : in hostals/ local transport / excursions in international group
2 classic tour: in 3* hotels/ mix local transport – private / mix private excursions – internat group
3 Luxe tour: all 4 * hotels / private transport / private excursions/ included entree fees
How do we work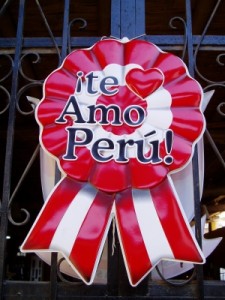 In our packet, you travel all by yourself, Southamerica planet take care for you, we reserve all your hotels and transport. When you arrive in Peru you find in your first hotel an envelop with all the vouchers for hotels /buses and excursions. The excursions you do in International groups with English speaking guides.
Our local agent arrange also your transfers and give you the bus tickets to go from  A to  B, like this, you travel around by yourself but without worry's, all arranged thru  southamerica planet. If there are any problems, you always find support by contacting our office in Cusco or Lima!
What is included?
*All bus/ all hotels/hostals and all the tours as indicated in the program.
*All your vouchers, information packet, like general info over all the places you visit.
*All hotels are based on double room with private bathroom, single rooms on request for an extra price, all buses are based on good buses
*Transfers
Not included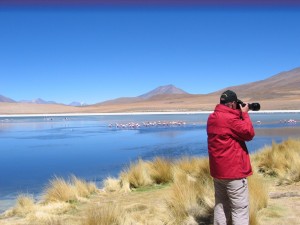 *Your food, in the hotels is breakfast included.
*The entry fees and taxes
* national flights ( we can arrange)

Day 1  Cusco -Puno 
Cusco bus to Puno, about 6 to 7 h day bus over beautiful scenic road /hotel in Puno
1 Opcional you can take the bus with stops at the La Raya Pass,  the Incan archeological site of Raqchi, renowned for its massive temple to the god Viracocha. Next on the itinerary is a stop at the village of Andahuaylillas, where you will see an actual architectural masterpiece: its main church, built in the 17th century, whose finely painted interior walls will astound you.
2 opcional its possible to take the amazing train ride" andean explorer" cuzco to Puno( only monday thursday and saturday)
Included
Direct good local bus
Transfer in Cusco and Puno
Hotel- hostal in Puno
Not included 
Meals
Excursions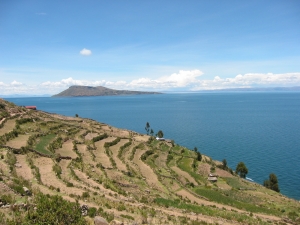 Day 2 :Puno
After breakfast, we leave our local family and go to Taquile Island. Another beautiful destination.  The island still bears vestiges of a pre-Incan past. The are Ayamara Indians. The intricate and brightly-colored textiles produced here reflect the inhabitants' Andean beliefs, myths, and ways of life. After a short but steep climb to the main village you'll enjoy lunch and spend the afternoon exploring the island and finding out about its people. The islanders are known for the beautiful textiles and garments that they produce, and interestingly the knitting of these garments is done exclusively by men.  Boat back to Puno /hotel Puno .
included
Taquile tour
hotel in puno
not included
lunch and diner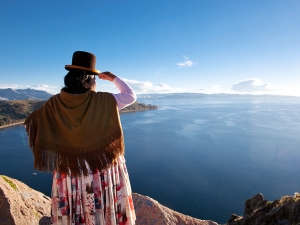 Day 3 Coppacabana 
Morning bus to Copacabana from Puno /in the afternoon you take a tour to the Isla del sol on Titicaca lake /hotel in Copacabana .
(Additional you can stay 1 day longer and sleep on the island or on a catamaran)
Included
Transfer in Puno
Bus to Coppacabana
Hostal in Coppacabana
Tour to Isla del sol
Not included
Transfer in coppacabana ( you walk to the hotel)
Entree fees and meals
Day 4 :La Paz
After lunch we take the bus to La Paz (3636 m), 3 h to La Paz. We have beautiful scenery and snowy mountain tops. In La Paz you can wonder around in one of the 100 markets around the city or the witches market.  Hotel in La Paz
Included
Transfers in la Paz
Bus to la Paz
Hotel In La Paz
Not included
Meals
transfer in coppacabana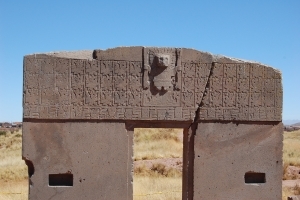 Day 5: La Paz
La Paz, excursion to Tihuanacu pre Inca temple, crossing the mountain regions of Bolivia and getting close to the lifestyle of the Aymaras. Tihuanacu is one of the oldest American civilizations, its temples and buildings are very appreciated around the world .
Included
Transfers
Night Bus To Uyuni
Excursion to Tihuanacu in group
Not included
Meals/ Entree fees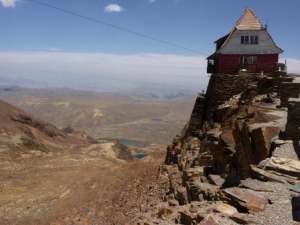 Day 6: La Paz
Today La Paz, visit Chacaltaya (highest ski run in the world) and the Moon valley, in the afternoon you take the night bus to Sucre
1 optional you can take a flight
2 opcional  the 3 days trekking Takshi
3 opcional you do the amazing deadroad mountain bike tour
Included
Excursion in group Chacaltaya and moonvalley
Transfer out
Bustickets to Sucre
Not included
Entree fees
Meals
Day 7: Sucre 
you can visit one of the most traditional markets in South america " Tarrabuco. (only on Sunday) after the market you can visit, by yourself, the cemetery or just relax in the many bars. If today is no Sunday, the cemetery, the dinosaurs footprints and textile museum is real worth a visit. Also you can do an amazing 1/2 day incatrail.  Hotel  in Sucre.
Included
Hotel- Hostal In Sucre
Not included
Meals
other excursions
1/2 day incatrail, only going down!
Tarrabuco
Day 8: Sucre
Whole day Sucre, visit the famous cemetery, the textile museum, or the dinosaur footprints . If it's a Sunday you can visit Tarrabuco the local Sunday market or doing optional a trekking around Sucre, hotel/ Sucre.
Included
Hotel/ hostal Sucre
Not included
Excursions
Meals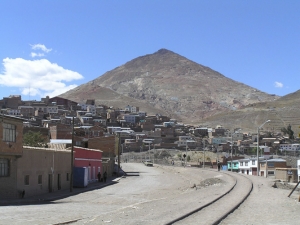 Day 9 +10 Potosi 
We drive in 3,5 h over paved road to potosi, in private transport. Today you can visit, the silver mines in "cero rico ". Potosi ones, was one of the richest cities of Bolivia. Also the casa de moneda is worth a visit. Hotel in Potosi.
Included
Excursion silver mines
Private car to potosi
Hotel In Potosi
Not included
Meals
Day 11: Potosi – Uyuni
Uyuni – Potosí (4090 m)
This morning we take our local bus for around 4 h to Uyuni . From 2013 this road is paved. The road  with stunning views.  Hotel In Uyuni
Included
Transfers
Local bus to Uyuni
Hotel/ hostal  Uyuni
Not included
Meals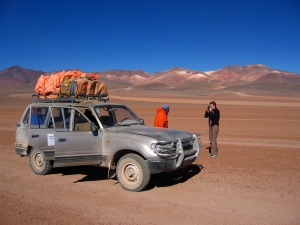 Day 12 +13 +14  3 Days Saltlakes – Lagunes Jeep
round 10 Am we start our Amazing 3 days tour. The real reason people come to Uyuni is  the Salar. It is a surreal sensation to stand in the middle of a vast expanse and to stare into the distance, unable to tell exactly where the land ends and the sky begins. This is the largest salt flat in the world, and definitely not to be missed. A 3-day tour continues into the surrounding highlands, an area of intense volcanic and geothermal activity, dotted with lagoons colored red, green, and white by microscopic algae and populated by pink flamingos. Strange rock formations are scattered throughout, including Incahuasi Island, a coral reef covered in groves of giant cactus and believed to be the remnants of a volcano that existed in the middle of a giant prehistoric lake.
In the mornig we first visit the train cemetery and Colchani town, as well as the process of making domestic salt. We will be able to observe the salt extraction method. In the rainy season, the salt becomes a giant mirror where the white sky is reflected perfectly and everything seems to be floating in the air. This scenario is a paradise for lovers of photography, for the visual effects that can be achieved. Then you will visit Ojos del Salar; here bubbling gases escape from underneath the salt flat, the Salt hotel and Incahuasi. After a day at the Salt Flats, you will be transferred to your accommodation where you can relax and enjoy dinner at yourbasic Salt hotel.
Day 13+14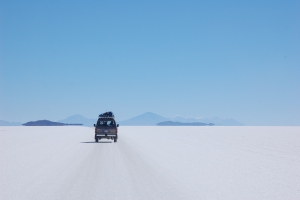 Day 2 Uyuni Salt Flats Expedition tour.
After breakfast you will continue your way to  lagoons and altiplano. You will go to Chiguana to visit the Ollagüe Volcano. On the road to the desert Andean camelids, llamas and vicunas can be seen. The journey continues with visits to: Cañapa Lagoon, Hedionda Lagoon and Chiarkota Lagoon. You will also visit the Silolí Desert and the Stone tree; a rock formation of over eight meters high.The next stop takes place at the breathtaking Colorada lagoon, which owes its color and name to the accumulation of a fine red sediment in combination with the pigmentation of a local type of algae. The lake is home to 3 species of flamingos. You will spend the night in a  basic  lodge 
Day 3 of  Jeeptour
The departure on the third day will be very early, to watch the sunrise at Red Lagoon. You will visit the geysers, the Green Lagoon and the Licancabur Volcano and you will have the opportunity to go to the hot springs. Than we criss the border with Chile. In chile there is other transport to San pedro de Atacama . Hotel in San Pedro de Atacama
In the afternoon you wil go to the real nice Moonvalley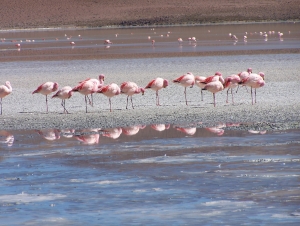 included
3 meals a day
Basic sleep  2 nights
Shared jeeptour
Transfer from border to San pedro de atacama in shared
Hotel-Hostal in San Perdro
Moonvalley excursion in afternoon
Not included
Better overnights ( only possible in private tours)
Opcional Private jeep your
entree fees 150 Bol national Park + 30 bol Inca wasi island
Guide in english ( driver is always guide in spanish)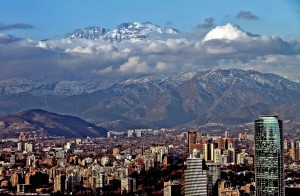 Day 15: San Pedro – Santiago 
Transfer to Calama and Flight to Santiago de Chile
You can visit Alameda Bernardo O'Higgins, Santiago's main avenue, before visiting La Moneda, the Government Palace. Following this you will walk through the pedestrian streets where the main commercial activity of the city is concentrated. You will then visit the famous Plaza de Armas, the main square of the city, surrounded by the Metropolitan Cathedral and other historical buildings. Focusing on the historical and cultural sites of Santiago, you will visit the Palacio Cousino Mansion (built 1870-1878), the Palacio de Bellas Artes, as well as the Pre-Columbian Art Museum. Finally crossing the Mapocho River you will visit Bellavista, the cultural and artistic neighborhood of Santiago.
Included
Transfers
Hotel/ hostal  Santiago
Not included
Meals
Excursion city tour
Local Flight
Day 16: Final
Free day in santiago and transfer to the airport
Included
Transfers
Not included
Meals
Hotel and excursions
General informacion