Gran Vilaya trekking, 3 days, from Chachapoyas to kuelap, north peru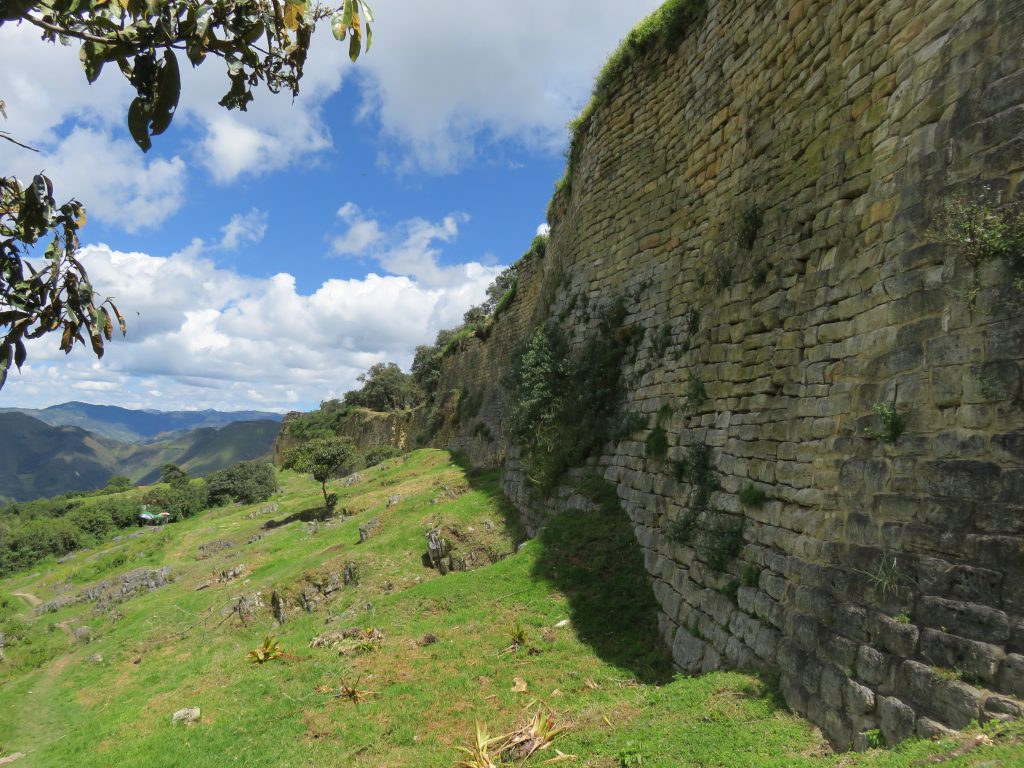 Duración: 3 days/2 nights
In this trekking you can discover the rich ecological cloudforest with the old cultures and ruins.This during an amazing trekking thru the North of peru. We climb over cloudforest mountains and we take out time to discover the ruins of the pre inca civilisations in Peru, The Chachapoyans.
Itinerary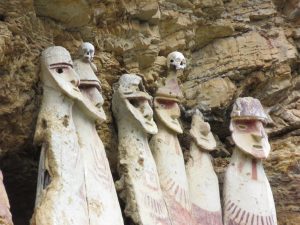 Day 01: Chachapoyas – Karajia – Valle Belén – Pirquilla – Congón
From Chachapoyas, we drive with our private transport to the village Cruzpata, an comunety surrounded  by different trees like  eucaliptos, alisos and queñuas. The Sarcofagos de Karajia are 7 monumental coffins of about 2.5m high. Their location isn't very easy to reach and therefore they were still found in a very good condition.
They are decorated with geometric figures and contain mummies, ceramics and other objects that were given to the death for their journey in the afterlife.
After this we drive to valle de Belén, where we start our trek over an old road that connect this valley with the valley of San Juan de Ocumal. We walk thru cloudforest till we reach the arqueological ruins of La Pirquilla. We also visit these ruins. Than we continue to the community of Congón where we try delicious organic cafe, they produce in this valley, together with typical food from this region. We sleep in Congon at a local homestay. Lunch box and diner included.
Time of travel : about 3h30.
Time of walking: about 9h.
Altitude difference  + 200 m, – 1000 m.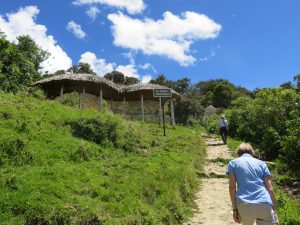 Day 2: Congón – Lanche – Yumal – Choctamal
Continue our trek to reach the village of Yumal. During the trek, we enter the arquelogical complex of Lanche. These ruins are just a few years ago discovered. During our guided tour, we observe fauna and flora unique for this cloudfores. From Yumal we walk to Choctamal where we stay in a local guesthouse, where we also have diner.
Altitude difference: + 1400 m, – 700 m.
Time of walking : 8h.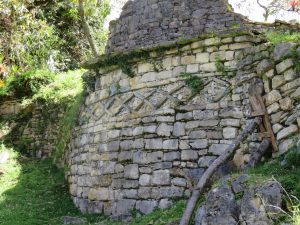 Day 03: Choctamal – Kuelap – Chachapoyas
From Choctamal  we leave early direcion to the impressive fort and ruins of Kuelap, The archeological site of Kuelap used to be the capital of the Chachapoyas culture.
The city is build on top of a mountain (3000m), surrounded by cloud forest and ancient walls up to 20m high. To get to the part with the highest wall, you will have to walk for about 45 min. along a sandy trail.
While walking over the site and admiring the ancient architecture, you will also be surrounded by the nature of the highlands. Most of the 500 rustic walls, structures and buildings are still covered with lush vegetation, including bromelias and orchids. We have amazing views over the Utcubamba valey. A big part of the dat we discouver this site. From here there is transfer to the city of Chachapoyas. Included Breakfast+ lunch
Travel time : 3h15.
Visit to Kuelap : 2h30.
Optional:  1 more day to visit  the waterfall of Gocta, the third highest waterfall in the world  from more than 771m hight.
Included:
– 1 Spanish speaking guide, specialist of this region( English speaking guide at extra charge )
– food during the trek.
– Entree fees
– Transport in private cars
– 2 nights local hostal
Not  included:
– Hotel in Chachapoyas.( we can arrange)
– Personal gear
– personal medicines
– water purification tablets .
– Last day diner
– Drinks
– insurence
– Tips