Choquequirao- Machu picchu 8 days, Cusco, cachora, machu picchu, aquas calientes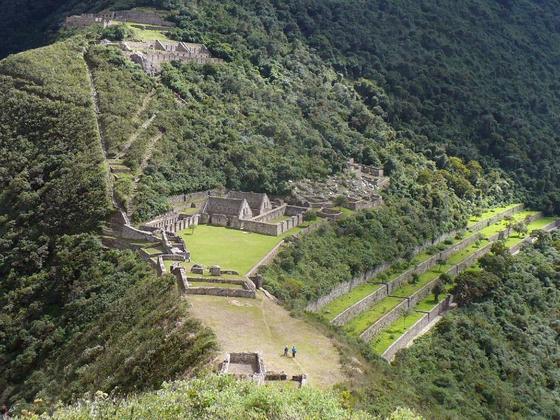 These 8 days trekking combine Choquequirao & Machu Picchu
For the real trekking lovers! Both  amazing ruins in 1 trek.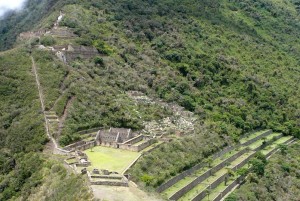 Altitude: 1550 – 4670 m. / 5085 – 15321 f.
High season: Whole year/ not Februari
Duration: 8 days – 7 nights
Level of difficulty: moderate/ Challenging ( click to see levels)
*A minimum of 4 persons is needed for this trek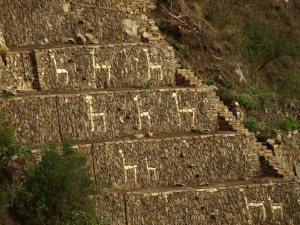 Day 1 : Cusco – Cachora – Chiquisca 
At 6:00 am we will pick you up from your hotel and transfer you to Cachora (4 hours by bus): While the group is getting ready we will arrange the horses and equipment for the trek. From the village of Cachora we can observe the majestic Padreyoc snow covered peaks, the highest is 5482 m.a.s.l. The hike on this day is 16 km (about 6 hours). On the way we will observe Padreyoc and Wayna Cachora snow covered peaks. We will be able to appreciate the beautiful change of the landscape from precipices to snowy mountains. The walk starts quite flat. From the viewpoint of Capuliyoc, where we might see condors, the descent towards the Apurímac Canyon starts, and the vegetation will change. After lunch at Capuliyoc we will continue hiking down for aprox 30 min. and then 2 hours to chikiska where we will camp (1900 masl). Here we can find a rustic shower, toilet, and a small store where you can buy some bottled water.
Day 2: Chiquisca – Choquequirao Ruins 
After an early breakfast at 6:00 am. we will start walking again. We will continue the descent to the abundant Apurímac River in 1550 m.a.s.l. in the impressing deep canyon of the same name. After a short rest we will continue our hike going up to Choquekiraw. The first 3-4 hours are going steep hills, but then it will change between going up and down the rest of the way, surrounded by beautiful vegetation with several varieties of orchids. At the km 28, Marampata, we will have lunch, rest and then continue on to Choquequiraw arriving around 3 pm. We will explore the ruins after arriving. The view of the canyon is spectacular; it is also possible to see Andean Condors soaring in the mountains. We will camp near Choquequirao. 3033 masl. (B-L-D).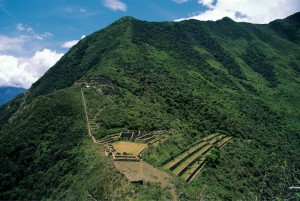 Day 3 : Choquequirao – Maizal
On this day we will walk uphill for a while till we get to 3299 masl, (considered as a first pass) and then descend to Rio Blanco, 1909 masl. First we will walk through cloud forest. Everything then becomes steep and open prairie with open views of the Mountains and valleys. Pinchinoyoc – these ruins are something very special. All of a sudden they appear in the cloud forest, almost invisible because of the thick layer of mosses and other vegetation that covers it. We will we spend the night basically on the old Inca Terraces. We will have our lunch near the Rio Blanco. We will have to take a break here to get a refreshing bath in the cold and clear river water. We will then cross the river, walking through it, there are no bridges. After our break we start the long and steep climb to our camp in Maizal, high over the river close to the sacred Apus of the Incas. From Rio Blanco we climb up to Maizal for about 4 hrs. We will camp at 3000 masl. (B-L-D). (About 4 hours walking). We will Camp at 3000 masl. (B-L-D).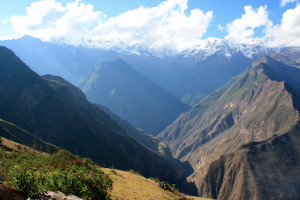 Day 4 : Maizal – Yanama 
From here we start walking uphill passing by the impressive Inca mines called "Minas Victoria" towards the Victoria Pass. Again a long climb, but we will be walking in an amazingly beautiful area – first with cloud forest and then over Andean Puna with the well known ichu grass. We will rest at some of the Victoria mines, where metal shining stones tell us about a high concentration of minerals and metals, which were later used by other miners. Near the top we can appreciate original paved Inca trails. We will eat our lunch boxes at the pass at 4200 m.a.s.l. with a view of the mountain Choquetakarpo. When we finish our lunch we will be able to appreciate the flight of the condors (depending on the weather) before we start the descent towards Yanama, a small isolated settlement at the bottom of a long valley surrounded by mountains. We will pass over 4154 m.a.s.l and finally descend to our campsite at 3800 m.a.s.l. (B-L-D).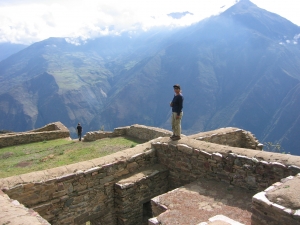 Day 5 : Yanama – Totora 
After breakfast we start climbing slowly to our higher pass of 4668 masl, again the view is amazing, we are surrounded by snowcapped mountains; the Mt. Sacsarayoj and Mt. Padreyoj. We will continue from Yanama up through the valley towards the highest point of the tour, The Yanama Pass at 4500 m.a.s.l. On the way we will have a good view of the snow capped Sacsarayoc. Once again we have the chance to see condors. This morning's smooth climb bring us through new landscapes – especially the wet grass fields under the snowline that distinguish from everything else seen on the tour. On the pass we might find ourselves walking in snow. The descent is a long foggy hike through grassy fields and bushy areas and crossing small wood & dirt bridges on the way towards the community of Totora, where we will spend the night. (B-L-D).
Day 6 : Totora- La Playa
Today we will descend to the Totora River. As we go down the birdlife is very interesting, especially the hummingbirds and the woodpeckers. We will also see many species of orchids and begonias. We will walk down about 2000 meters through the changing vegetations to the next camp in the village of La Playa. Approx. 7 hours walking. On the way we will see small waterfalls and get a refreshing natural bath. The area also has a big variation of bird life and it is now that the climate and vegetations have completely changed. We will now see plants recognizable from the living rooms in Europe and several types of orchids. The Playa is the biggest village on our journey; here we will find some small shops to buy snack etc. In this area we can see small plantations of coffee and bananas. Our Campsite will be at 2125 m.a.sl. (B-L-D).
Day 7 : La playa – Aguas Calientes
After a good breakfast we will take a minibus to the town of Santa Teresa. We will cross a river of the Vilcanota, where we will take another minibus to Hidroeléctrica. From here we will have an excellent view of the back of Machu Picchu, after lunch, we will walk our last trail that lasts about 3 hours until we arrive at Aguas Calientes around 4:30pm where our long walk finishes. We will spend the night in a Hostal. (B-L-D).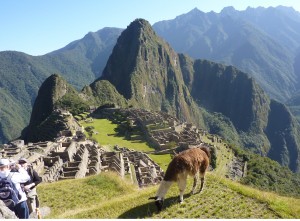 Day 8 : Machu picchy – Cusco. 
After an early breakfast from Aguas Calientes we will take a bus to Machu Picchu. We start our visit with a 2-3 hours guided tour, that will take us to the most important locations at the archaeological site and the guide will tell us about the great importance of Machu Picchu enjoyed as an astronomical and religious center. The rest of the day we will spend at this amazing ruin and you will have the chance to climb Wayna Picchu or visit the beautiful moon temple. We will meet in the afternoon in Aguas Calientes where we will take our train ticket back to Cusco. (B).
Included:
*Transportation .
* Tents: 2 people in each 4-people-capacity tent.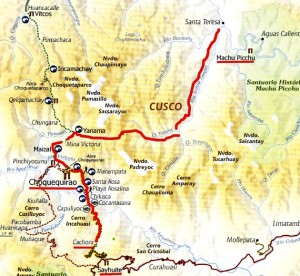 * Matress.
* Kitchen tent & dining tent with tables and chairs.
* Entrance fee to Choquequirao and Machu Picchu.
* English speaking professional guide.
* Cook and cooking equipment.
* Horsemen and horses (to carry tents, food and cooking equipment and 5 kilos of your personal item).
* Meals (7 B, 7 L, 7 D daily tea service except last day) .
* Boiled water to fill up your water bottle .
* First-aid kit including emergency oxygen bottle.
* Hostel at Aguas Calientes.
* Bus ticket Aguas Calientes – Machupicchu (one way).
* Train ticket from Aguas Calientes to Cusco
Not included:
* Sleeping bag.
* Breakfast on the first day and Lunch on the last day after the guided tour at Machupicchu, you can enjoy free time to further visit the ruins or choose to have lunch either in Machupicchu or in Aguas Calientes.
* Tips.
What you should bring: 
* A backpack.
* Rain poncho.
* Strong footwear.
* Waterproof trekking boots .
* Warm clothes, including jacket, fleeces & Thermal clothing.
* Flashlight and batteries.
* Camera, films and batteries (batteries consume quickly under cold conditions).
* Hat or cap to protect you from the sun, rain and cold.
* Sun block.
* After-sun cream or hydrating cream for face and body.
* Insect repellent – minimum recommended 20% DEET – no malaria risk has been reported.
* Handkerchiefs.
* Toilet paper.