Corona Virus info Peru + Bolivia update
Update 06-1-2021
Dear Peru traveler,
The world of travels has been shaken up by the Corona virus.
In Peru all flights to and from to Europe from March 16, 2020 are canceled . All schools, museums and events have also been canceled.
Peru's Defense Minister Jorge Chavez affirmed that the resumption of international flights —starting October 5— includes a first stage of arrivals from Brazil, Chile, Colombia, Ecuador, and Mexico. But other restrictions for flight over 8 Hours , no flights till 21 of Januari 2021
In a Message to the Nation, President Francisco Sagasti announced the signing of an agreement with the pharmaceutical company for the provision of 38 million doses of its vaccine against COVID-19. The first million arrive in januari
Machu picchu and ruins around cusco are open again
Find Here more Corona rules
This has a major impact for us but also for you.
We immediately took action and urgently negotiated at most hotels, trains and excursions.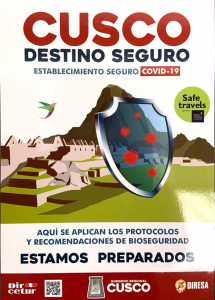 EXCEPTIONALLY during the coronavirus, we managed to get that
1 / You can cancel free of charge if you do this up to 15 days before arrival in Peru during corona block for traveling to Peru( if we can get all cost back from hotels – buses and services in peru)
2 / THIS ALSO exceptional for trekking, including inca trail in (March and April and May and June ) only for the moment to change for an other date in 2020 ), this means that permits are released that are salable again.
3 / you can change your travel dates free of charge (subject to availability of hotels and hikes for the newly chosen dates) We also hear from most international airlines that this change of dates allows without a service changing fee. If you choose 2021, we have to look if entree fee Machu picchu and local air tickets are stil valid ( Airlines only till 31 December 2020)
4 / the only thing we cannot change (at the moment) are the local flights, which are currently very strict and require a changing fee + payment of a difference in price for the other preferred dates. Flights are valid only till 31 December 2020
5 / if you have already made a deposit, this deposit remains valid for another trip within 365 days, counting from the dates you normally had to arrive, without a changing fee.( only Incatrail and Local flights have expenses)
In addition, we try to agree with all the hotels and operators not to increase the price in 2021, so that we can offer the same trip, extended to 2021, at the same price. This is confirmed 100% later.
NOTE that we notice that the hotel you have chosen is difficult this year and does not cooperate for a solution, we may choose another comparable hotel in the same price range next year.
We hope to be of service to you with this. Together we look for the best solution to get through these difficult times! A satisfied customer is our best promotion.
We do our best to keep everyone happy.
Strength in these difficult times, and greetings from
Perú: https://www.gob.pe/8662-ministerio-de-salud-coronavirus-en-el-peru/
Dirk and the Southamerica planet team