Corona Virus info Peru + Bolivia update
Update 31-3-2021
Dear Peru traveler,
The world of travels has been shaken up by the Corona virus.
PERU
*** Effective January 26, all airline passengers to the United States ages two years and older must provide a negative COVID-19 viral test taken within three calendar days of travel. Alternatively, travelers to the U.S. may provide documentation from a licensed health care provider of having recovered from COVID-19 in the 90 days preceding travel.
The first 1 million vaccines arrived in Peru on February 13
What vaccines does Peru use?
They have made agreements about the purchase of vaccines that protect Peruvians against COVID-19. The first vaccines to arrive in Peru are:
Sinopharm: A total of 38 million doses, of which the first 300 thousand entered the country on Sunday, February 7. The next 700,000 doses came in on February 13.
AstraZeneca: Already agreed 14 million that will arrive in the second half of 2021.
Pfizer: A total of 20 million, of which 250,000 doses arrive in March and 300,000 in April. On February 3, 50 thousand doses of this vaccine arrived in our country.
Country-Specific Information
​​On February 19, 2021, the Government of Peru extended the COVID-19 health emergency for another 180 days, from March 7 to September 2, 2021.
On January 26, 2021, the President of Peru announced heightened restrictions which have been extended through March 14, 2021. The government of Peru indicates it will reevaluate and adjust these public health measures every 15 days. Under these measures, all regions of Peru are categorized as High, Very High, or Extreme, with corresponding levels of restrictions. ​U.S. Citizens are advised to follow all Peruvian lockdown measures.

Extreme: Metropolitan Lima, Callao, ​Huaura, Barranca, Huarochiri and Huaral and some regions within Áncash (Huaraz), Ayacucho (Huamanga), Cusco (Canchis), Huancavelica (Huancavelica and Tayacaja), Huánuco (Huánuco), Ica (Ica and Chincha), Junín (Huancayo, Tarma, Chanchamayo, Satipo, Chupaca), Loreto (Maynas), Moquegua (Ilo), Pasco (Oxapampa), Puno (Puno), and Tacna (Tacna).

Major provisions of the Extreme level have been updated to include:

Curfew from 9:00 p.m. until 4:00 a.m. Strict mandatory social immobilization 1+2+3+4 April
Shopping and shops These businesses operate at 40% capacity.
Restaurants are open at 30% capacity. Delivery is permitted from 4:00 a.m. until 11:00 p.m. Monday through Sunday.
Public spaces, including shopping centers, cinemas, tourist areas, places of worship, casinos, gyms, and clubs are open at a limited capacity.
Interprovincial air and land travel is open at 50-100% capacity.
Machu picchu and ruins around cusco and the north of Peru are open again ? Incatrail 4 days stay closed, only trekkings possible at this moment are day treks + 2 days incatrail + Lares
---
Bolivia
Covid
Bolivia is still one of the less beaten countries in Latin America by this virus; here.
The vaccination process has already initiated; the government has signed formal agreement with Sputnik V, Sinopharm and Sinovac which will provide Pfizer and AstraZeneca. Bolivia has a low population density and the planification is that until September 2021 all the vaccinable bolivians will be vaccinated.
Politics
As you probably know since November 2020 we have a new President, Vice president, Senators and Deputies. Sunday 14 March elections will be again held, this time for Governors and cities and towns Mayors. There is calm and stability in general.
Touristic Attractions
There is not a lockdown in any area or city in Bolivia and all the touristic attractions are open with the exception of the Abaroa National Reserve. Land borders with neighbor countries are still closed.
Entrance Requirements
Bolivia do not require any quarantine, the only requirement is a negative RT-PCR.
---
Find Here more Corona rules
This has a major impact for us but also for you.
We immediately took action and urgently negotiated at most hotels, trains and excursions.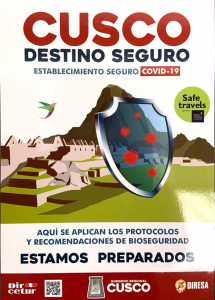 EXCEPTIONALLY during the coronavirus, we managed to get that
1 / You can cancel free of charge if you do this up to 15 days before arrival in Peru during corona block for traveling to Peru( if we can get all cost back from hotels – buses and services in peru)
2 / THIS ALSO exceptional for trekking, including inca trail in (March and April and May and June ) only for the moment to change for an other date in 2021), this means that permits are released that are salable again.
3 / you can change your travel dates free of charge (subject to availability of hotels and hikes for the newly chosen dates) We also hear from most international airlines that this change of dates allows without a service changing fee. If you choose 2021, we have to look if entree fee Machu picchu and local air tickets are stil valid
4 / the only thing we cannot change (at the moment) are the local flights, which are currently very strict and require a changing fee + payment of a difference in price for the other preferred dates.
5 / if you have already made a deposit, this deposit remains valid for another trip within 365 days, counting from the dates you normally had to arrive, without a changing fee.( only Incatrail and Local flights have expenses)
In addition, we try to agree with all the hotels and operators not to increase the price in 2021, so that we can offer the same trip, extended to 2021, at the same price. This is confirmed 100% later.
NOTE that we notice that the hotel you have chosen is difficult this year and does not cooperate for a solution, we may choose another comparable hotel in the same price range next year.
We hope to be of service to you with this. Together we look for the best solution to get through these difficult times! A satisfied customer is our best promotion.
We do our best to keep everyone happy.
Strength in these difficult times, and greetings from
Perú: https://www.gob.pe/8662-ministerio-de-salud-coronavirus-en-el-peru/
Dirk and the Southamerica planet team