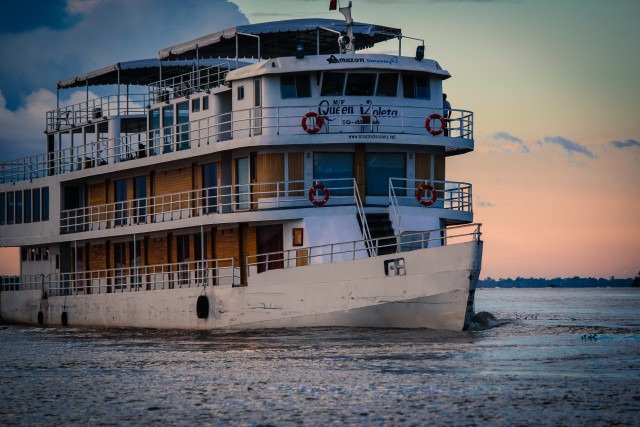 Betaalbare Amazone-riviercruise, Queen Violeta, Iquitos, Peru
Amazon Queen violeta/meer betaalbare cruise/ Amazone-rivier Iquitos
Nationaal reservaat Pacaya Samiria
4 dagen 3 nachten (vraag ons 7 dagen programma)
Spring aan boord van een rivierboot en ervaar de Amazone in stijl. Onder leiding van een natuurgids van het Amazonegebied, omvat uw cruise dagelijkse excursies per gemotoriseerde skiff die is ontworpen om de exotische dieren in het wild te onthullen die het regenwoud naar huis roepen – met een beetje geluk spot u luiaards, toekans of roze dolfijnen! En met twee volle dagen voor verkenning in Pacaya-Samiria National Reserve, heb je de kans om de jungle van dichtbij te ervaren. De keuken aan boord is regionaal en biedt een unieke – en heerlijke – kijk op de lokale cultuur. Krijg een zeldzame glimp van hoe het leven "op de rivier" wordt geleefd en ervaar de magie van de Amazone tijdens dit once-in-a-lifetime rivierbootavontuur.
Zondag: Iquitos – Amazonian Manatee Rescue Center – Amazon River
Maandag: Amazone-rivier – Ucayali-rivier Yucurucho-regio – Marañon-rivier
Dinsdag: Marañon River – Pacaya Samiria nationaal reservaat
Woensdag: Marañon Rivier – Nauta – Iquitos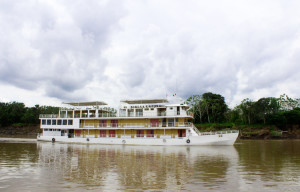 ---
Vertrekdag: zondag
Dag 1: Zondag: Iquitos – Amazonian Manatee Rescue Center – Amazon River
1L, 1D
Maar voordat we aan boord gaan, maken we kennis met deze jungle havenstad een oriëntatietour. Dit is de belangrijkste rivierhaven van het land, opgericht in 1864 in het hart van het rubberland aan de diepe wateren van de Amazone. Zoals elke haven, heeft het een drukte van jewelste, maar het is niet zonder zijn plaatsen van rustige en schaduwrijke retraites. Veel van de architectuur die we zien, is een 19e-eeuws overblijfsel uit het tijdperk waarin Europese handelsbaronnen de scepter zwaaiden over het leven en de cultuur hier. En hoewel Iquitos veel fortuinen heeft zien stijgen en dalen, is zijn isolement constant gebleven: toegang tot de stad is alleen via de lucht of de rivier.
We zullen ook een korte stop maken bij het Amazonian Manatee Rescue Centre. De Amazone-lamantijn is een zeer zeldzaam en bedreigd zoogdier dat uniek is voor de Amazone-jungle. Dit centrum richt zich op het redden van verweesde zeekoeien die het slachtoffer zijn geworden van stroperij. Het centrum helpt bij het rehabiliteren en herintroduceren van deze prachtige wezens in het Amazonebekken. Hier kun je de inspanningen van het opvangcentrum zien en heb je de mogelijkheid om deze geweldige en lieve dieren te voeren.
Eenmaal aan boord van het schip, kun je gewoon ontspannen en je laten omringen door het wilde regenwoud. Stap aan dek om de rivieroevers voorbij te zien trekken, maar houd je ogen open voor dieren in het wild, zoals grijze en roze dolfijnen. Ons schip werpt af en baant zich een weg naar de samenvloeiing van de rivieren Marañon en Ucayali. Hier wordt algemeen (maar niet universeel!) aangenomen dat de Amazone-rivier begint, althans in naam.
11:00 uur Ophalen van de luchthaven of uw hotel
Bezoek het Manatee Rescue Center, briefing en rondleiding door de stad
13:00 uur Check in, welkomstdrankje en lunch
Veiligheidsoefening aan boord
Vrije middag om te genieten van zeilen in de Amazone-rivier
18:00 uur Diner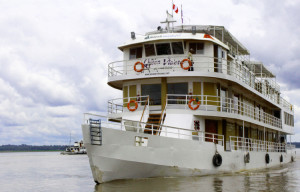 ---
Dag 2 Maandag: Amazon River – Ucayali River Yucurucho region – Marañon River
1B, 1L, 1D
Na het ontbijt hebben we een excursie op de Amazone en enkele van zijn zijrivieren om de wonderen van het regenwoud te zien. Dit is onze kans om apen, luiaards en een verscheidenheid aan vogels te zien.
Terug aan boord verzamelen we voor de lunch, gevolgd door een presentatie over de Amazone-rivier. Daarna wandelen we langs de oevers van de Ucayali-rivier, gelegen in de Yucuruchi-regio van de Amazone. Hier hebben we de gelegenheid om de Victoria Regias, waterlelie, te zien – een gigantische waterplant.
7:00 uur Ontbijtbuffet
8:30 uur Excursie op zoek naar dieren in het wild (apen, luiaards en vogels kijken).
12:00 uur Terug naar de boot
12:30 uur lunchbuffet
15:00 uur Wandeling in Yucurachi, zoek naar waterlelie).
18:00 uur Terug naar de boot
19:00 uur Dinerbuffet
---
Dag 3 Dinsdag: Marañon rivier – Pacaya Samiria nationaal reservaat – Sjamaan bezoek
1B, 1L, 1D
Vandaag staan ​​we vroeg op om het Pacaya-Samiria National Reserve te bezoeken voor een dag vol ontdekkingen in het grootste nationale park van Peru.
Houd dan uw ogen wijd open en uw verrekijker in de aanslag om cacaoreigers en gestreepte reigers, kleurrijke ara's, eekhoorn- en wolapen, kaaimannen, luiaards en nog veel meer soorten primaten, vogels en zoogdieren te zien. De huidige tellingen registreren meer dan 200 vogelsoorten en 10 soorten primaten binnen haar grenzen. Onze route voert ons over de zijwateren van de Marañon. Onderweg zullen onze gidsen wijzen op de interessante diersoorten die de rivieroevers bewonen – om nog maar te zwijgen van ongewone vissen en vegetatie in de rivier.
Terug aan boord verzamelen we voor het ontbijt, gevolgd door een presentatie over het leven, de geschiedenis en de cultuur van de belangrijkste stammen van de Amazone.
Na de lunch hebben we een inleidende discussie over sjamanisme die ons zal helpen de tradities van de regenwoudmensen te begrijpen. We varen langs de rustige wateren van het meer, waar we luisteren naar het lokale vogelgezang en onze ogen open houden voor het waarnemen van de verschillende diersoorten die in dit gebied voorkomen.
Voor het diner maken we kennis met het geestenrijk en brengen we een bezoek aan een plaatselijke sjamaan. Mysticus … dominee … genezer – men zou een sjamaan kunnen beschouwen als "al het bovenstaande". Maar om het sjamanisme te begrijpen, is een sprong in het diepe nodig, een sprong in de geestenwereld die het domein van de sjamaan is.
Sjamanisme wordt over de hele wereld beoefend en wordt universeel onderscheiden door een staat van trance die sjamanistische extase wordt genoemd. Tijdens deze "uittredingsreizen" schakelt de sjamaan bewoners van de geestenwereld in om hem te helpen met een verscheidenheid aan taken, van het genezen van zieken tot het helpen van de ziel van een overleden persoon naar het hiernamaals – en al die tijd blijft de sjamaan bij bewustzijn. Voordat je de Amazone-jungle verlaat, krijg je een zeldzaam inzicht in de complexiteit van dit fenomeen wanneer je een echte praktiserende sjamaan ontmoet in een rivierdorp. Hij zal ons kennis laten maken met zijn spirituele geneeskunst en ons vertellen over regenwoudplanten waarvan inheemse volkeren eeuwenlang hebben beweerd dat ze geneeskrachtige eigenschappen bezitten. Je ervaring is misschien niet "uit het lichaam", maar het is zeker ongewoon.
Vanavond vieren we onze ontdekkingen tijdens ons afscheidsdiner en -feest, compleet met livemuziek, aan boord van ons schip.
6:00 uur vogels kijken.
7:00 uur Terug aan boord
7:30 uur Ontbijtbuffet
9:00 uur Excursie naar National Reserve Pacaya Samiria, op zoek naar dieren in het wild (primaten, eekhoorns, luiaards)
11:00 uur Terug naar de boot
12:00 uur Talk Amazone-stammen
13:00 uur Buffetlunch
15:00 uur Praat over sjamanisme
15:30 uur Excursie op zoek naar dieren in het wild
16.30 uur Bezoek de sjamaan
18:30 uur Terug naar de boot
19:30 uur Dinerbuffet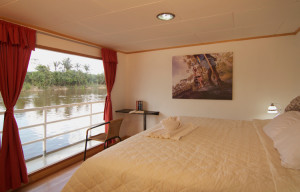 ---
Dag 4 Woensdag: Marañon Rivier – Nauta – Iquitos
1B
Het is terug naar de bewoonde wereld vandaag, vanmorgen zullen we de stad Nauta aandoen,
Vanavond vieren we onze ontdekkingen tijdens ons afscheidsdiner en -feest, compleet met livemuziek, aan boord van ons schip.
6:00 uur Ontbijtbuffet
7:00 uur Uitchecken & Nauta stadsrondleidingen
Transfer naar de luchthaven van Iquitos voor onze vlucht terug naar Lima.
10:00 uur Aankomst op de luchthaven van Iquitos
Hoogtepunten
Verken het Pacaya-Samiria National Reserve – het grootste nationale park in Peru, eet vers voedsel uit de jungle, spot roze dolfijnen in de Amazone-rivier, communiceer met leden van de lokale gemeenschap en leer de fijne kneepjes van het Amazone-wild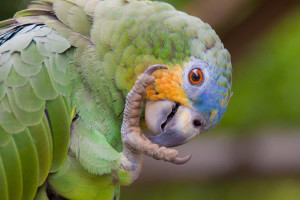 ---
Wat is inbegrepen?
* 3nts aan boord van de Queen Violeta Amazon-rivierboot
* Aankomst transfer in Iquitos.
* Lanceringen en landexcursies met ons deskundige natuuronderzoekersteam
* 3 ontbijt, 3 lunch, 3 diners.
* 24 uur koffie & thee station in het restaurant
* Amazone rivierboot.
* Ervaring in kleine groepen; Maximaal 30
Wat is niet inbegrepen?
* Alcoholisten en geen alcoholische dranken
* Tips extra aan boord van de Queen Violeta
* Vluchten
* Wasserette

https://southamericaplanet.com/en/amazon-river-cruise-queen-violeta-iquitos-peru/
https://southamericaplanet.com/es/asequible-crucero-por-el-rio-amazonas-queen-violeta-iquitos-peru/
https://southamericaplanet.com/nl/betaalbare-amazone-riviercruise-queen-violeta-iquitos-peru/