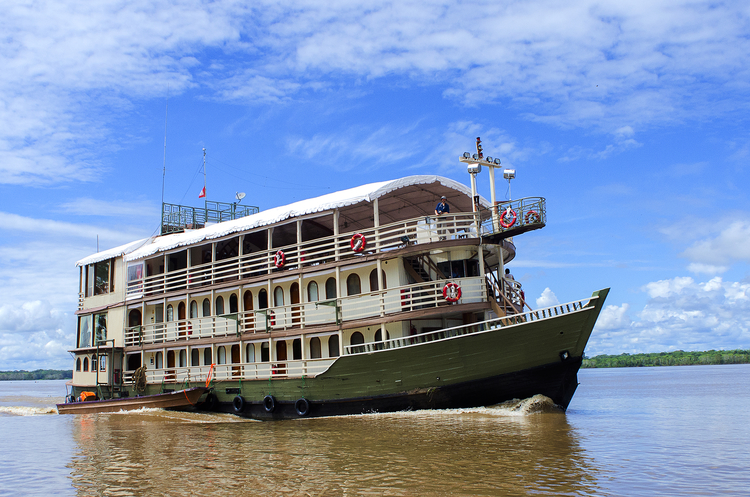 The Amastista amazon river cruise
From Iquitos North Peru, Departure Tuesday (Low Water Season | November –May)
The Amazonian journeys, with the help of our expert guides, form part of the most genuine way to get close up to the fauna and flora of the Amazon, discovering and feeling in our own skin the cultures built around the waters of the river.
The itineraries are based on raining / high water seasons and drought / low water, and may vary according to variations in climate. All activities are optional and are made 2 to 3 times a day.
Among the activities included in the itineraries are swimming with dolphins, fishing for piranhas at dusk, skirting the river banks in search of creatures, bird watching, hiking, and visits to communities.
( ask for the 5 night cruises)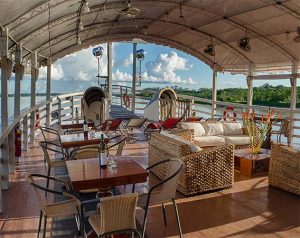 ---
Day 1 -Tuesday: RÍO UCAYALI / RÍO MARAÑÓN / RESERVA NATURAL PACAYA SAMIRIA
Airport pick-up and boarding. You will be picked up by our team and transfered by bus to our private port in Nauta, where we will board el Amatista.
First informative talk. Once you are aboard el Amatista, your guides will give you a brief orientation about the trip.
Lunch on board. We will enjoy the first lunch on board, building up strength to enjoy our expedition to the Amazon jungle.
Walk in the jungle. We will walk through a casual community reserve, where we will learn about medicinal plants, look for insects, tarantulas, frogs … and learn about survival in the jungle with our guides.
Meeting on board. Once we are back on the ship, our guides will continue to explain curiosities about the Amazon and the surrounding landscapes.
Reception with live music. The band on board will welcome you onto El Amatista with their music.
Welcome dinner. Dinner will be served on board. This is a time to relax and to recharge your batteries. After this, travelers are invited to enjoy a cocktail on our observation deck, from where they can admire the Amazonian sky.
* Our team is prepared to attend any special nutritional needs. Notify your crew about preferences in advance so that we can offer you the best alternative.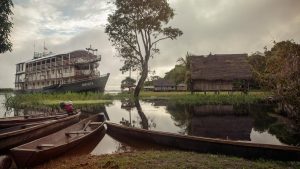 ---
Day 2 – Wednesday: RESERVA NACIONAL PACAYA SAMIRIA
Picnic breakfast at Pacaya Samiria National Reserve. We will have our picnic breakfast surrounded by nature, admiring unique species such as blue and yellow macaws, toucans or different types of monkeys.
Swimming in the river. Upon returning to El Amatista we will have an opportunity to take a bath in the river. Hopefully, some pink dolphins will accompany us.
Lunch on board. Enjoy a delicious lunch on board.
Ceremony with shamans and tree planting ceremony. After lunch we will go to San Regis, where we will witness a ceremony of one of the native cultures of the Amazon jungle and we will participate in the ceremony of planting a tree.
Live music and dinner on board. Before dinner we will enjoy a live music reception aboard El Amatista.
Night tour. At nightfall, we will explore the jungle in the Nauta Lagoon by boat, in search of nocturnal animals.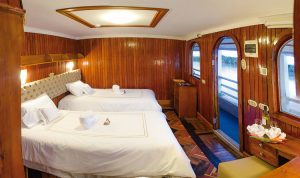 ---
Day 3 – Thursday : RESERVA NACIONAL PACAYA SAMIRIA / CIUDAD DE NAUTA
Breakfast on board. We will start the day with a delicious breakfast on board.
Fishing for piranhas. We will navigate the black water stream of San José de Zarapanga, Shiriyacu, and go piranha fishing using traditional equipment and local techniques.
Lunch on board. We will recharge our batteries with a delicious lunch on board.
Culinary demonstration. We will participate in a culinary demonstration in which we will have the opportunity to observe the local cooking techniques, the different Amazon vegetables, and the diversity of recipes that are typical of the native societies.
Geographical orientation. Our onboard guides will provide a geographical orientation in which we will talk about the importance of the Amazonian ecosystem.
Visit to the indigenous village of Kukama Prado. We will visit the indigenous village of Kukama Prado, where we will learn about ancient traditions and traditional medicine, as well as about the culture and way of life of today's societies.
Boat trip at sunset. We will wait for the sunset aboard our boats, discovering the colors of the sunset from the Amazon River while we look for alligators, anaconda, tarantulas and other nocturnal species.
Live music and dinner on board. Before dinner we will enjoy the live music of our band on board.
Farewell from the crew aboard El Amatista. All of our crew on board will bid farewell to the passengers.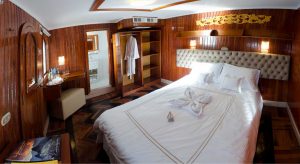 ---
Day 4 – Friday : NAUTA / IQUITOS
Last breakfast on board and check-out. After the last breakfast on board we will check out and begin the trip to Iquitos airport.
Visit to the Amazon Manatee Rescue Center. On the way to Iquitos we will stop to visit the Amazon Manatee Rescue Center, where we will have the opportunity to see this curious animal up-close.
Visit to Iquitos. Before heading to the airport we will visit the famous house from the Rubber Boom era in Iquitos, The Iron House, the Belen Market and much more.
Arrival at the airport and return flight Addendum: The itineraries and programs proposed,may vary depending on the weather, the river water level in each season and the migratory cycles of the animals. The visit to the communities will depend on the availability of its inhabitants. Jungle Experiences tries to evade the negative effects of activity on the identity of cultures.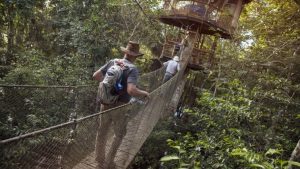 ---
Included
*All meals while on board (arrival day: lunch, dinner, cruise days: all meals, departure day: breakfast) on board the Amatista *All excursions & equipment (including rubber boots & rain ponchos).
*Transfers to/from vessel when arriving on recommended flights to Iquitos.
*Entrance fee to Pacaya Samiria National Reserve.
Not Included
*Air tickets to/from Iquitos.
*Cost of medical emergencies (including evacuation).
*Tipping guidelines. Amatista/ We recommend an amount in the range of US$10 per passenger per night for the crew (to be divided among all the crew members) and between US$5 per passenger per night for the guides.
* Please note that these amounts are suggested levels of gratuities and that this is entirely at the discretion of our guests aboard the vessels.
*Any additional transportation services.
*Any additional bar consumption
---
Notes
*Rates per person based on double occupancy.
*Rates are valid from January 1st to December 31st 2014.
*Programs and rates are subject to change without prior notice.
*Children rates are applicable under 9 years-old when accompanied by one or two adults in the same cabin – maximum 1 per cabin. We do not recommend travel with children under 6 years-old. Regular rate applicable to children over 9 years-old.
*Excursions' schedules may vary depending on weather conditions and wildlifecycle, in order to protect its natural habitat.
*Visits to the local villages are carefully planned to avoid a negative impact in their cultural identity.
*Additional and private services, as well as interpreters in other languages, available upon request at an extra cost.