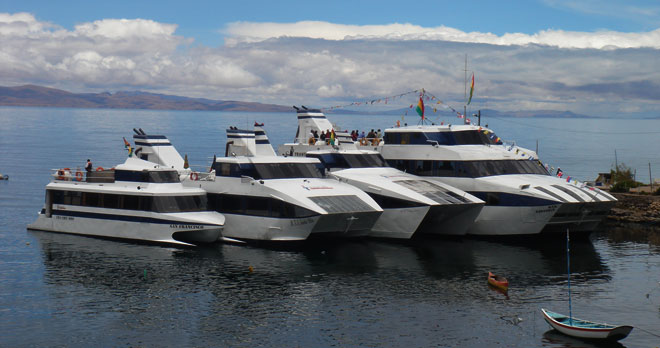 Paquete de comienso Puno a La Paz / (o la paz – Puno) por Copacabana en 2 días, duerma en catamarán
Puno hasta La Paz /( o la paz – Puno) over Copacabana in 2 Dias con catamaran over Copacabana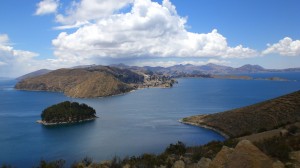 ---
Puedes elegir este tour en hotel de 3 opciones en la Paz
1 tour económico: en hostales
2 tour clásico: en hoteles de 3 *
3 Tour de lujo: todos los hoteles de 4 *
En este paquete inicial puede ir de La Paz a Puno en 2 días o de Puno a la paz. con pernocta en catamaran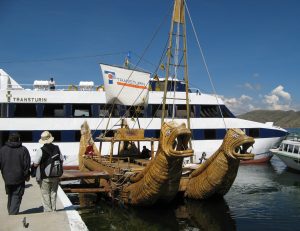 Salida: 6:30 (Hora Peruvian )
Llegada: 19:00 (+1)
DIA 1
Lancha rápida: Puno / Urus / Puno (Precio Adicional) 1 h
Traslado: Puno / Copacabana 2 ½ h
Visita: Santuario de Copacabana ½ h
Crucero: Copacabana / Isla del Sol 1 h
Visita: Fuente, escalinatas y jardín del inca. ½ h
Visita: Complejo Cultural Inti Wata Cultural Complex 2 h
Crucero: Isla del Sol / Puerto / Pernocte abordo 2 ½ h
---
DIA 2
Visita: Programa de Turismo Comunitario / Pariti / Kalauta / Pata Patani 3 h
Crucero: Lago Titicaca / Puerto 1 h
Traslado: Puerto / La Paz 2 h
---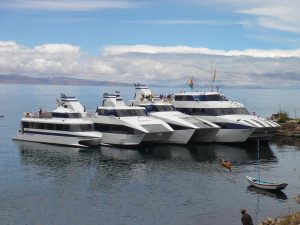 Servicio descripción 2 días
Dia 1:
A primera hora traslado hacia Copacabana para una breve visita al Santuario. Luego se aborda el Crucero Catamarán para navegar hacia la Isla del Sol, cuna del Imperio Inca. En esta legendaria isla se visita el Jardín, las Escaleras y la Fuente del Inca; posteriormente el itinerario continua con la visita al Complejo Cultural Inti Wata, el principal atractivo turístico privado de Bolivia, mismo que incluye el Museo Subterráneo del Ekako, los Centros de Medicina Tradicional y de Construcción de Balsas de Totora, las Terrazas Pachamama de agricultura Inca, un centro artesanal, el Refugio Intica y la más grande variedad de camélidos andinos ubicados en el mirador "Manco Kapac". La visita a nuestro Complejo también incluye la experiencia única de navegar a
bordo de una inmensa balsa típica de totora para realizar una visita panorámica al Palacio Inca de Pilkokaina. Posteriormente se retorna al catamarán para disfrutar de un almuerzo buffet a bordo mientras se navega en el majestuoso Lago Titicaca.
Por la noche, cena y pernocte a bordo del catamarán en camarotes con vista exterior y baño privado.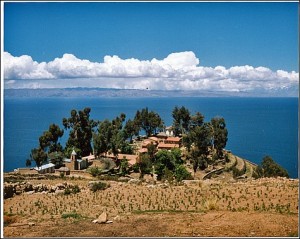 Dia 2:
A la mañana siguiente, después del desayuno buffet a bordo, se continuará la navegación en el lado Este del Lago Titicaca o Wiñay Marka (que en aymara significa Ciudad Eterna) para visitar tres comunidades ubicadas en las riveras de esta porción del Lago Titicaca.
Iniciamos con la isla de Pariti, donde se realiza la visita a una casa típica del lugar que nos permitirá apreciar la verdadera forma de vida de los aymaras en el altiplano. En esta misma isla, los comunarios durante su diario vivir (excavando para construcciones, arando campos para sus sembradíos, etc.) fueron encontrado varios objetos de cerámica antigua. Esto despertó
su curiosidad y también la de expertos arqueólogos por lo que se iniciaron excavaciones que dejaron al descubierto una gran variedad de fina cerámica perteneciente a la cultura Tiwanakota, entre la que se destacan figuras de animales selváticos como tigres, monos, etc., algo que hace pensar que este sitio era un centro ceremonial al que acudían personas desde otros pueblos
ubicados más allá de Los Andes. Todos estos objetos están actualmente en exposición en el Museo que la misma población administra, mismos que visitaremos como parte del recorrido.
Posteriormente se realizará la visita a Kalauta, en barcazas pesqueras típicas para remar entre los laberintos de totorales del Lago Titicaca, experiencia que permite apreciar la paz y misticismo de este lago en su forma más prístina. En Kalauta se podrá ver una gran cantidad de torres funerarias. Antiguamente, Kalauta fue un antiguo pueblo de piedra y la más grande necrópolis
prehispánica. Aquí disfrutaremos de un snack. Luego continuaremos la navegación hasta Pata Patani donde la comunidad da la bienvenida a los turistas en el mismo puerto con guirnaldas de flores elaboradas por ellos mismos y haciéndolos partícipes de su entusiasmo al integrarlos en danzas acompañadas de instrumentos musicales típicos. Esta comunidad tiene sus costumbres muy arraigadas y viven aún de la pesca. También será posible visitar el Museo de Pata Patani que alberga a la momia mejor conservada de los Andes, llamada Tani.
Posteriormente, se retorna al catamarán para disfrutar de un almuerzo buffet mientras se continúa la navegación apreciando la belleza del paisaje del lago Titicaca. Finalmente, traslado por carretera a la ciudad de La Paz.
---
Incluis
-Traslado terrestre SIC de hotel a hotel
-navegación SIC
-merienda y 2 almuerzos + 1 cena
-visitas guiadas mencionadas en el programa
-guía bilingüe (español-inglés).
-1 noche a bordo del catamaran
-1 noche hotel o hostal Puno o La Paz
Infant and children policies
•From 0 to 1 year and 11 months, free of charge (not included meals, bed or seat in bus).
•From 2 to 8 years and 11 months, half rate charge
Observaciones
•Adicionar tasa de embarque ( no incluis)
•Acomodación en base a cabina doble (twin).
•Si se requiere una cabina individual, agregue un suplemento simple detallado en la sección de tarifas.
•Las islas flotantes de los Uros podría incluirse a solicitud al comienzo del itinerario por un precio adicional.
•Para feriados de Navidad y Año Nuevo, los precios se incrementan.
•La secuencia de las visitas podría modificarse.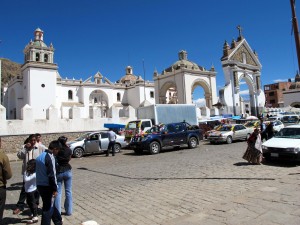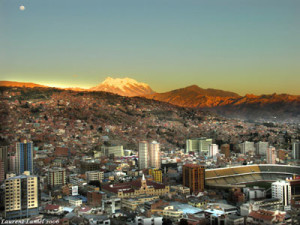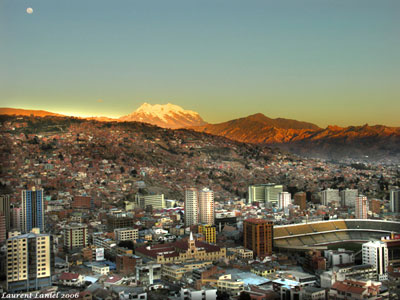 https://southamericaplanet.com/en/start-packet-puno-to-la-paz-or-la-paz-puno-over-copacabana-in-2-days-sleep-at-catamaran/
https://southamericaplanet.com/es/paquete-de-comienso-puno-a-la-paz-o-la-paz-puno-por-copacabana-en-2-dias-duerma-en-catamaran/
https://southamericaplanet.com/nl/start-pakket-puno-naar-la-paz-of-la-paz-puno-over-copacabana-in-2-dagen-slaap-op-catamaran/