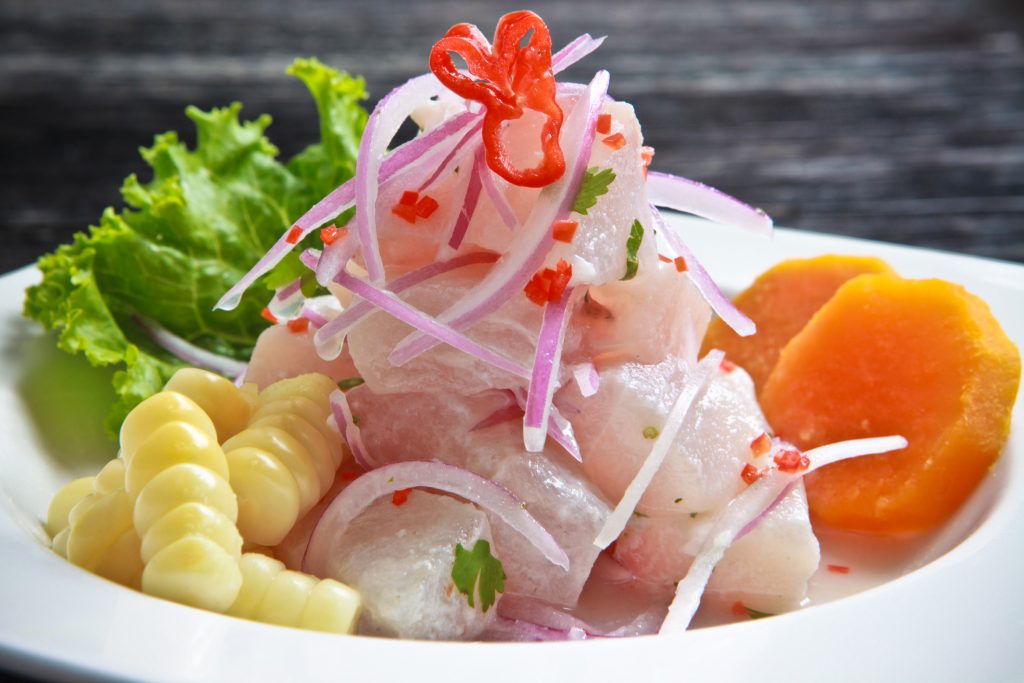 Visita al mercado local + clase de cocina peruana + visita a la ciudad / día completo Lima
TASTY LIMA: Mercado + Clase de cocina peruana + City of Kings and Queens Tour!
Duración: aproximadamente 7 a 8 horas
Salida: 9 a.m.
La comida peruana está creciendo en popularidad, y esta es tu oportunidad de ver qué la hace tan especial.
¡Esta clase es para personas que aman los alimentos tradicionales y quieren prepararlos en casa! Te encantará la atmósfera relajada sin demos aburridas, porque creemos en el enfoque práctico. Harás un auténtico plato peruano.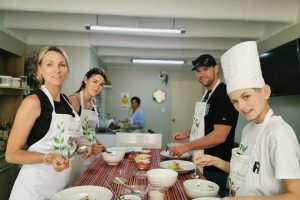 ---
Para cocinar, utilizamos ollas de cerámica de la misma manera que lo hicieron nuestros antepasados, de esta manera mantendremos todo el sabor a medida que sean más naturales.
Tienes que elegir entre los siguientes platos:
PEZ; el plato peruano que cocinamos con pescado es: pescado al vapor "Sudado de Pescado", con cebolla roja y hierbas frescas; cocina con salsa amarilla picante, como entrante cocinaremos nuestro plato nacional peruano llamado "Ceviche". ¡El plato más popular entre los peruanos! Se trata de trozos pequeños de pescado marinado crudo en zumo de lima aromático fresco cebollas tiernas, batatas hervidas mezcladas con o sin chile picante andino.
O
POLLO; para el pollo que cocinamos: "Aji de Pollo" en inglés chili chicken (plato principal), consiste en tiras finas de pollo servidas con una cremosa salsa amarilla y picante, hechas con ají amarillo (chiles amarillos), queso, leche, pan de cronchi. Como entrante, te enseñaremos a preparar la mayoría de las 2 salsas típicas peruanas: Papas a la Huancaina (papas al estilo de Huancayo) esta salsa vino del medio de los Andes del Perú y la salsa Ocopa vino del sur de los Andes cerca de Cusco, ambos entrantes consistían en una salsa cremosa ligeramente picante, una hecha con los más frescos. hierbas aromáticas de nuestras montañas y el otro chile local fresco con salsa de queso, ambos servidos con papas hervidas en rodajas orgánicas nativas.
O
CARNE; o delicioso "Lomo saltado" (plato principal), rodajas de lomo de res, salteadas con cebolla, tomate, ají (pimientos picantes) y más especias. Se sirve con papas fritas y arroz, para empezar tenemos nuestro súper delicioso "Causa Limeña" Puré de papas amarillas orgánicas sazonadas con lima y ají (pimiento picante) y rellenas de verduras locales frescas de temporada (es menos de la mitad picante).
---
¡Después de tu clase de cocina la aventura continúa! lo llevaremos a visitar la gran gira de la ciudad de reyes y reinas
Este recorrido a pie lo guiará por las principales atracciones de Lima, como la plaza principal y el Monasterio de San Francisco con sus misteriosas catacumbas. ¡Pero también hay algunas gemas escondidas esperándote! Algunas otras atracciones que visitará incluyen el Palacio Arzobispal, el Palacio Municipal, Wall Park, el Palacio de la Estación de Tren, el único y tradicional "Cordano Bar", los coloridos palacios de las mansiones, el Jiron del Union Pathway, el Primer Palacio de Fotoshop en Sudamérica, Post Office Palace, Dominicans Tower, el histórico puente Rimac y el próximo gran proyecto de la ciudad: ¡el metro subterráneo! Después del recorrido, lo llevarán de regreso a su hotel de manera segura.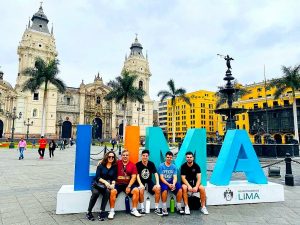 ---
PD: tu postre será durante este recorrido =)
---
Tour incluye
– Recojo de su hotel
– Experiencia en el mercado local peruano
– transporte privado
– Clases de cocina
– cocinero profesional
– ¡Almuerzo!
-Chicha Morada
– Guía profesional
– Tour en idioma inglés
– Todas las entradas
– Peajes
– Estacionamientos
– Transporte de regreso a su lugar.
No incluido
https://southamericaplanet.com/en/local-market-tour-peruvian-cooking-class-city-tour-full-day-lima/
https://southamericaplanet.com/es/visita-al-mercado-local-clase-de-cocina-peruana-visita-a-la-ciudad-dia-completo-lima/
https://southamericaplanet.com/nl/lokale-markt-tour-peruaanse-kookcursus-stads-tour-volledige-dag-lima/