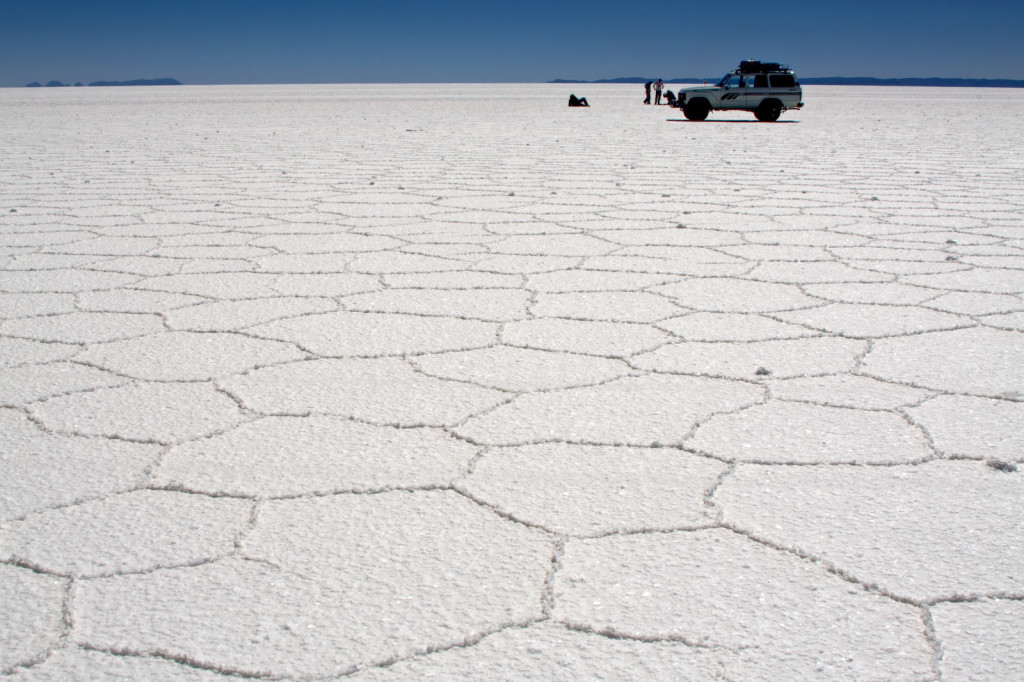 1 dag tour naar de zoutvlaktes van Uyuni
Uyuni Zoutvlaktes 1 dag tour in Privé jeep of gedeelde jeeptour
Salar de Uyuni (of Salar de Tunupa) is 's werelds grootste zoutvlakte, of playa, met een oppervlakte van meer dan 10.000 vierkante kilometer (3.900 vierkante mijl). Het ligt in de provincie Potosí in het zuidwesten van Bolivia, nabij de top van de Andes op een hoogte van 3656 meter boven zeeniveau.
De Salar is ontstaan ​​als gevolg van transformaties tussen verschillende prehistorische meren. Het is bedekt met een paar meter zoutkorst, die een buitengewone vlakheid heeft met de gemiddelde hoogteverschillen binnen een meter over het hele gebied van de Salar. De korst dient als zoutbron en bedekt een pekelpoel, die uitzonderlijk rijk is aan lithium. Het bevat 50% tot 70% van 's werelds bekende lithiumreserves. Het grote oppervlak, de heldere lucht en de uitzonderlijke vlakheid van het oppervlak maken de Salar ideaal voor het kalibreren van de hoogtemeters van aardobservatiesatellieten. Na regen verandert een dunne laag stilstaand kalm water, de zoutvlakte in 's werelds grootste spiegel, 129 kilometer (80 mijl) breed.Je komt onderweg vele lamas, vicuñas en de Andean Viscachas(een soort konijn) tegen, maar ook lokale flora zoals het gras van de Andes (Ichu) en mossen zoals Thola. YUNI is gelegen op 220 km van Potosí .Treinliefhebbers zullen de tranen in de ogen krijgen, wanneer ze deze verwaarloosde rijkdom aan treinen zien staan. Het is een stuk geschiedenis op zich. Hieronder beschrijven we de 3 daagse jeeptocht, één van de hoogtepunten in Zuid america!
er zijn geen afbeeldingen gevonden
---
Je zult rond tien uur (privé tour) of (groepstour) vertrekken op deze prachtige tour naar de Salar de Uyuni.
We rijden eerst langs het treinkerkhof van Uyuni waar je al de vergane glorie kan zien, van verroeste treinen. Nadien rijden we verder tot Colchani. Hier kan je het zout fabriek bezoeken. Hier wordt jodium aan het zout toegevoegd. Alles gebeurt hier nog manueel. De zoutwerkers verkopen hier souvenirtjes, gemaakt van zout. Na deze stop rijden we verder naar de grootste zoutvlakte van de wereld. De oppervlakte bedraagt meer dan 12.000 km². De stralend witte zoutkorst lijkt op een zeer grote sneeuwvlakte! In het regenseizoen staat er water op de vlakte en lijkt het één grote spiegel. Geniet van het avontuur om in een jeep deze prachtige vlakte ter grootte van 1/3 van België over te steken.
Voel je zelf als in één grote zoutwoestijn op de Salar de Uyuni. Het lijkt onwaarschijnlijk en zeer speciaal. Aan de rand van de zoutvlakte zijn de ogen van het zout. Hier zie je wat er zich onder het zout water bevindt. Nadien bezoeken we de zouthopen waar het zout uitdroogt en ook het zouthotel, dat volledig gebouwd is uit zoutblokken, de tafels, stoelen en bed. De Uyuni zoutvlakte geeft je een gevoel van vrijheid op een hoogte van 3665m. De zoutvlaktes kunnen samen met de grote muur in China, gezien worden door de satellieten vanuit de ruimte. Het zout varieert van 2 tot 20 meter dikte. Er wordt geschat dat de vlakte 64.000 miljoen ton zout bevat en ook grote reserves aan Lithium, Mg, Na en Bo. We rijden verder tot aan het Vis eiland (isla INCA WASI). Dit bevindt zich in het midden van de zoutvlakte op 100 km van Uyuni. Fish Island (Isla Pescado) verrast je met prachtige zichten en effecten. Je lijkt wel op de Noordpool, gedomineerd door een staalblauwe hemel en bergen die vol staan met vele immense cactussen van 8 tot 10 m hoogte. Dit eiland is beschermd gebied. Er is ook een onderzoekcentrum en toilet. 30 Bol inkom. Fish eiland is zeer uniek met een geïsoleerd ecosysteem. Fotografen zullen zich kunnen botvieren in hun passie. Dit is één van de beste plaatsen in de wereld voor experimenten met je foto toestel. Je kan hier vele valse effecten maken. Meestal lunchen we aan het eiland. Nadien keren we terug en komen we rond 5 Pm terug aan in Uyuni
Inbegrepen
* Een 4×4 W.D. jeep met chauffeur die Spaanstalig ook als gids dienst doet
* Lunch
Niet inbegrepen
Inkom 30 bol
Al de andere kosten
https://southamericaplanet.com/en/1-day-tour-to-the-saltflats-of-uyuni/
https://southamericaplanet.com/es/1-dia-salar-de-uyuni/
https://southamericaplanet.com/nl/1-dag-tour-naar-de-zoutvlaktes-van-uyuni/