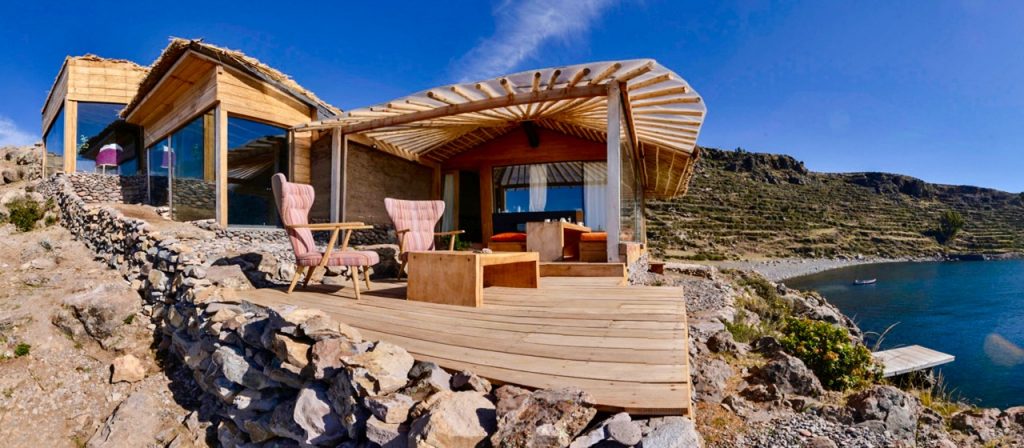 Amantica hotel Puno- Titicaca
An exclusive lodge on the shores of Lake Titicaca, one of the highest of the world, offers traveler to experience a unique and authentic retreat
Its huge windows offers an amazing landscape to our guest's eyes. Its iconic large gas chimney provides comfortable heat and the high quality bed ensures dreamed nights. The suite has a direct access to the terraces overlooking to the Andes and Titicaca lake, one of the most breathtaking scenery in the world.
er zijn geen afbeeldingen gevonden
Titicaca in style
Your own private villa at an altitude of 4000 meters
Looking for a romantic honeymoon in a scenic location where you experience the destination from the inside out in the most comfortable of circumstances? Or a family vacation in style without worries where everything is arranged down to the last detail? Since 2016, the island of Amantani on Lake Titicaca should not be missing on your bucket list!
This highest navigable lake in the world is located at an altitude of 4000 meters and was one of the most sacred places for the Incas. The lake was the cradle of their rich civilization and the birthplace of their most important god, the Sun God INTI.
You reach the lodge after a boat trip of about 3 ½ hours from the city of Puno. Once ashore you will be welcomed by the host and the chef. From now on, you only have to enjoy an impeccable and personal service.
https://southamericaplanet.com/en/amantica-hotel-puno-titicaca/
https://southamericaplanet.com/es/amantica-hotel-puno-titicaca-2/
https://southamericaplanet.com/nl/amantica-hotel-puno-titicaca-3/