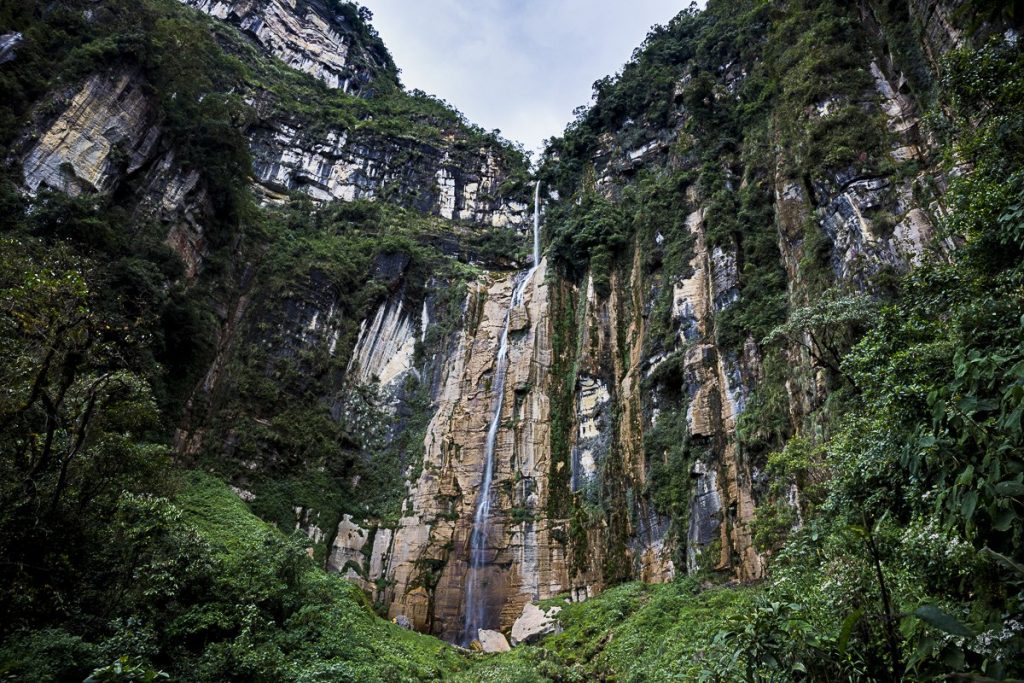 Chachapoyas -Yumbilla +medio cerro + cristal waterval
YUMBILLA WATERVAL + MEDIO CERRO WATERVAL + KRISTAL WATERVAL
Reisplan
08:00 uur Ophalen bij je hotel in Chachapoyas
Vervoer naar de stad Cuispes (1 uur). We beginnen onze 2 uur durende wandeling van de stad Cuispes naar het Forest of the Falls. Tijdens onze tour zullen we genieten en het prachtige landschap verkennen. Bij het bereiken van de Medio Cerro (Middle Hill) waterval (50 min.) Zullen we het water ervaren terwijl we het oversteken. Ongeveer 10 minuten verder bereikt u de Cristal (kristal) waterval, een prachtige waterval die het landschap siert. We gaan verder naar de Yumbilla ("Heart in Love") waterval, waarvan de waterval 896 meter is, de vijfde hoogste ter wereld en de tweede hoogste in Peru. Het stroomt uit de grot van San Francisco op 2723 meter boven zeeniveau, waar het in vier watervallen afdaalt tot 1828 meter boven zeeniveau.
We zullen bergachtig terrein doorkruisen en het boslandschap, velden met veeboerderijen en landbouw observeren. Vogelsoorten zoals de Cock of the Rock (Peruaanse rupícola), Andes toekan (andigena hypoglauca), Marañón Thrush (Turdus maranonicus) en dieren zoals luiaards worden waargenomen. Het gebied is rijk aan flora zoals bromelia's, orchideeën en reuzenvarens, enz.
Ongeveer 17:00 uur, zijn we terug in de stad.
---
Inbegrepen / Transport, Spaanstalige gids, toegangsprijs
Niet inbegrepen/ Maaltijden en drankjes
OPTIONEEL: Engelstalige gids (mogelijk tegen een toeslag), paarden op verzoek (tegen een toeslag). Neem contact met ons op voor meer informatie.
https://southamericaplanet.com/en/yumbilla-waterfall-medio-cerro-waterfall-cristal-waterfall/
https://southamericaplanet.com/es/nl/chachapoyas-tour-bosque-de-las-cataratas/
https://southamericaplanet.com/nl/chachapoyas-yumbilla-medio-cerro-cristal-waterval/