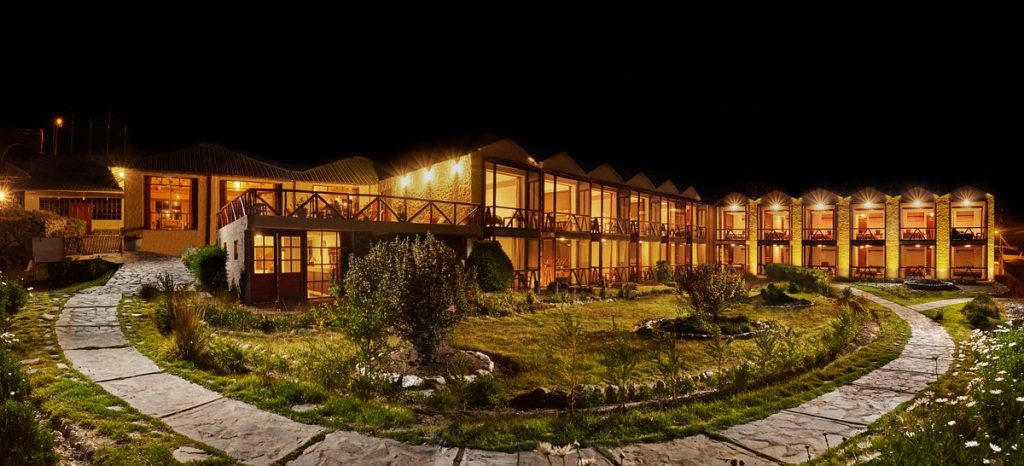 Colca treklodge Pinchollo – Colca Canyon
Colca Trek Mountain Lodge ligt in het kleine stadje Pinchollo, op 15 minuten van Cruz del Condor, aan de weg tussen Cabanaconde en Chivay. Twee uur rijden van Chivay en 40 minuten naar Cabanaconde
Onze 24 comfortabele kamers zorgen voor een warm welkom. Bekijk de meest heerlijke zonsopgangen en zonsondergangen vanuit eigen panoramische ramen en geniet van het geweldige uitzicht op de muren van de Colca Canyon en de tuinen.
Bioklimatisch ontwerp van de lodge, we gebruiken het meeste zonlicht in het water- en verwarmingssysteem. Overvloedig natuurlijk licht komt binnen via grote ramen van vloer tot plafond.
Grote badkamers, met douchecabines en veel warm water.
Pinchollo – Colca Canyon
Verscholen in een van de muren van Colca Canyon, op slechts 15 minuten van de "Cruz del Cóndor" (uitkijkpunt Condor Cross) heeft COLCA TREK LODGE zonder twijfel de beste locatie van elk hotel in Colca.
De ongebruikelijke naam van het hotel wordt toegeschreven aan de onovertroffen locatie, aangezien alle belangrijke trektochten in de omgeving beginnen bij Pinchollo, in de wijk Cabanaconde.
Onze Lodge biedt u een rustig verblijf ver van de drukte van Chivay en de omliggende gebieden, die in het hoogseizoen tot 1500 toeristen per nacht huisvesten. Daarentegen heeft het stadje Pinchollo, waar ons hotel zich bevindt, maximaal 50 bedden beschikbaar voor toeristen.
Afgezien van het feit dat het op een steenworp afstand van de echte Colca Canyon ligt, betekent onze locatie dat elk van onze comfortabele slaapkamers een prachtig uitzicht op het landschap heeft. Onze Lodge, genesteld aan de voet van de Colca-kloof, is het startpunt van verschillende ongelooflijke wandelingen: u kunt wandelen of onze fietsen nemen naar de beroemde Pinchollo-geiser of het uitkijkpunt Cruz del Cóndor. Als je iets avontuurlijkers wilt doen, is ons hotel de perfecte plek om je bergwandeling te beginnen. We zijn een basiskamp voor verschillende beroemde beklimmingen zoals de Ampato-berg, waar de mama Juanita werd gevonden en de griezelige Walka Walka, die net voor de deur ligt.
Vergeet uw tijd te verspillen aan een 4 uur durende rondreis vanuit Chivay of Yanque, die zich aan de rand van de Colca-vallei bevinden, voor een foto van een condor – We zijn niet in de Colca-vallei, we zijn IN DE COLCA CANYON en de condors vliegen recht boven ons hotel!
Faciliteiten
Grote schoorsteen in woonkamers en bar.
Groot terras met ongelooflijk uitzicht op de muren van de Colca-canyon.
Speelkamer: pooltafel en diverse bordspellen.
Gemak.
Mooie tuinen.
Gratis parkeren.
https://southamericaplanet.com/en/colca-trek-lodge-pinchollo-colca-canyon/
https://southamericaplanet.com/es/caminata-colca-lodge-pinchollo-colca-canyon/
https://southamericaplanet.com/nl/colca-treklodge-pinchollo-colca-canyon/