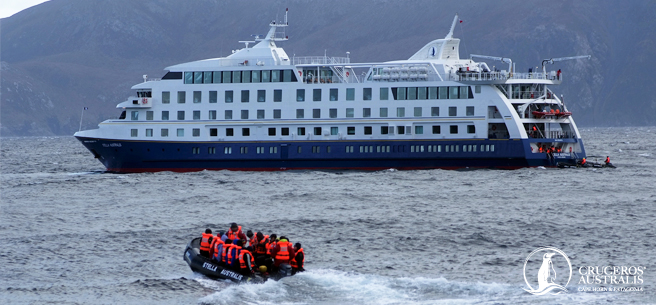 Cruise met Mare Australis, het fjordengebied van Patagonië
Mare Australis (max. 200 passagiers) 5 of 8 daagse cruise / Vuurland van Punta arenas chile naar Ushuaya Argentinië of andersom
Individueel: vaste vertrekdata
Klik op de blauwe naam voor data en Prijzen AUSTRALIS DATES AND PRICES 2020-2021
Wij zijn een luxe expeditie cruisebedrijf dat navigeert door de fjorden en kanalen van Tierra del Fuego, gelegen in het Chileens-Argentijns Patagonië. Sinds 1990 hebben we passagiers van verschillende nationaliteiten vervoerd om een ​​van de mooiste en meest afgelegen regio's ter wereld te verkennen, met een speciaal soort toerisme, met deskundige gidsen en Zodiac-expedities. We zijn ons ervan bewust dat het navigeren door zo'n ongerept ecosysteem een ​​voorrecht is, daarom voeren we onze activiteiten op een duurzame manier uit om de onontdekte en natuurlijke omgeving te behouden zoals we die kenden sinds we onze ontdekkingsroutes begonnen, bijna 30 jaar geleden.
Jaarlijks, tussen september en april, bestrijken onze schepen Stella en Ventus Australis een route van 4 nachten tussen de steden Punta Arenas in Chili en Ushuaia, in Argentinië, langs bezienswaardigheden in het Patagonische landschap, zoals het Beaglekanaal en Kaap Hoorn. Onze service aan boord is all-inclusive, met eersteklas gastronomie, een open bar en een expeditieprogramma onder leiding van deskundige gidsen, getraind in glaciologie en natuurlijke geschiedenis van de Magellan-regio en het Chileense Noordpoolgebied.
Vanwege onze uitzonderlijke service aan boord en het gerenommeerde traject hebben we belangrijke onderscheidingen ontvangen, zoals de Travel + Leisure World's Best Awards en de Cruiser's Choice Awards, in de categorie van het beste kleine cruiseschip in Zuid-Amerika.
TIERRA DEL FUEGO
Ontdek de meest afgelegen hoek van Patagonië
Aan boord van een van onze schepen, Ventus en Stella Australis, kunt u de majestueuze Kaap Hoorn, de Darwin Range en het Beagle-kanaal bewonderen, naast andere juweeltjes van het Patagonische landschap van Tierra del Fuego. Gelegen waar het Amerikaanse continent eindigt, de onbekende archipel van Tierra del Fuego heeft in de loop van de tijd navigators en ontdekkingsreizigers aangetrokken. Van Ferdinand Magellan tot Charles Darwin, veel beroemde mannen hebben het wagen om deze verre landen te ontdekken, die tot op de dag van vandaag onontgonnen zijn. Langs onze route leert u geografische mijlpalen en natuurlijke landschappen kennen die wereldwijd bekend zijn tijdens een onvergetelijke ontdekkingsreis en avontuur.
Onze vloot
Onze schepen Ventus en Stella Australis zijn speciaal ontworpen en gebouwd om door de zuidelijkste kanalen van de wereld te navigeren en hebben een maximale capaciteit van 200 passagiers. We volgen strikte beveiliging protocollen waarmee we op de smallere routes kunnen reizen, waar de grotere schepen zich niet kunnen wagen.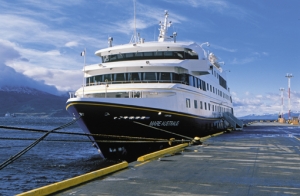 ---
Fjorden van Tierra del Fuego – routebeschrijving Klik in de blauwe naam voor het dag aan dag programma
Itinerary Fjords of Tierra del Fuego Punta Arenas – Ushuaia 5 Days 4 Nights
4 nachten | Punta Arenas – Ushuaia
Day 1: Punta Arenas
Day 2: Ainsworth Bay – Tuckers Islets*
Day 3: Pía Glacier – Glaciares Alley**
Day 4: Cape Horn – Wulaia Bay
Day 5: Ushuaia
* Deze excursie wordt in september en april vervangen door de Brookes-gletsjer.
** Dit is geen excursie.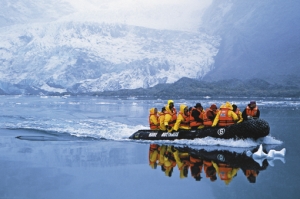 ---
Patagonia Explorers – reisroute Klik in de blauwe naam voor het dagelijkse programma
Patagonian Explorer 5 days 4 Nights Ushuaia to Punta Arenas
4 nachten | Ushuaia – Punta Arenas
Day 1: Ushuaia
Day 2: Cape Horn – Wulaia Bay
Day 3: Pía Glacier – Garibaldi Glacier
Day 4: Águila Glacier – Cóndor Glacier
Day 5: Magdalena Island* – Punta Arenas
* Deze excursie wordt in september en april vervangen door Marta Island.
We hebben ook een 8 dagen programma, kijk op deze link
Ushuaia Darwin's Route from Ushuaia to Ushuaia in 8 Days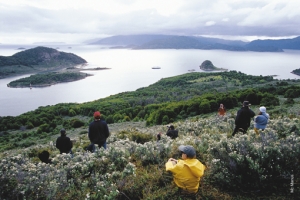 De Chileens / Argentijnse fjorden zijn één van de meest pure natuurgebieden ter wereld. Wegens de steile bergen vanuit de Andes zijn wegen bijna onmogelijk. Daarom kunnen deze fjorden in Chili alleen per boot of te voet bezocht worden
Van eind september tot eind april vaart het cruiseschip Mare Australis door dit prachtige landschap. Tijdens de reis zijn er dagelijkse excursies om in Zodiac boten te landen. Er zijn ook dagelijkse lezingen over de flora en fauna van de zone. Voor deze excursies hoef je geen ervaring te hebben, iedereen kan dit, voor alle leeftijden
We kunnen uw verdere reizen in Patagonië regelen, vanuit Ushuaia kunnen we transfers, hoteltours regelen, laat ons nu uw programma weten, we kunnen ook hotel en transfer in Punta Arenas regelen!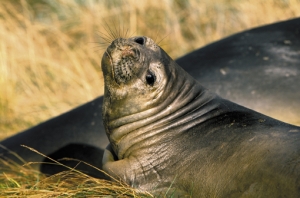 ---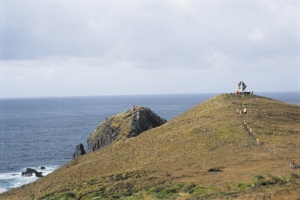 https://southamericaplanet.com/en/cruise-with-mare-australisthe-fjords-in-patagonia/
https://southamericaplanet.com/es/crucero-con-mare-australis-los-fiordos-en-la-patagonia/
https://southamericaplanet.com/nl/cruise-met-mare-australis-het-fjordengebied-van-patagonie/