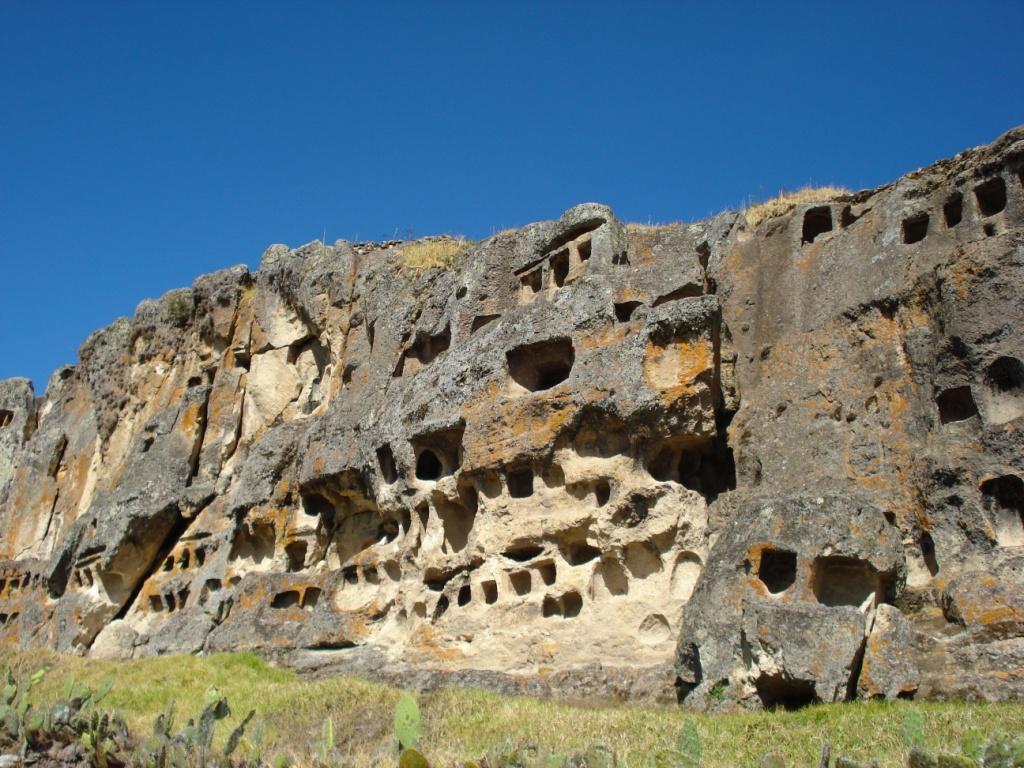 de ramen van Otuzco
De Ventanas van Otuzco staan ​​ook bekend als: De Necropolis van Otuzco, de naam van "ramen" is te danken aan het uiterlijk dat ze laten zien als een reeks holtes die in opeenvolgende rijen horizontaal zijn georganiseerd.
Wat zijn de Ventanillas de Otuzco?
De vensters zijn vierkante en rechthoekige holtes, uitgehouwen in laag reliëf in een rotsachtig oppervlak van vulkanische oorsprong (bestaande uit trachytische en fenolytische lava).
Geschiedenis van de Ventanillas de Otuzco:
De Cajamarca-cultuur had een invloed tussen de jaren 300 en 800 na Christus. Deze crypten werden waarschijnlijk gebruikt voor begrafenis, aangezien er geen complete botresten werden gevonden. Blijkbaar werden de overledenen voor het eerst in de grond begraven, na enige tijd werden enkele botten en schedels in de nissen geplaatst die in de rotsen waren uitgehouwen voor vereringsdoeleinden.
Bouw van de ramen van Otuzco
Deze crypten of nissen met een rechthoekige en vierkante vorm zijn uitgehouwen in trachietsteen – metselwerk, bovenop anderen gelegd, die worden beschermd door goten zodat het water in het regenseizoen er niet kan instromen.
De nissen en galerijen zijn 8 tot 10 meter diep en elke grafholte is 50 of 60 cm. hoog die oorspronkelijk stenen grafstenen moet hebben gehad met symbolische figuren in reliëf, een conclusie die wordt gegeven vanwege enkele fragmenten die in de crypten zijn gevonden en enkele ceremonies.
Waar?
Het is gelegen nabij het dorp Otuzco, in het district Baños del Inca, 8 km ten noordwesten van de stad Cajamarca, de site is gelegen op vulkanisch gesteente en heeft een oppervlakte van 4.000 meter.
Hoogte: het is op 2850 m.s.n.m.gelegen
Ventanillas de Otuzco (Begraafplaatsen van Cultuur / Cajamarca), Tuin van Hortensia's, Cajamarca Ambachten, Fundo "Los Alpes", ambachtelijke kaasfabriek
Inbegrepen
gids
vervoer
Kaartjes
Niet inbegrepen
Maaltijden
https://southamericaplanet.com/en/the-windows-of-otuzco/
https://southamericaplanet.com/es/ventanillas-de-otuzco-cajamarca/
https://southamericaplanet.com/nl/de-ramen-van-otuzco/