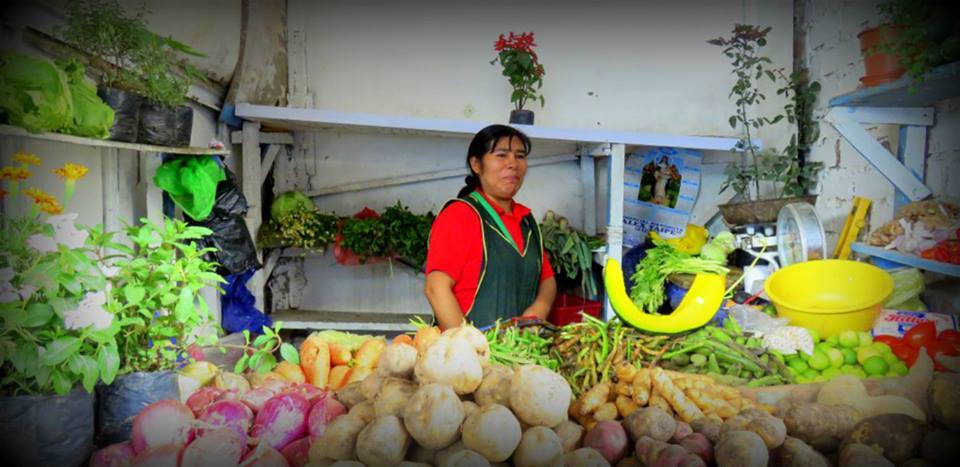 DE SHANTY TOWN TOUR (LOKALE LEVENSERVARING) 1/2 Dag
Shanty Town Walking Tour – elke dag beschikbaar!
Tijdens deze wandeltocht krijg je de kans om te zien hoe een grote meerderheid van de bevolking van Lima echt leeft in een gelukkig omgeving en een gemeenschapssysteem. We willen dat je 'het echte' Lima ziet. Maak een wandeling langs de beroemde gele trappen en langs smalle, wegen helemaal naar de heuveltoppen en ontdek een prachtig uitzicht op de stad van Villa El Salvador, San Juan, Pamplona, Villa Maria, enz., Enkele van de grootste sloppenwijken van het land. Tijdens de tour bezoeken we ook een lokaal kinderdagverblijf en de vriendelijke families uit deze leuke gemeenschap. De enorme afmetingen en adembenemende uitzichten van de stad zijn indrukwekkend voor elke bezoeker. Onthoud dat deze tour op het punt staat mensen te leren kennen, die hun cultuur, tradities, overtuigingen en gedachten met u zullen delen. Je kan een warme, gastvrije en gelukkige glimlach verwachten (de lokale bevolking houdt van bezoekers)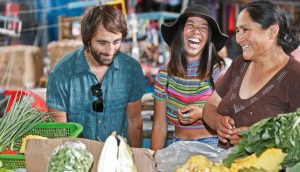 ---
Routebeschrijving:
Bij aankomst wordt u door uw lokale gids verteld over de basisrichtlijnen die u tijdens de tour moet volgen. Hoewel we weten dat 'Shanty-steden' een reputatie hebben, willen we dat u zich altijd 100% veilig voelt.
Terwijl je langzaam je weg baant naar de voet van de heuvel, zal onze gids een beetje uitleggen over de gemeenschap en haar ontwikkelingen, de urbanisatieprojecten, politiek, religie en hoe we in het gebied helpen. Geleidelijk aan begin je je reis langs de beroemde "gele trap", pauzeer je voor een paar foto's van de geweldige uitzichten in groter Lima, krijg je een kijkje in huizen en heb je interactie met buren en families die we ontmoeten tijdens deze lokale levenservaring.
Onderweg stoppen om foto's te maken met de lokale bevolking die op je wacht in hun typische huizen, zie uit de eerste hand de lachende kinderen en hardwerkende gezinnen van Lima. Je zult waarschijnlijk een lokale vakman ontmoeten die prachtig handgemaakt zilverwerk produceert.
Op weg naar beneden, bezoek je een plaatselijke kleuterschool (* niet open in het weekend, maar misschien ontmoet je een aantal van deze kinderen terwijl ze op straat spelen), waar je de kans hebt om deel uit te maken van de lokale activiteiten, zoals volleybal of voetbal, met de lokale kinderen.
Hoogtepunten: lokale markt, Shanty Town-wandeltocht, panoramisch uitzicht op de Lurin-vallei, westkust en de stad Lima, lokale gids, rondleiding op maat, gemeenschappelijke keuken, ontmoeting met de vrouwelijke gemeenschapsleiders, lokaal kleuterschoolbezoek en straathonden. Perfecte gelegenheid om deel uit te maken van de lokale bevolking. Gegarandeerd een goede tijd samen met de lokale bevolking en oefen je Spaans
Opmerking: als we de Shanty-stadsgemeenschappen kunnen bezoeken, is dat omdat we in gevorderden toestemming vragen aan de lokale leiders (het zijn 18 leiders en 15 van hen zijn vrouwen, onze Shanty-slepen worden gerund door vrouwen). We sponsoren meer dan 10 verschillende gemeenschappen. Als u een donatie wilt doen, neem dan contact met ons op!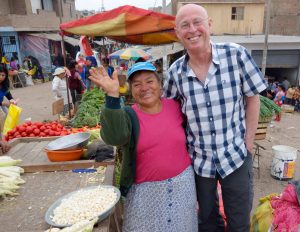 ---
HOUD ER REKENING MEE DAT:
In het verleden werden de Shanty Towns veel misbruikt door buitenlanders. om deze reden zal tijdens alle bezoeken een lokale leider van de gemeenschap deel uitmaken van de groep om te zorgen voor goede prestaties en een gelukkige ervaring in de gemeenschap.
We raden je ten zeerste aan om kleurrijke kleding te dragen, omdat de lokale bevolking het gastvrij vond. Donkere kleuren zijn synoniem voor pech of een slecht voorteken voor de lokale bevolking. Draag comfortabele kleding en schoenen, een zonnebril, zonnebrandcrème en een hoed om uw reis zo comfortabel mogelijk te maken. Neem ook een flesje water mee en een reservebatterij voor je camera
---
Inbegrepen
Ophalen bij uw hotel.
Vervoer.
Engels sprekende gids.
Service op maat.
Alle toegangskaarten.
Tol en Parkeren.
Vervoer terug naar uw plaats.
https://southamericaplanet.com/en/the-shanty-town-tour-local-life-experience-1-2-day/
https://southamericaplanet.com/es/el-tour-shanty-town-experiencia-de-vida-local1-2-dia/
https://southamericaplanet.com/nl/de-shanty-town-tour-lokale-levenservaring-1-2-dag/