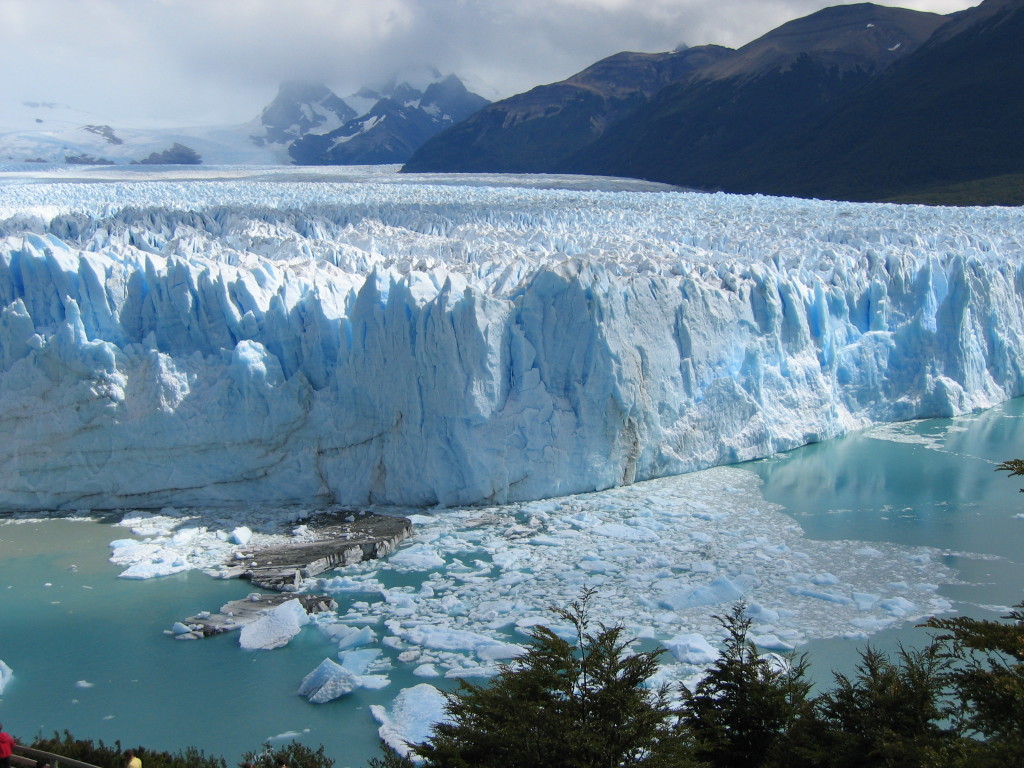 El Calafate – Argentinië
El Calafate
El Calafate is de toegangspoort tot het gletsjerveld van Patagonië. Gelegen op 2700 km van Buenos Aires, 300 km van Rio Gallegos en slechts ongeveer 80 km van de Perito Moreno-gletsjer, ligt de stad aan de oevers van het Argentino-meer, het grootste in Argentinië en de derde in Zuid-Amerika.
El Calafate, officieel opgericht in 1927, was een tussenstop op weg van veel lokale bewoners van de Andes naar de kust. Plots begon het vele anderen te verwelkomen op weg naar de Perito Moreno-gletsjer en begon het de basis te zijn van waar te vertrekken naar de 80 km lange route, 'avontuur' in die tijd. De naam kwam van de lokale bush "calafate", waarvan fruit wordt gebruikt om een ​​heerlijke jam van te maken.
Eens een plaats die werd gekenmerkt door zijn schapen die Estancias fokten, is het nu een toeristisch dorp met veel accommodatie en eetgelegenheden die de Andes Patagonië-sfeer behouden door hun decoratie en eten.
Weer
Ondanks dat het in het zuiden van Patagonië ligt, geniet El Calafate van een beter weer in vergelijking met de omliggende steppegebieden vanwege de matigende werking van het Argentino-meer en omdat het wordt beschermd door heuvels. De temperaturen vallen 's nachts in de herfst en winter onder nul, winderige dagen komen vaak voor in de zomer. Droge kou is de manier waarop we het weer kunnen definiëren vanwege het gebrek aan regen, de luchtvochtigheid neemt toe naarmate je dichter bij de Perito Moreno-gletsjer komt en het gebied van andere gletsjers, waar je in de herfst en winter vaak motregent.
Wanneer kom je?
El Calafate is het hele jaar door te bezoeken. In de winter zijn er geen beperkingen, afgezien van het kleinere aantal bussen dat vertrekt naar El Chalten, en excursies kunnen elke dag worden gedaan. Van oktober tot maart kan het in het gebied wat druk zijn.
Hoe lang?
Als je echt wilt genieten van El Calafate en het Glaciares National Park, raden we je aan om minimaal drie nachten te blijven, zodat je de twee belangrijkste excursies naar Perito Moreno en Upsala Glaciers kunt maken, ze vertrekken vroeg in de ochtend en keren terug naar het hotel in de avond. Als u slechts twee nachten verblijft, kunt u gewoon de Perito Moreno-gletsjer bezoeken, wat een aanrader is voor mensen die weinig tijd hebben.
Hoe geraak je er?
El Calafate is het hele jaar door per vliegtuig bereikbaar vanuit Buenos Aires (3 uur) en Ushuaia (1 uur) en het hele jaar door vanuit Bariloche (2 uur) en Puerto Madryn (1,4 uur) volgens de dienstregeling van de luchtvaartmaatschappij in het hoogseizoen. Met de bus bereikt u de stad vanuit El Chalten (5 uur), Rio Gallegos (3 tot 4 uur), Ushuaia (12 uur) en Puerto Natales (7 uur).
Musea
– Regionaal museum El Calafate
– Historisch interpretatiecentrum
vertrek in de vroege ochtend naar de zuidelijke arm van het Argentino-meer naar het nationaal park Los Glaciares. Nadat u langs de Rico Arm of the Lake bent gereden, komt u bij de paden en uitkijkpunten van de Perito Moreno-gletsjer, op 85 km van El Calafate. 'S Middags keert u terug naar El Calafate.
De excursie begint op de pier in Bajo de las Sombras Bay, 6 km van de gletsjerwanden, waar je de 20 minuten durende navigatie over de Rico Arm maakt en geniet van een adembenemend uitzicht op de voormuren van de gletsjer en het ijsbergkanaal. Je stapt uit aan de overkant, waar gespecialiseerde berggidsen je verwelkomen en je naar een kleine hut leiden van waaruit groepen van 20 mensen een gids krijgen toegewezen die hen langs de oever van het meer naar de rand van de gletsjer brengt en een inleidend gesprek geeft over de geologische vorming van het gebied. Eenmaal op het ijs zetten de gidsen elke persoon een paar stijgijzers op en leggen uit hoe ze te gebruiken. Het twee uur durende circuit dat volgt laat je kennismaken met het fascinerende landschap van de gletsjers: beekjes, kleine lagunes, geulen, kloven en tal van ijsformaties van de meest ongelooflijke blauwe tonnen. De trekking is matig. Het ijsoppervlak waarover je loopt is onregelmatig, maar stevig en veilig. U krijgt uitleg over de flora, fauna en algemene glaciologie van de regio en ook over het bijzondere fenomeen dat zich voordoet in de Perito Moreno-gletsjer en uiteindelijk zijn breuk veroorzaakt. Na de wandeling brengt een wandeling door het bos je terug naar het asiel. Voordat u naar El Calafate gaat, wordt u meegenomen naar een bezoek aan de paden voor de gletsjer.
Aanbevelingen:
a) Schoeisel: Sportschoenen of wandelschoenen, met warme wollen of katoenen sokken. Rubberen en après-skischoenen en schoenen met hoge hakken worden afgeraden.
b) Outfit: comfortabele sportkleding, lange broek, warme trui of pool, water- of winddichte jas, zonnebril, zonnebrandcrème, handschoenen.
c) Lunch: Passagiers moeten hun lunchboxen meenemen.
d) Leeftijd: tussen 10 en 60 jaar oud. Andere leeftijden, raadpleeg op kantoor