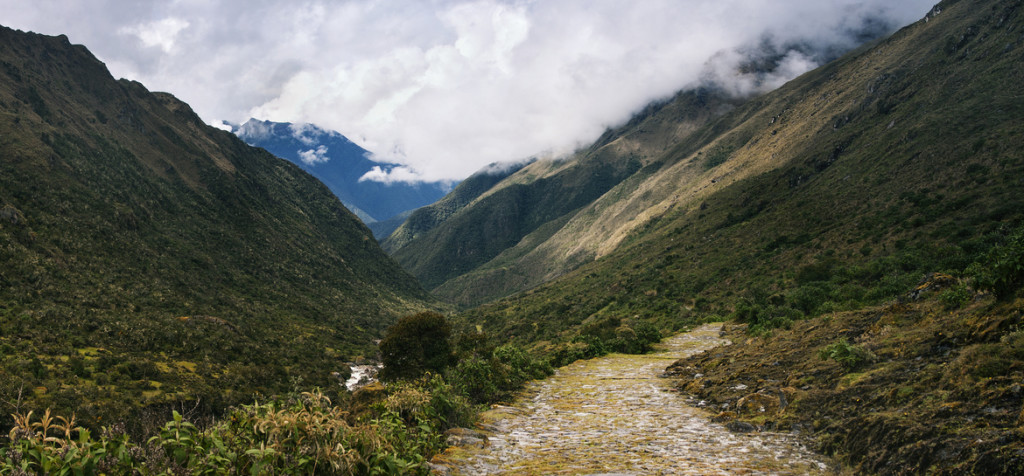 El Choro trekking 3 dagen vanaf La Paz, Bolivia
El Choro trekking, mogelijk van april tot oktober, vanaf 2 personen
Eén van de meest populaire afdaling /wandelingen in Bolivia die voor bijna iedereen mogelijk is. Indien je tijd hebt, moet je deze trekking zeker doen! Wandel in de voetsporen van de Inca's vanaf 4.900 m naar beneden over een prachtig bewaard stenen pad naar de subtropische beplantingen van de jungle. Hier ga je citroenbomen en bananenplantages zien, alsook koffie en coca plantages, mooie vlinders en vogels. Verwacht natte voeten bij het oversteken van de rivier. Je eindigt in het dorpje Chairo. Hier kan je kiezen om nog een nacht te blijven in Coroico of direct naar La Paz terug te keren.
Nota: Trekking mogelijk vanaf 2 personen. Mogelijk in 3 of 4 dagen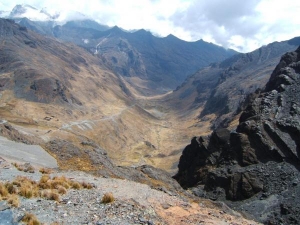 ---
Dag 1 La Paz – Challapampa
Vertrek vanuit La Paz vervoer tot La Cumbre op 4770 m. Vanaf hier start onze trekking naar de Apacheta Pass op 4900 m. Na de pas is er een spectaculaire afdaling voor 7 u vanaf de hoge grasvelden naar het regenwoud van de jungle. We passeren een klein dorpje,Chukara, op 3750 m. In de late namiddag komen we aan bij ons Challapampa kamp op 2800 m in. We lunchen onderweg.
Avondmaal en overnachting in Challapampa.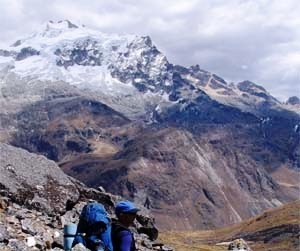 ---
Dag 2 Challapampa – San Francisco
Je wandelt door de nog onaangeroerde wolkenbossen van Bolivia, beschermd door Cotapata Nationaal Park. De trek daalt af door smalle valleien, door dichte bebossing, orchideeën bromelia's en vele andere subtropische planten. Mooi gekleurde vogels en vlinders passeren ons pad. Na een afdaling van 7 u bereiken we Rio Jucumarini kamp op 2600 m.
Avondmaal en overnachting.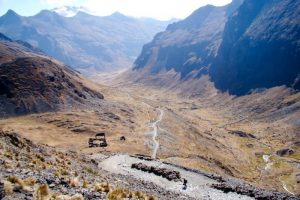 ---
Dag 3 San Francisco – Chairu
De trek gaat verder naar beneden langs Rio Jucumarini vallei waar de bossen beginnen. De vegetatie wordt gevarieerder. Na 6 à 7 u wandelen, arriveren we in Chairu op 1400 m. Transfer per auto naar Coroico. De rit terug naar La Paz duurt 4 u. Privé vervoer is mogelijk op aanvraag.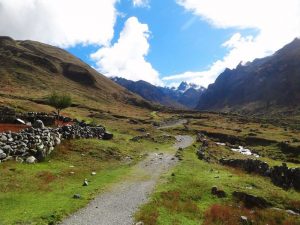 ---
Inbegrepen
* Private transportation, La-Paz – La Cumbre
* Transportation Chairo – Coroico, Coroico – La Paz
* Professional guide * A cook, breakfast, lunch & dinner
* Tent
---
Niet inbegrepen
* Persoonlijk materiaal
* Persoonlijke medicijnen
* inkom Bs.20 per dag
* Persoonlijke drager
---
Wat breng je mee ?
* Lichte en warme kleding
* Trekking schoenen
* Zonnebril
* Zonnecrème (hoge factor)
* Waterproof kleding
* Slaapzak
* Insect repellent (hoge DEET)
* Fotokopie van je paspoort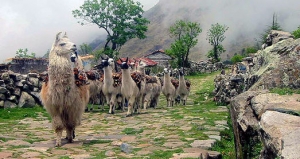 ---
optioneel
* Camera
* Verrekijker
* Zakmes
---
Wat hebben we nodig voor reservatie?
*Een scan of foto van je paspoort
*je gewenste vertrekdata
*We vragen 40 % waarborg via Visa Online of Pay pall via onze website ( +5.5% kosten die kredietkaarten ons aanrekenen ) of via wetravel 4,5 % de rest betaal je in Cusco in ons kantoor voor de start van de trekking. Indien je niet voor de trek naar Peru komt, vragen we 100 % deposit. Klik op het gewenste logo aan de rechterkant van deze website.( Wetravel aan ons vragen )
https://southamericaplanet.com/en/el-choro-trekking-3-days-from-la-paz-bolivia/
https://southamericaplanet.com/es/el-choro-trekking-3-dias-desde-la-paz-bolivia/
https://southamericaplanet.com/nl/el-choro-trekking-3-dagen-vanaf-la-paz-bolivia/