Fundo Chinchero/ Puno 2 d/1 n
We bieden een totaal nieuw toeristisch alternatief dat lodge en activiteiten combineert. Er is geen betere plek in de Altiplano waar de bezoeker het Titikaka-meer kan bezoeken en een volledige ervaring kan hebben met het contact met boerderijdieren en de natuur.
Fundo Chincheros is een boerderij uit de late 19e eeuw, gewijd aan de traditionele veeteelt in de Andes en recentelijk aan de toeristische activiteit. Niet meer dan 20 minuten rijden van de stad Puno. We bieden accommodatie bij de boerderij, paardrijden, wandelingen, vogels kijken, lama en alpaca, delen dagelijkse boerderijactiviteiten of brengen gewoon tijd door met ontspannen in de natuur.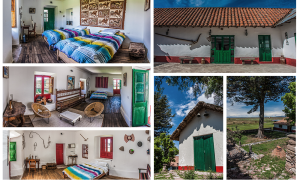 Accommodatie
We hebben vijf warme en gezellige kamers vol stijl en geschiedenis, zorgvuldig uitgerust en gedecoreerd. Deze hebben allemaal verwarming en goede voorzieningen.
Thuis voelen
U kunt ontspannen in uw comfortabele kamer met stijl en geschiedenis, gebruik maken van de mooie en goed uitgeruste keuken, een lekker glas wijn drinken voor de schoorsteen of genieten van het prachtige uitzicht op de sterren vanaf het terras.
Twin & Family kamers
Er zijn eenpersoonskamers, tweepersoonskamers met 1 of 2 bedden en een eigen badkamer, maar ook familiekamers die bestaan uit twee kamers die onderling zijn verbonden en een eigen badkamer delen.
Beleef de ervaring
U kunt gaan paardrijden, verschillende wandelpaden langs de boerderij en de omgeving verkennen, zoals het pad door het kenmerkende cactussenbos, of gewoon genieten van het prachtige landschap en de rust op de boerderij van het huis.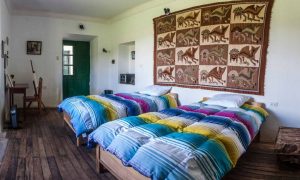 Paardrijden
Trotse fokkers Peruaans Paso-paard, we bieden paardrijtochten naar ieders smaak en ervaring van onze bezoekers. We geven bezoekers een kennismakingscursus om hen voldoende vertrouwen te geven bij het paard en om het expertiseniveau van de ruiter beter te leren kennen. We hebben routes van een en drie uur, rijdend langs de boerderij en omgeving, door mooie valleien, bossen, tussen de boerengemeenschap en vlakbij het Titicacameer. Als bezoekers interesse hebben en goede ervaring hebben met paarden, kunnen wij een of meerdere dagen paardritten op maat organiseren, er zijn tal van mooie en interessante plaatsen te paard te bezoeken.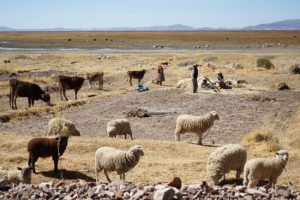 Wandelpaden
Er zijn 125 hectare om te genieten van verschillende soorten prachtige wandelingen, sommige vlak en ontspannen en andere uitdagender, ze bieden je allemaal een fantastisch landschap van de altiplano. Je kunt de boerderijdieren zien, door een interessant cactussenbos lopen, door een mooie vallei wandelen of genieten van het uitzicht en de geschiedenis van het pre-inca ceremoniële centrum.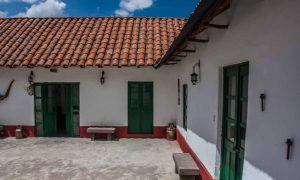 Nota /Dit kan niet los geboekt worden maar samen in een pakketreis
https://southamericaplanet.com/en/fundo-chinchero-puno-2-d-1-n/
https://southamericaplanet.com/es/fundo-chinchero-puno-2-d/
https://southamericaplanet.com/nl/fundo-chinchero-puno-2-d-1-n-2/