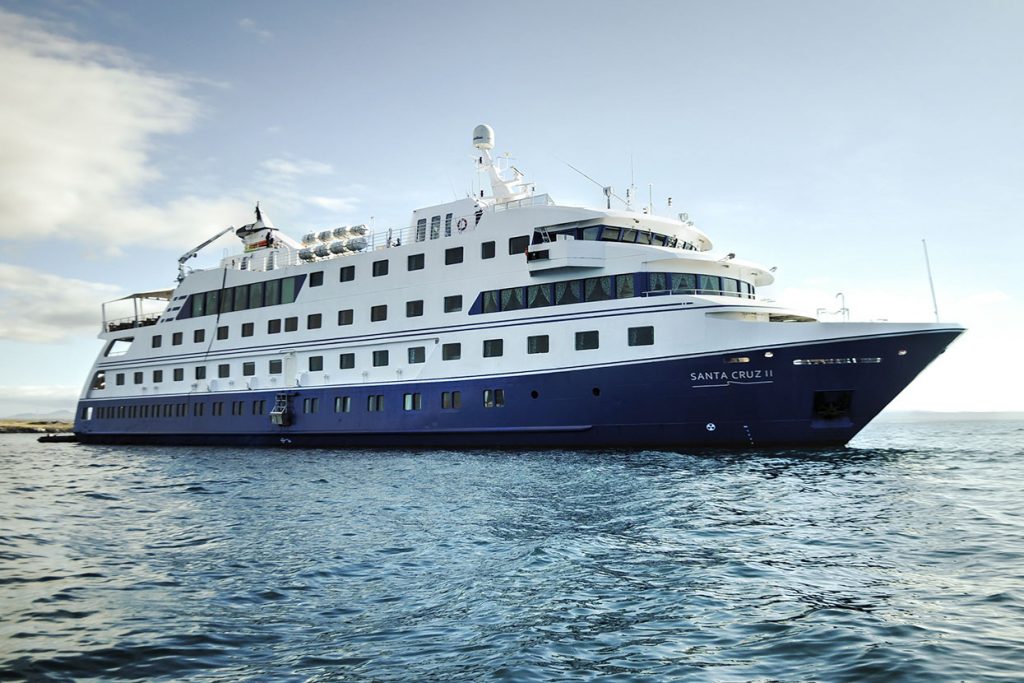 Galapagos-eilanden, op de Santa Cruz Boat Cruise 5 of 7 dagen avontuur
De Santa Cruz is het mooiste schip in haar klasse dat vandaag de archipel vaart. Ze is veelzijdig, flexibel en leuk, met een uitstekende bemanning die zich inzet om de ervaring van haar gasten buitengewoon te maken. Vraag ook het programma en de data van ons andere La Pinta Luxury Yacht
Dit is een grotere boot, dus ideaal voor mensen die vatbaar zijn voor zeeziekte
We hebben
Eastern Galapagos 7 d 6 n Vrijdag tot Donderdag
Western Galapagos 5 d 4 n Donderdag tot Maandag
Northern Galapagos 5 d 4 n Maandag tot Vrijdag
---
---
Santa Cruz II Galapagos Cruise
Slank en modern, de Santa Cruz II staat klaar om u op een avontuurlijke reis van de Galapagos-eilanden te sturen in een eigentijdse stijl. Perfect voor groepen van elke grootte, de talrijke en grote sociale ruimtes geven je de mogelijkheid om te genieten van rustige momenten: alleen of in groepen, zoals je wilt. Galapagos land- en wateractiviteiten zijn er in overvloed in de vorm van wandelen, kajakken, paddleboarden, snorkelen, kustverkenningen en zelfs een boot met glazen bodem (voor degenen die de onderwaterwereld van de Galapagos-eilanden willen zien zonder nat te worden)! Uitzonderlijke service en voortreffelijke gastronomie wachten op u als aanvulling op de fascinerende reis die u voorbestemd bent om te beleven tijdens uw Galapagos-avontuurlijke reis aan boord van de Santa Cruz II, of het nu met familie, vrienden of alleen is!
Cruisecabines op de Santa Cruz II zijn ontworpen om haar gasten de perfecte luxe reisomgeving te bieden. Dit is de ideale plek om te ontspannen, uit te rusten en tot rust te komen na een onvergetelijke dag vol ontdekkingen. Moderne en comfortabele indelingen maken uw tijd aan boord tot een ongelooflijk plezierige unieke ervaring.
---
Oost Galapagos 7 d 6 n Vrijdag tot Donderdag Eastern Galapagos 7 days 6 nights Santa Cruz Klik in de blauwe link voor het dagelijkse programma
Onze cruise op de oostelijke Galapagos-cruise begint op het eiland Baltra, waarna een korte reis aan boord van de Santa Cruz II ons naar het eiland Mosquera brengt, waar we de zeeleeuwen bekijken voordat ons zeilteam richting San Cristobal gaat. Een stop bij het Cerro Colorado Tortoise Breeding Center zal onze ogen openen voor de schoonheid van de Galapagos-reuzenschildpad en voor het belangrijke wetenschappelijke werk dat nog steeds op de eilanden wordt gedaan. 'S Middags reizen we naar het meest oostelijke puntje van de archipel, Punta Pitt, de enige stop op deze reis waar we (mogelijk) roodvoetige domoren kunnen zien. Vanaf hier gaat het verder naar de centrale eilanden, te beginnen met Santa Fe, met zijn prachtige rustige baai, voordat je doorgaat naar de wilde kliffen van South Plaza Island met zijn verleidelijke cactussen, landleguanen en prachtige zeevogels. De volgende dag bezoeken we het wereldberoemde Charles Darwin Research Station op het eiland Santa Cruz. Vervolgens wacht het eiland Española, door gidsen en expeditieleiders uitgeroepen tot het # 1-eiland, met zijn opmerkelijke bezoekersplaats Punta Suarez, de thuisbasis van honderden zeeleguanen, zeeleeuwen, zeevogels en zelfs albatrossen (aanwezig tussen april en december) – waardoor dit een werkelijk verbluffende site wordt! 'S Middags genieten we van het water bij Gardner Bay. De volgende ochtend worden we wakker op Eden Islet en eindigen we de dag op North Seymour, beroemd om zijn land leguanen en zeeleeuwen, evenals vogelkolonies van blauwvoet vangenten, fregatvogels en Nazca-genten. We eindigen bij Baltra na een ontroerende en gedenkwaardige ervaring van de oostelijke Galapagos-eilanden
---
Onze West-Galapagos cruise-route begint in Baltra, waar we aan boord gaan en richting Dragon Hill op het eiland Santa Cruz zeilen voor een interessante wandeling door palo santo-bossen die vol zitten met de beroemde landleguanen van de Galapagos. 'S Nachts zeilen we rond het zeepaardvormige Isabela-eiland naar twee geweldige bezoekerslocaties: Punta Vicente Roca op het eiland Isabela (met de fascinerende geologie van de ingestorte vulkaan in Ecuador) en vervolgens de wilde en pure Punta Espinoza op Fernandina (een van de meest ongerepte eilanden) ter wereld, met een van de grootste kolonie zeeleguanen van de archipel en mogelijkheden om vliegende aalscholvers te zien). Van daaruit varen we terug naar het eiland Santa Cruz om het wereldberoemde Charles Darwin Research Station te bezoeken, waar wetenschappers betrokken zijn bij onderzoek en instandhoudingsinspanningen, waarvan de bekendste een kweekprogramma in gevangenschap is voor Galapagos-reuzenschildpadden. Daarna brengen we de middag door met genieten van een scala aan activiteiten. De volgende dag vinden we ons op Floreana Island en verkennen we de menselijke geschiedenis en prachtige natuur in zowel Post Office Bay als Cormorant Point. De volgende dag nemen we na een geweldige reis afscheid van de Galapagos Eilanden!
---
Onze Noord-Galapagos cruise-route begint samen op de luchthaven van Baltra, vanwaar we naar het glorieuze witte strand van Las Bachas zeilen met een paar brakwaterlagunes op slechts een steenworp afstand van de zee. Deze lagunes dienen als voedingsbodem voor verschillende waadvogels, waaronder stelten, pijlstaarteenden en flamingo's. Terwijl we onze reis voortzetten, verkennen we twee fascinerende bezoekerslocaties op Santiago Island: Buccaneer Cove, de thuisbasis van een groot aantal zeevogels, zeeleeuwen ; en Puerto Egas, met zijn fantastische getijdenpoelen vol leven en goede snorkel- en zwemmogelijkheden. De volgende dag bezoeken we het rode zandstrand van het eiland Rabida, samen met een prachtig pad rond enkele kliffen en een populaire plek voor wateractiviteiten, met enkele van de beste snorkelplekken op de Galapagos-eilanden! In de middag ronden we de dag af met een stop op Bartolome Island, dat een vulkanisch uitkijkpunt biedt met ruimte om te wandelen, zwemmen en het strand en de kust te verkennen. Bartolome is een van de weinige plekken op de Galapagos die je de kans geeft om Galapagos-pinguïns te zien. Vanaf hier varen we naar het noordoosten en steken de evenaar over, naar de verzonken krater van het eiland Genovesa, de thuisbasis van duizenden zeevogels. Het voelt als een wereld die een miljoen mijl verwijderd is van de onze. We eindigen met een ongelooflijke ontmoeting met de natuur waardoor we respectvol een wilde habitat delen met gigantische Galapagos-schildpadden in een privéreservaat in de hooglanden van het eiland Santa Cruz en vervolgens naar het vliegveld van Baltra gaan.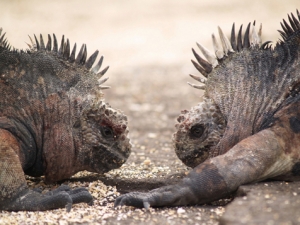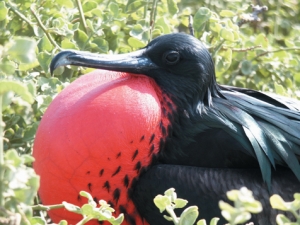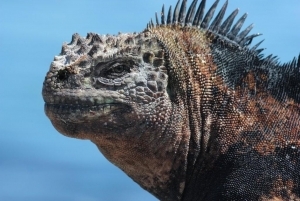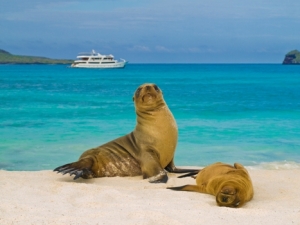 ---
Belangrijk
De routes en het programma kunnen zonder voorafgaande kennisgeving worden gewijzigd, voornamelijk als gevolg van aanpassingen in het beleid en de voorschriften van het Galápagos National Park, weersomstandigheden, seizoensveranderingen en veiligheidsredenen.
Droge landing: gasten stappen van de bijboot op rotsen of een dok.
Natte landing: terwijl de bijboot aan een zandstrand grenst, stappen gasten in kniediep water en waden aan wal
Voor volledige info van de boten kijk op BOTEN
https://southamericaplanet.com/en/galapagos-islands-on-the-santa-cruz-boat-cruise-5-or-7-days-adventure/
https://southamericaplanet.com/es/islas-galapagos-en-el-crucero-en-barco-santa-cruz-5-o-7-dias-de-aventura/
https://southamericaplanet.com/nl/galapagos-eilanden-op-de-santa-cruz-boat-cruise-5-of-7-dagen-avontuur/