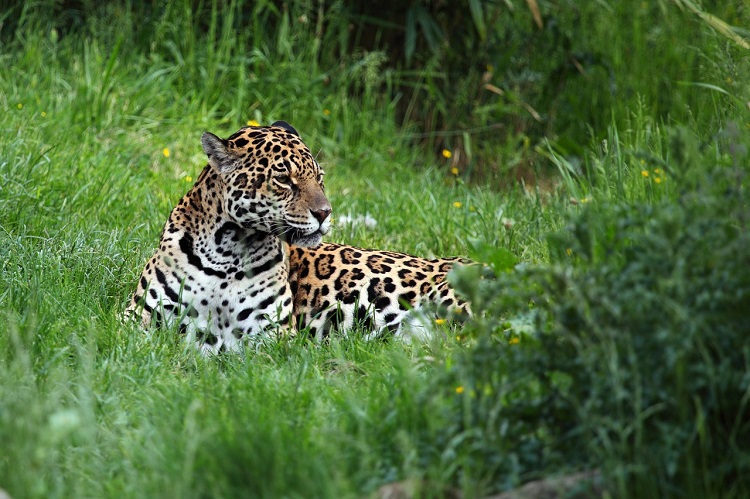 Kaa Iya nationaal park 4 of 5 dagen
Dit nationaal park met een oppervlakte van 3.441.115 ha. is gelegen in de Gran Chaco en is ontstaan op 21 september 1995.
Het is een uniek gebied om te bezoeken, want je hebt er een behoorlijk goede kans om er de jaguar te kunnen spotten, alsmede de poema, de tapir, apen en andere zoogdieren.
Tijdens onze inspectietocht van 5 dagen hebben we tevens meer dan 100 vogelsoorten genoteerd.
Vanaf 4 dagen kun je een tour maken naar N.P. Kaa Iya. Ideaal is het wanneer je 5 dagen ter beschikking hebt, want je moet bedenken dat je een dag nodig hebt om er te komen en een dag om terug te reizen. En hoe langer je verblijf, hoe meer kans je hebt om dieren te spotten.
Wat je moet weten:
1. Het is enorm heet in deze zone, temperaturen boven de 40°C zijn normaal. Dus het wordt behoorlijk transpireren.
2. Er komen niet alleen grote zoogdieren en vogels voor in het park, maar er zijn ook heel veel muggen en kleine steekvliegjes (polvorines). Je komt er dus niet zonder insectenbeten vandaan.
3. Het moge duidelijk zijn dat wij niet kunnen beloven of garanderen dat je een van de bovengenoemde diersoorten zult zien; we kunnen alleen zeggen dat ze zeer regelmatig worden gezien.
Als je met die drie zaken rekening houdt is het zeer zeker de moeite waard om er heen te gaan en zul je zeker enorm genieten van de fantastische belevenis om in het park te zijn.
Ook zul je San José de Chiquitos te zien krijgen, een van de Jezuïetenmissies, met zijn prachtige kerk.
Een tour naar N.P. Kaa Iya kan gecombineerd worden met een bezoek aan Santiago de Chiquitos, Aguas Calientes en het Sanctuario van Chochis.
Wil je na je bezoek aan Kaa Iya doorreizen naar Brazilië, dan kan dit heel goed vanuit San José de Chiquitos, via Puerto Suarez naar Corumbá, met connecties naar Campo Grande.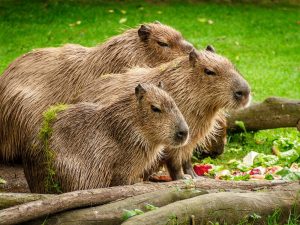 ---
N.P. Kaa Iya (4 of 5 dagen)
De tour vertrekt vanuit Sa. Cruz waar de gids je komt ophalen vanaf je hotel of hostal. Je zult gezamenlijk de sleutels voor de toegangshekken van het park ophalen.
Naast de gids zal tevens een park ranger je begeleiden in het nationaal park. Hij zal hetzij in Sa. Cruz of in San José de Chiquitos instappen.
Je krijgt de gelegenheid om nog wat in te kopen in een supermarkt alvorens je op weg gaat naar San José. In N.P. Kaa Iya en in het kamp kun je niets kopen.
Wanneer je eenmaal de stad uit bent zul je genieten van het landschap. Er zal geregeld een stop worden gemaakt om even de benen te strekken.
Je komt over de brug van Pailón over de Río Grande. De befaamde oude houten brug is alleen nog in gebruik voor treinverkeer en zie je dan ook naast je liggen.
Na ongeveer 4 uur rijden kom je in de Jezuïetenmissie San José de Chiquitos aan. Daarna duurt het nog ca. 3 uur voordat je in het kamp in het park aankomt. Tijdens dit gedeelte van de rit kun je soms al dieren onderweg tegenkomen die ook in het park leven.
Dezelfde avond nog zul je je eerste tocht kunnen maken om dieren te gaan spotten. Afhankelijk van je voorkeur kun je per auto of -deels ook- te voet er op uit trekken.
De maaltijden in het park worden voor je bereid door de gids met behulp van de chauffeur en/of parkwachter.
Je overnacht in een tent die we voor je regelen. Ook een slaapmatje en slaapzak zijn inbegrepen. Wel dien je zelf voor een lakenzak te zorgen.
Vervolgens kun je elke dag 's ochtends, 's middags en 's avonds op ontdekkingstocht gaan met je gids en parkwachter, om zoveel mogelijk je kansen te benutten om de jaguar of jouw favoriete diersoort die in het park leeft te gaan zien.
Tussen de uitstappen door heb je gelegenheid om uit te rusten en te ontspannen.
Op de laatste dag wordt je teruggebracht naar Sa. Cruz waar je naar je hotel of hostal wordt gebracht.
In verband met de aan te vragen vergunningen en sleutels voor een bezoek aan het park dien je deze tour te plannen en tevoren te boeken om de gids de gelegenheid te geven alles goed voor je te organiseren. Bij voorkeur dienen er minimaal 5 werkdagen tussen je boeking en je bezoek aan het park te zitten.
https://southamericaplanet.com/en/kaa-iya-national-park-4-or-5-days/
https://southamericaplanet.com/es/parque-nacional-kaa-iya-en-4-o-5-dias/
https://southamericaplanet.com/nl/kaa-iya-nationaal-park-4-of-5-dagen/