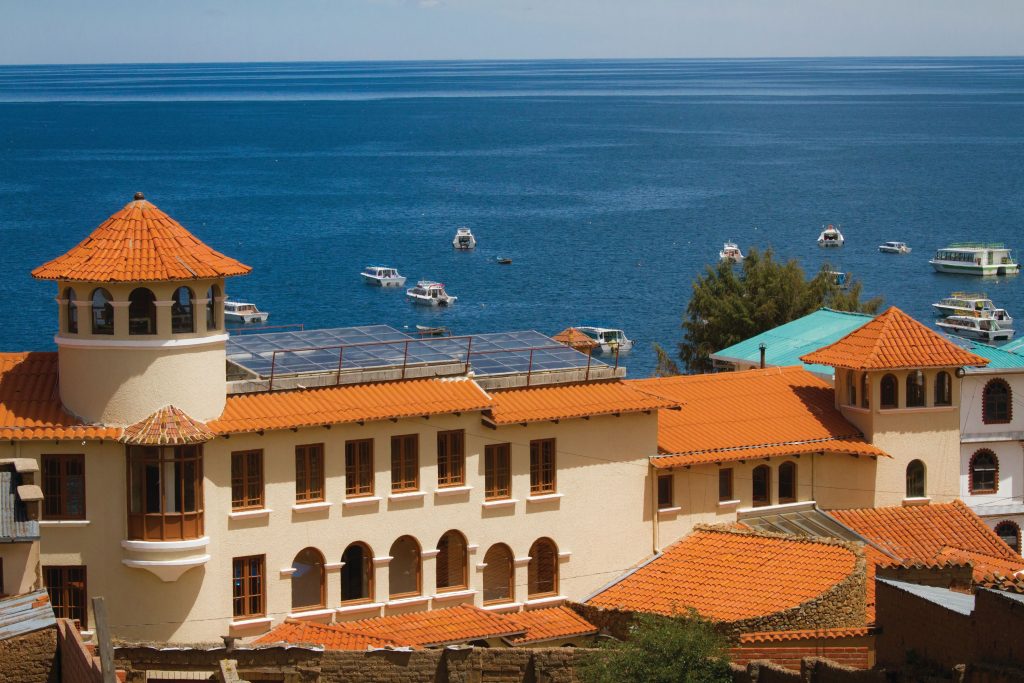 La Paz -Copacabana- Puno of Puno -Copacabana -La Paz
Promotie tegen speciale prijs!
2 dagen Packet met Copacabana, titicaca en Isla del sol in hotel Rosario
La Paz -Copacabana- la paz Of Puno Copacabana La paz
---
2 dagen / 1 nacht
DAG 1 LA PAZ COPACABANA ISLA DEL SOL
La Paz – Copacabana – Isla del Sol – La Paz (2 dagen / 1 nacht in gedeelde dienst)
07:00 Pick vanaf je hotel,
Gedeeld transport naar Copacabana. We starten in La Paz ( of Puno ) 3640 meter hoogte en we rijden naar Titicaca meer (3810 m.). We steken de zijarm van titicaca " Tiquina" over in kleine bootjest, het stuk tussen lago Menor (Wiñaymarka) en del lago Mayor (Chucuito), om de península Copacabana te bereiken, waar we veel precolombiaanse terrasen kunnen zien. Dan bereiken we Hotel Rosario Lago Titicaca. We bevelen aan te lunchen in Kota Kahuaña restaurant (exclusief) Na de lunch gaan we met motor boot naar Isla del Sol, naar de zuidkant van het eiland. We bezoeken de tempel van Pilkocaina en wandelen naar het dorpje Yumani, waar we een prachtig zicht hebben over het titicaca meer en de besneeuwde bergketen van de Cordillera Real de los Andes. Nadien wandelen we over de heilige trappen en bezoeken we het heilige fontein van de incas. Nadien keren we terug per motor boot naar Coppacabana waar we slapen in het mooiste hotel van coppacabana, het hotel Rosario Lago Titicaca, met zicht op het meer waar je van een pachtige zonsondergang kan genieten.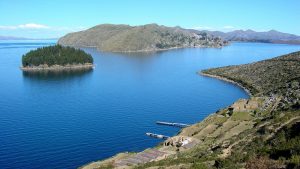 ---
DAG 2 COPACABANA LA PAZ Of Puno
Ontbijt in het hotel en wandeltocht door het dorp Copacabana, de kerk, de markt en optioneel kunt u om 13:00 uur naar Cerro del Calvario toeristisch toeristisch naar La Paz of Puno klimmen
---
Inbegrepen:
* Gedeeld vervoer La Paz – Copacabana – Puno (of rond)
* motorboot
* gids in het Engels tijdens de excursies
* 1 nacht Hotel Rosario Lago Titicaca
* 1 ontbijtbuffet
* entreegeld voor de ruïnes

---
Niet inbegrepen:
*Lunch
*Diner
*Drankjes
*tips
Aanbevolen om mee te nemen
* paspoort
* Cap of had
*jasje
* zonnecrème
* Kleine rugzak
https://southamericaplanet.com/en/la-paz-copacabana-puno-or-puno-copacabana-la-paz/
https://southamericaplanet.com/es/la-paz-copacabana-puno-o-puno-copacabana-la-paz-2-d/
https://southamericaplanet.com/nl/la-paz-copacabana-puno-of-puno-copacabana-la-paz/