LA SERENA 4 Dagen – 3 Nachten
Dag 1 La Serena (-)
Ontvangst op de luchthaven van La Serena en transfer naar je hotel. In de namiddag stadstour door La Serena en Coquimbo, beginnend met een reis door de straten van het historische centrum van La Serena, met een bezoek aan de "Recova", het oude ambachtencentrum van de stad. Daarna ga je naar het hoofdplein om enkele karakteristieke gebouwen van deze zone te zien, met een unieke neokoloniale architectuur. Later gaat de tour verder naar de zee, met uitzicht op de oude vuurtoren en bij Del Mar ave. De tour gaat verder richting Coquimbo waar je het fort, de visserspier, de "Barrio Inglés" (Engelse wijk), de "Cruz del Tercer Milenio" (Kruis van het derde millennium), het uitkijkpunt Navigators en de "Bahía La Herradura" zult bezoeken "(Horseshoe Bay). Keer terug naar het hotel en overnachting.
---
Dag 2 La Serena (O / L)
Ontbijt in het hotel. Dagexcursie naar het Humboldt Penguin National Reserve: tijdens deze ongelooflijke excursie bezoekt u het Humboldt Penguin National Reserve, te beginnen met een navigatie rond het eiland Choros om verschillende soorten zeefauna te observeren, zoals pinguïns, zeeotters, yunco's, pikemans, enz. Daarna ga je van boord op Damas Island, een prachtig eiland met wit zand en kristalhelder water, waar je langs de stranden kunt wandelen en wat foto's kunt maken. Tijdens de terugreis stop je in een lokaal restaurant om te lunchen en om meer te weten te komen over het verwerkingsproces van olijfolie. Op de terugweg zie je waarschijnlijk wat lokale fauna zoals vossen en guanaco's. Keer terug naar het hotel en overnachting.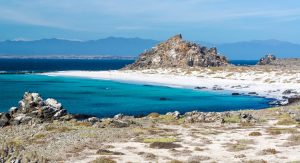 ---
Dag 3 La Serena (O / L)
Ontbijt in het hotel
Dagexcursie naar Valle del Elqui: vandaag geniet u van een prachtige dag met een bezoek aan enkele van de pittoreske dorpjes vol charmes en tradities. Je leert over het verwerkingsproces van pisco (een druivendistillaat) en proeft enkele van zijn variëteiten. Je leert ook over het leven en werk van de Nobelprijswinnaar voor Literatuur Gabriela Mistral. Lunchmenu in het dorp Pisco Elqui, genietend van de traditionele gastronomie. Daarna lopen we rond in de ambachtenzone en het belangrijkste plein, waar één van de weinige monumenten te vinden is die door Gustavo Eiffel zijn ontworpen. Terug naar het hotel en overnachting.
---
Dag 4 La Serena (B)
Ontbijt in het hotel. Ga op het afgesproken tijdstip naar de luchthaven om aan boord te gaan van uw volgende vlucht.
Einde van onze diensten
---
Inclusief
PRIVÉ Transfers en excursies zijn in privédienst met Engelssprekende gids. SEAT in bus ( nvt)
– Toegangsprijs voor parken en musea
– Maaltijden zoals aangegeven in het programma:
B = Ontbijt L = Lunch / Lunchbox D = Diner
---
Niet inbegrepen:
– Maaltijden die niet in het programma staan, drankjes of andere extra's
– Fooien voor dragers op luchthavens en hotels
– Vliegtickets en luchthavenbelastingen
---
Belangrijk:
– Het reisplan kan worden gewijzigd op basis van vluchtschema's, klimaatomstandigheden of om een betere service te bieden.
– Zwemmen op Damas Island is verboden.
– In het laagseizoen, op maandag en dinsdag, is ontscheping op Damas Island niet toegestaan.
– De excursie Valle del Elqui werkt niet op maandag (musea zijn gesloten).
https://southamericaplanet.com/en/la-serena-4-days-3-night/
https://southamericaplanet.com/es/la-serena-4-dias-3-noches/
https://southamericaplanet.com/nl/la-serena-4-dagen-3-nachten/