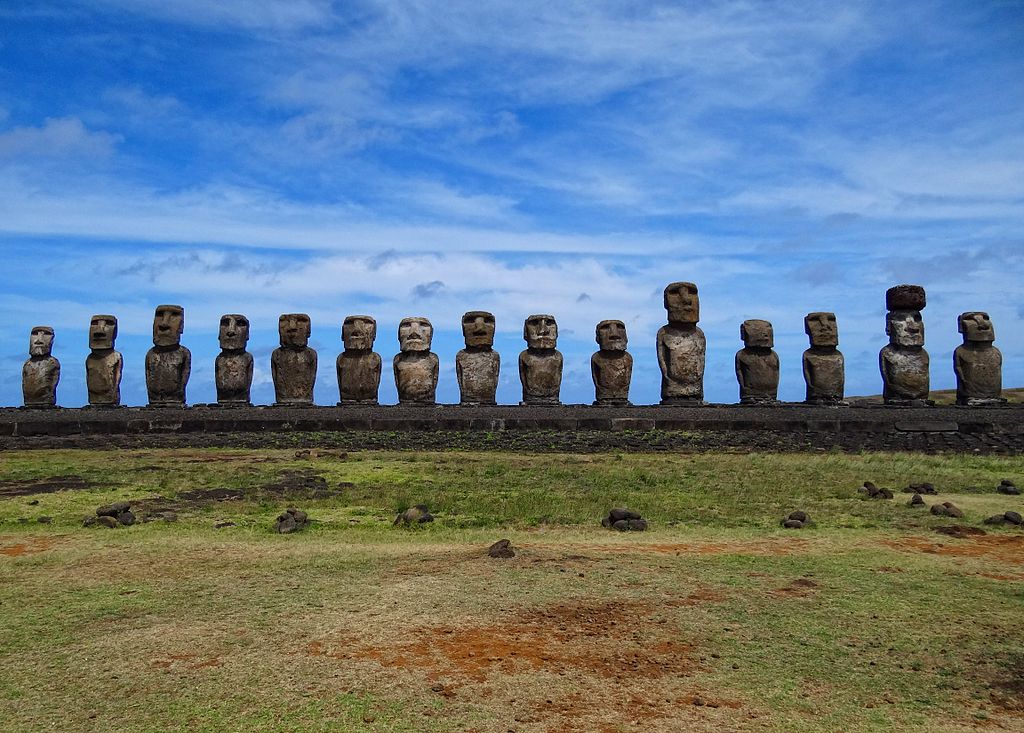 Paas eiland, Isla de Pascua, Chili, als je van iets speciaals houdt 4 dagen
Paaseiland is een van 's werelds meest geïsoleerde bewoonde eilanden in de zuidoostelijke Stille Oceaan.
Paaseiland staat bekend om zijn 887 bestaande monumentale beelden, genaamd moai, gemaakt door de vroege Rapa Nui People. In 1995 noemde Unesco Paaseiland een werelderfgoed, met een groot deel van het eiland beschermd in Rapa nui National Park.
De naam "Paaseiland" werd gegeven door de eerste geregistreerde Europese bezoeker van het eiland, de Nederlandse ontdekkingsreiziger Jacob Roggeveen, die hem op Paaszondag tegenkwam.

---
De grote stenen beelden, of Maoi, waar Paaseiland beroemd om is, zijn uitgehouwen in de periode 1100–1680 Ce. Een totaal van 887 monolithische stenen beelden zijn tot nu toe geïnventariseerd op het eiland en in museumcollecties. Vaak geïdentificeerd als "Paaseiland hoofden
Bevolking 5761
Gebied 163.3 km2 /
We kunnen ook vluchten + hotels en transfers regelen in Santiago de Chile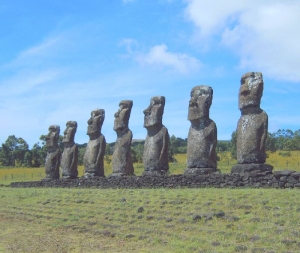 ---
Dag 1 vlucht van Santiago naar het oostelijke eiland
Vlucht van Santiago naar Eastern island / Ontvangst op Mataveri Airport en transfer naar het hotel.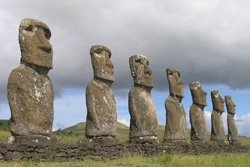 ---
Dag 2 Paaseiland (B / L)
Ontbijt in het hotel.
Tongariki, Rano Raraku en Anakena:
Bezoek de ruïnes van de tempel van Akahanga, waar de hoeden van de moai opvallen; waar ze vielen toen het platform werd vernietigd. Ga verder naar de vulkaan Rano Raraku, waar alle
moais op het eiland uit de rots werden gehouwen. Klim naar de rand van de krater van de vulkaan waardeer het kleine meer binnen en moais verspreid over de binnenhellingen in verschillende stadia. Ga verder naar Ahu Tongariki, waar veel van de enorme moais door een grote werden omvergeworpen "Seaquake" in 1960. Lunch in een restaurant in het huis van een Rapanui. Tour eindigt op het strand van Anakena met zijn twee mooie Ahu, inclusief vrije tijd om een ​​kort bad in de zee te nemen, of om te wandelen, voordat je terugkeert naar je hotel.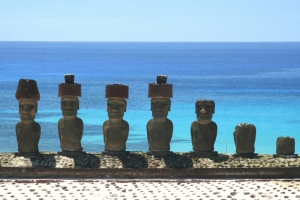 ---
Dag 3 Paaseiland (B)
Ontbijt in het hotel.
Exc. Rano Kau, Orongo & Vinapu:
De tour begint met een bezoek aan Vinapu, waar archeologische overblijfselen zijn die verband houden met het werk en de constructie van figuren met vulkanisch gesteente, verschillende vernietigd tijdens interne oorlogen tussen de stammen. Ga dan verder met Rano Kau, de tweede van de drie belangrijkste vulkanen die ongeveer 2,5 miljoen jaar geleden uitbarsten. Het moet
hoogte van 310 meter en een enorme krater van 1,6 km in diameter en een zoetwaterlagune van 11 meter diep. Naast de vulkaan is de oude ceremoniële stad Orongo, waar de grootste concentratie rotstekeningen bestaat.
Er zijn foto's van de Tangata Manu birdman.
Pm: Ahu Akivi & Puna Pau:
Ahu Akivi is het archeologische centrum van de Roihi-sector en was de eerste site die correct werd gerestaureerd in de Jaren 60. Het is een ceremoniële site, die niet alleen bijzonder interessant is vanwege de locatie (in het centrum van het eiland) maar ook vanwege de legendes die de Seven Moai omringen die zich op de platform of Ahu. De tour bezoekt ook Puna Pau, ten oosten van de stad Hanga Roa, gelegen in een kleine krater van rode steen. Dit is waar de "pukao" of hoeden (topknopen) waren die de moais bekroonden. Onderweg is het mogelijk om het pad te zien waar ze naartoe zijn vervoerd, inclusief enkele voorbeelden van de Pukao die buiten de boot zijn gevallen. Keer terug naar het hotel en overnacht.
---
Dag 4 Paaseiland (B)
Ontbijt in het hotel. Op het afgesproken tijdstip transfer naar Mataveri Airport om uw verdere vlucht te nemen.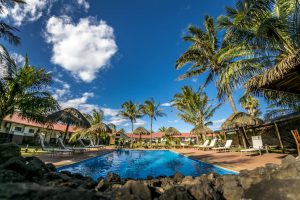 ---
PRIVE TOURS: Transfers en excursies zijn in privédienst met hulp van een Engelssprekende gids
GEDEELDE TOURS: transfers en excursies gebeuren per bus (SIB) met hulp van een Engelssprekende gids
Inclusief
– Welkom met bloemenketting en afscheid met schelpketting
– Maaltijden zoals aangegeven in het programma:
B = Ontbijt L = Lunch / Lunchbox D = Diner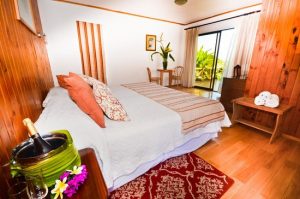 ---
Niet inbegrepen:
– Entreegelden voor nationale parken 90 USD P/P
– Maaltijden die niet in het programma staan, drankjes of andere extra's
– Fooien voor dragers op luchthaven en hotel
– Vluchten
– Luchthavenbelastingen
Belangrijk:
– Het reisplan kan worden gewijzigd op basis van vluchtschema's, klimaatomstandigheden of om een betere service.
– Paaseiland bestaat uit archeologische en culturele sites, die onder bescherming staan bescherming. Toegang tot beperkte gebieden is verboden.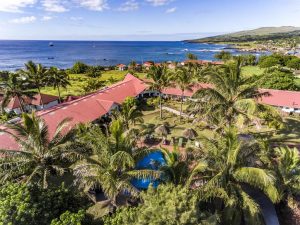 ---
Hotel opties
*Easter Island Eco Lodge (3*), Ex Rapa Nui
*Taha Tai (3* Sup)
*Altiplánico Rapa Nui (4*)
*Hare Uta (4* Sup), Ex Hare Noi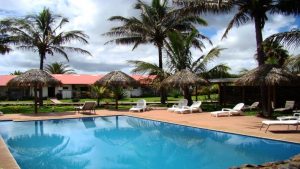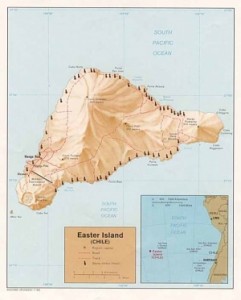 https://southamericaplanet.com/en/extension-to-eastern-island-isla-de-pascua-paaseiland-chile/
https://southamericaplanet.com/es/extension-isla-de-pascua-chile-algo-especial-4-dias/
https://southamericaplanet.com/nl/paas-eiland-isla-de-pascua-chili-als-je-van-iets-speciaals-houdt-4-dagen/