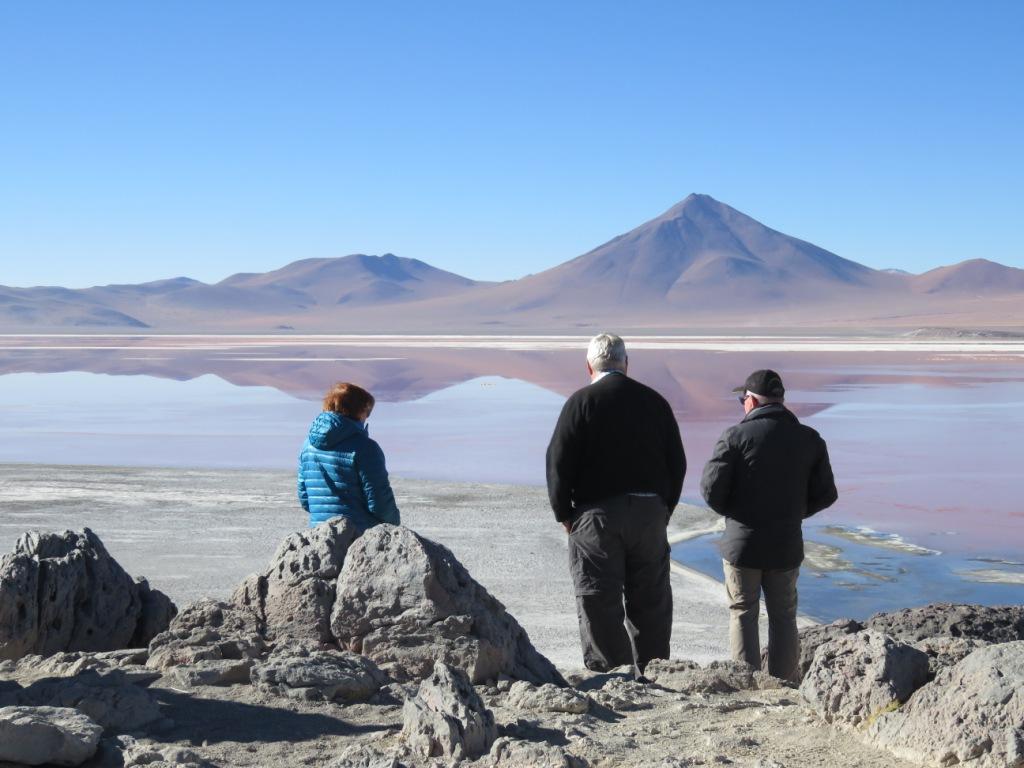 Start pakket 3 dagen jeeptour San Pedro( Chili) – Uyuni of 4 D San Pedro – San Pedro
Surrealistische visie formaties, valleien en lagunes. 3 dagen eindigend in Bolivia of 4 dagen met terugkeer naar San Pedro.
Salar de Uyuni (of Salar de Tunupa) is 's werelds grootste zoutvlakte, of playa, met een oppervlakte van meer dan 10.000 vierkante kilometer (3.900 vierkante mijl). Het ligt in de provincie Potosí in het zuidwesten van Bolivia, nabij de top van de Andes op een hoogte van 3656 meter boven zeeniveau.
De Salar is ontstaan ​​als gevolg van transformaties tussen verschillende prehistorische meren. Het is bedekt met een paar meter zoutkorst, die een buitengewone vlakheid heeft met de gemiddelde hoogteverschillen binnen een meter over het hele gebied van de Salar. De korst dient als zoutbron en bedekt een pekelpoel, die uitzonderlijk rijk is aan lithium. Het bevat 50% tot 70% van 's werelds bekende lithiumreserves. Het grote oppervlak, de heldere lucht en de uitzonderlijke vlakheid van het oppervlak maken de Salar ideaal voor het kalibreren van de hoogtemeters van aardobservatiesatellieten. Na regen verandert een dunne laag dood kalm water de flat in 's werelds grootste spiegel, 129 kilometer (80 mijl) breed.
Uyuni, we zullen genieten van een prachtig uitzicht op de hoogvlakte van Altiplano en de oostelijke bergketens op weg naar Chili, of in een jeep-rondreis.We zullen lama's, vicuña's en lokale flora zoals Andesgras (Ichu) yareta observeren muss en Thola. De stad Uyuni ligt op 220 km van Potosí.
Vanaf hier kun je de meest geweldige tour in Southamerica maken. De Saltlakes in jeeps met 4X-aandrijving
---
Je kunt deze tour in 2 opties kiezen
1 Gedeelde jeep tour: in hostels (Basic in slaapzaal, optioneel met privékamer)
2 Prive jeep tour: in 3 * hotels, alleen mogelijk in privé met zouthotel en Tayka-hotels
---
DAG 1:
Je wordt opgehaald bij je hotel in San Pedro de Atacama in een busje, om naar de grens van Chili te rijden waar we de douane formaliteiten doen, waarna we naar Hito Cajon rijden, de grens tussen Chili en Bolivia. Daarna maak je nog een migratie stop om Boliviaans grondgebied binnen te gaan. We zullen hier ontbijten. Aan de Boliviaanse grens stappen we over naar een 4*4 jeep, en starten we met de Witte Laguna te bezoeken en de Groene Laguna die zich aan de voet van de Licancabur-vulkaan bevindt. We rijden continu ten noorden van de Salvador Dali-woestijn. We gaan dan verder naar de Polques Hot Spring, en de Geysers sol de manana,op 5000 meter. Dan komen we aan bij de spectaculaire Red Lagoon, waar u duizenden flamingo's kunt bewonderen. We overnachten in een BASIC hostel van de Community Mallku Villa Mar dat op een hoogte van 3500 meter ligt (ontbijt en diner in het hostel).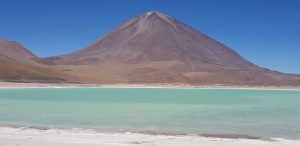 ---
DAG 2:
Ontbijt. We beginnen met een bezoeken aan de grotschilderingen, Valley of the Rocks, waar je formaties kunt zien zoals Los City, Italië, Camel, enz. Daarna bezoeken we de Black Lagoon met veel dieren in het wild zoals Tawas altiplánica , vele flamingos en ganzen. Vegetatie volgens het ecosysteem of Catal Lagoon (Laguna Misteriosa), Canyon Catal. Lunch. Uitzichtpunt Waterval Agua Dulce, tot een vallei bewoond door veel hoogland gemeenschappen. Deze gemeenschappen houden zich bezig met het grootbrengen van Andes-dieren zoals lama's en alpaca's. De dag eindigt met de aankomst in de gemeenschap van Villa Candelaria Hostal of salt. Eén- twee- of driepersoons kamers waar we ook zullen dineren.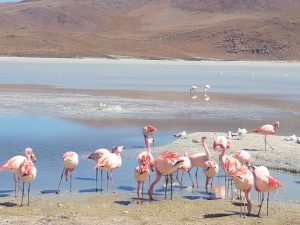 ---
DAG 3:
Om 5:00 uur rijden we naar het eiland Incahuasi om de zonsopgang te observeren die zich in het midden van de zoutvlakte van Uyuni bevindt. We bezoeken een volledig van zoutblokken gebouwd (Hotel Playa Blanca), de zoutogen, zouthopen, totdat je de gemeenschap van Colchani bereikt waar we het traditionele zoutproces kunnen observeren dat in heel Bolivia wordt geconsumeerd. Lunch. Laatste stop bij het trein kerkhof. En de tour eindigt ongeveer om 15.00 uur in Uyuni – Bolivia.
* De passagiers die terugkeren naar San Pedro zullen om ongeveer 16.00 uur vertrekken vanaf ons bureau in Bolivia. We starten de transfer naar Villa Mar waar we zullen dineren en de laatste nacht zullen doorbrengen.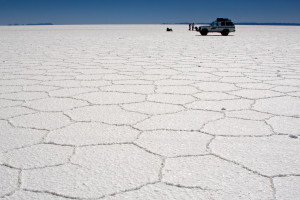 ---
DAG 4 (Enkel voor klanten die terug naar san pedro gaan):
We starten de terugtocht aan om 05:00 AM. , we zullen ontbijten in de omgeving van Laguna Blanca en we gaan verder naar Hito Cajón. Hier zullen we de immigratieprocedures uitvoeren en uiteindelijk onze laatste bestemming San Pedro de Atacama, waar we rond 12:00 uur arriveren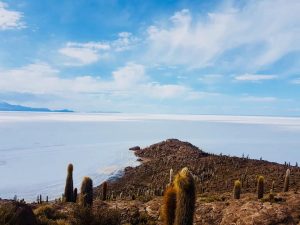 ---
VERTREK:
Starttijd : 7:00 uur
INBEGREPEN
Busvervoer (San Pedro de Atacama tot de grens) en 4 × 4 jeep de hele reis in Bolivia. Alle maaltijden (ontbijt, lunch, diner) en drankjes (water en sap) tijdens de maaltijden. Accommodatie ( Basic ).( in de privé tour kan je in 3* hotels)
NIET INBEGREPEN:
Inkomgelden tot de parken en grens. Directe betaling door de passagier op elke plaats. Alcoholische drankjes. Engelssprekende gids.
https://southamericaplanet.com/en/start-package-3-days-jeeptour-san-pedro-chili-uyuni-or-4-d-san-pedro-san-pedro/
https://southamericaplanet.com/es/paquete-de-inicio-3-dias-jeeptour-san-pedrochile-uyuni-o-4-d-san-pedro-san-pedro/
https://southamericaplanet.com/nl/start-pakket-3-dagen-jeeptour-san-pedro-chili-uyuni-of-4-d-san-pedro-san-pedro/