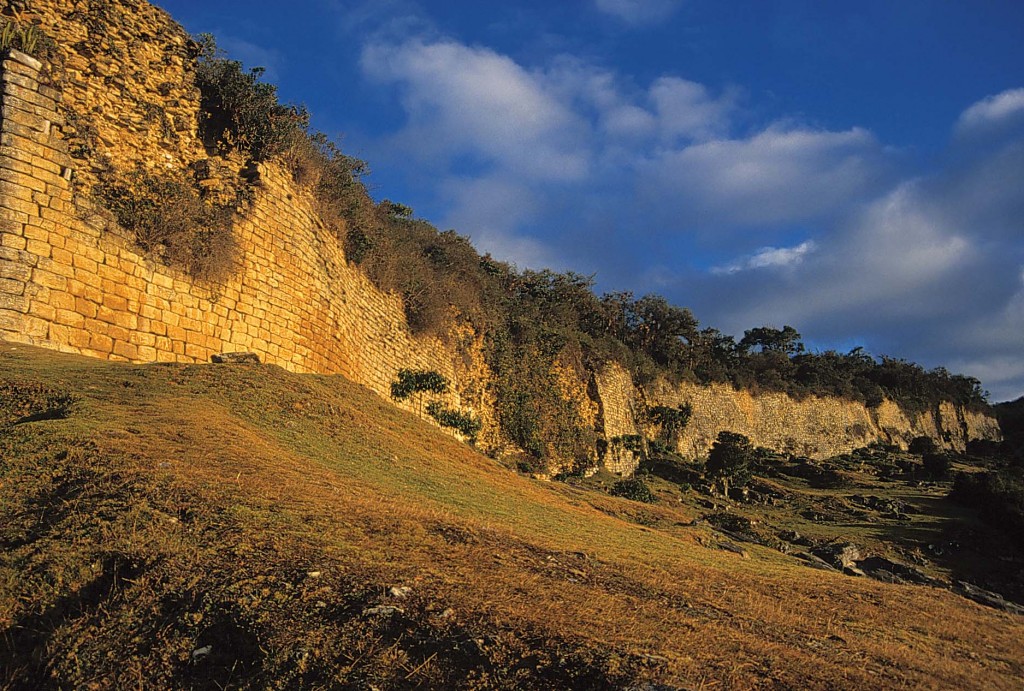 Start pakket – bouwsteen Chachapoyas in 5 dagen, Noord Peru
Hier geven we je de beste optie om Chachapoyas te ontdekken, inclusief Kuelap-Karajia -Quiocta-Lamud-Gocta-Leymabamba-Revash
Peru's oudste kleine stad, gesticht in 1538 en een van de weinige die nog steeds zijn nobele uitstraling en Spaanse invloed heeft behouden. Chachapoya ligt in het noordoosten van Peru, op een hoogte van 2.335 m. boven zeeniveau. De naam komt van het oorspronkelijke woord Chachapoyacuno, wat "bos of berg van mist" ook "Mensen van de Wolken" betekent. De stad wordt nu herontdekt als een belangrijk archeologisch complex, aangezien er ongeveer 500 locaties in het gebied zijn die betrekking hebben op de Chachapoyas cultuur, waaronder graven, sarcofagen, forten, geïsoleerde torens, wegen, rotstekeningen en schilderijen, textiel, keramiek en andere stoffelijk overschot. Chachapoya is het startpunt voor de reis naar Kuelap, gelegen nabij het dorp Tingo. Ook Karajia en Gocta waterval "771 meter" zijn een bezoek waard.
---
Je kunt deze tour in 3 opties kiezen
1 Budget tour: in hostals
2 klassieke rondleidingen: in 3 * hotels
3 Luxe tour: alle 4 * hotels
---
Dag 1: Chachapoyas
Je komt vroeg aan in Chachapoyas en transfer naar je hotel, vandaag kun je ontspannen in deze grensjungle stad en rondwandelen naar omringende uitkijkpunten, hotel Chachapoyas. Chachapoyas is 2334 m.a.s.l. met gemiddelde jaartemperaturen overdag 21 ° C en 's nachts 12 ° C. Door klimaatverandering is het klimaat in het Amazonegebied zeer variabel. Momenteel ontvangen we bezoekers het hele jaar door, met de meest aanbevolen maanden van juni tot november. Halfdroog seizoen: oktober tot december. Regenseizoen: januari tot mei
---
Dag 2: Excursie naar Karajia en Quiocta grotten
8:30 uur : Ophalen van je hotel richting de stad Lamud (1 uur met de auto) Ga verder naar de Quiocta-grot, waar het 5 minuten lopen is naar de ingang van de grot. Rondleiding door de grot duurt ongeveer 1,5 uur. Er zijn grotschilderingen, meestal vormloos, evenals botten van dieren en mensen bij de ingang van de grot. De eerste grotformaties zijn bijna 300 meter van de monding van de grot te zien, inclusief stalagmieten, stalactieten, vloeisteen en kolommen. Na de tour keren we terug naar de stad Lamud voor de lunch. Na de lunch gaat de reis nog een uur verder met de auto naar Cruz Pata. Vanaf hier loop je 40 minuten om de archeologische vindplaats Karajía te bereiken, 1000 jaar oude graven die op de top van een klif zijn geplaatst. Elke sarcofaag is bijna 2 meter hoog en gemaakt van modder.( optioneel per paard )
De groep sarcofagen kan op ongeveer 25 meter afstand worden gezien en het zijn menselijke graven die door de UNWTO als uniek in de wereld worden beschouwd. Na gedetailleerde informatie en uitleg van uw gids beginnen we aan de wandeling terug naar ons transport om terug te keren naar de stad Chachapoyas.
18.30 uur Einde van de diensten van de dag + Hotel in Chachapoyas
---
Dag 3: Kuelap
Deze Ochtend beginnen we aan ons volgende avontuur. Om 8.30 uur vertrekken we naar de stad Nuevo Tingo (een uur met de auto). We rijden door dorpen en klimmen naar de verbazingwekkende pre inca ruines van Kuelap- We zullen onze tour per kabelbaan voortzetten naar de top, vanwaar we 30 minuten lopen om de versterkte citadel van KUELAP te bereiken. "KUELAP", gelegen op 3000m en ontdekt in 1843. Een belangrijke archeologische vindplaats gebouwd door de Chachapoyas. Het is een massief stenen bouwwerk op de top van een 3000 meter hoge berg. Het is gelegen op de linkeroever van de rivier de Uctubamba in de provincie Luya. Het beslaat 450 hectare en bestaat uit meer dan 500 ronde huizen en andere gebouwen omgeven door fijn bewerkte stenen muren, waarvan sommige 30 meter hoog zijn. Van bovenaf gezien heeft de stad de vorm van een vogelvleugel. Deskundigen plaatsen de constructie ervan in de gouden eeuw van de Chachapoyas-cultuur. In hun moedertaal betekent Kuelap "koude plaats", en hoewel deze plek in het regenwoud ligt, geniet het van een gematigd klimaat, droog overdag met extreme temperatuurdalingen 's nachts. Als we Kuelap vergelijken met de beroemdste bestemming van Peru, Machu Picchu, kunnen we zeggen dat Kuelap indrukwekkender is vanwege het gebrek aan bezoekers. Keer terug naar de kabelbanen en terug naar Nuevo Tingo, waar we zullen lunchen. Uiteindelijk keren we terug naar de stad Chachapoyas. Hotel in Chachapoyas.
---
Dag 4: Revash en Leymebamba Museum
Om 8.00 uur halen we je op bij je hotel en vertrek naar de traditionele stad San Bartolo (2 uur met de auto). Vanaf hier is het 40 minuten lopen om het uitkijkpunt te bereiken. Hier zien we Revash-mausolea in het prachtige landschap, waarna we terugkeren naar de stad San Bartolo.
Transfer naar de stad Leymebamba (1,5 uur) met de auto, waar we zullen lunchen. Na de lunch gaan we naar het Museum of the Mummies, met ca. 2.500 archeologische stukken, waaronder 219 mummies die oorspronkelijk zijn gevonden in het gebied van Laguna de los Condors (het meer van de Condors) en de grootste geregistreerde Quipus-collectie in Peru. Nadien keren we terug naar Chachapoyas
18.30 uur Aankomst in Chachapoyas en einde van onze activiteiten+ Hotel in Chachapoyas
---
Dag 5: Gocta watervallen + transfer naar busstation
Vanaf 9.00 uur in de ochtend gaan we naar het dorpje van Cocachimba, waar onze begeleide wandeling naar een van de hoogste watervallen ter wereld zal beginnen. De op twee na grootste ter wereld, na Angel Falls in Venezuela. Je zult 5 kilometer moeten lopen om de plek van de waterval te bereiken over een pad dat door dichte vegetatie snijdt, maar de inspanning is de moeite waard, want je wordt beloond met een wonder van de natuur in een prachtige omgeving. Al eeuwen bekend in het gebied, maar het duurde tot 2002 voordat een Duitse ingenieur de grootte van de Gocta-watervallen zag en mat. De watervallen zijn 771 meter hoog. De watervallen zijn verdeeld in twee delen waarvan het hoogste deel 540 meter meet. De watervallen bevinden zich in een gebied ongeveer 2800 meter boven zeeniveau dat bekend staat om zijn ongerepte regenwoud. De regio wordt niet veel bezocht en is een van de echte onbekende juweeltjes die Peru te bieden heeft aan outdoorliefhebbers.
We zullen genieten van het landschap en het dichte bos dat typerend is voor de hoge jungle, het leefgebied van de Cock of the Rock, kolibries en de geelstaart Choro-aap naast andere vogels en lokale dieren. De duur van de wandeling is ongeveer 5 uur heen en terug.
Bij onze terugkeer naar Cocachimba gaan we met ons transport terug naar Chachapoyas.,
5:30 in de namiddag einde van de activiteiten
Later op de avond nemen we de transfer naar de busterminal waar we een nachtbus naar Chiclayo kunnen nemen
---
Inbegrepen in dit pakket
– Transfers in / uit (vanaf busstation Chachapoyas) OF vanaf luchthaven Chachapoyas of Jaen (tegen meerprijs)
– Excursie naar Karajia + Quiocta
– Excursie naar Kuelap
– Excursie naar Leymabamba en revash
– Excursie naar de watervallen van Gocta
– Toegangskaarten voor alle bezochte plaatsen
– Kabelbaan naar Kuelap
– 4 keer ontbijten in de hotels
– 4 nachten hotel – Hostal in Chachapoyas
– 4 keer lokale lunch
– Professionele tweetalige gids (Engels – Spaans) voor alle excursies.
– Persoonlijke 24-uurs assistentie via whatsapp tijdens uw bezoek aan Peru
---
Niet inbegrepen:
– bus- of vliegtickets
– maaltijden niet vermeld.
-Andere dingen die niet worden genoemd, staan in het programma.
---
Optioneel
1 / je kunt naar Tarapoto gaan voor een lagere jungle-ervaring klik hier
2 / Je kunt 1 nacht in Leymabamba blijven en doorgaan (alleen privé) naar Cajamarca Klik hier
3 / als u minder tijd hebt, kunnen we pakketten van 3 of 4 dagen regelen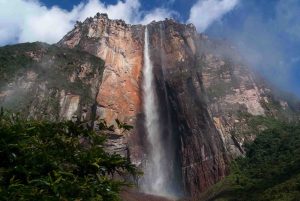 ---
Als je meer tijd hebt, kan je prachtige trektochten maken in deze omgeving
| | | |
| --- | --- | --- |
| | Trekking Chachapoyas | |
| 1 | 1 dag wandeling YUMBILLA WATERVAL | Klik |
| 2 | 3 dagen Laguna de los condores | Klik |
| 3 | 4 dagen gran vilaya trekking | Klik |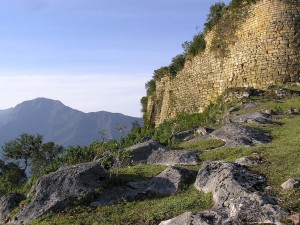 https://southamericaplanet.com/en/start-packet-peru-chachapoyas-in-5-days-north-peru/
https://southamericaplanet.com/es/paquete-de-inicio-norte-peru-chachapoyas-en-5-dias/
https://southamericaplanet.com/nl/start-pakket-bouwsteen-chachapoyas-in-5-dagen-noord-peru/