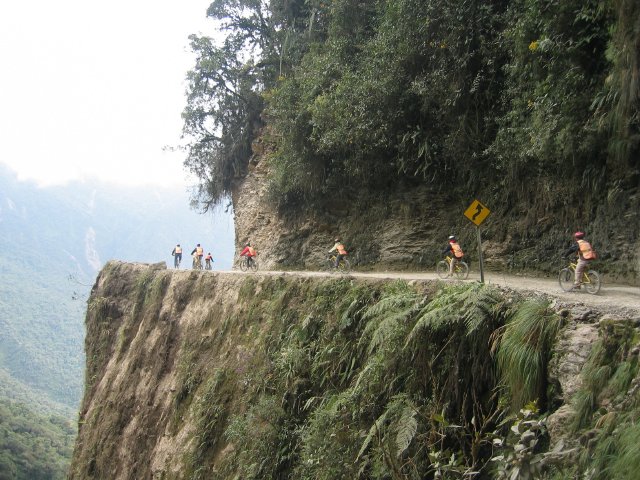 Start pakket- bouwsteen/ Mountain bike fiets tocht, deadroad, La Paz – Coroyco, fantastische afdaling per mountainbike, Bolivie
Ga met ons mee voor de ervaring van je leven!
Start elke dag vanuit La Paz/ 1 dag
Rij over 'the most dangerous road in the world, 'De Dead road' per mountain bike
Klik op deze naam voor een live film over deze fantastische tocht DEAD ROAD LIVE
---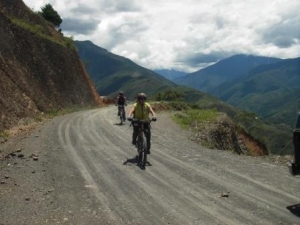 ---
Naar Coroico vanaf La Paz
De steilste en gevaarlijkste weg van de wereld. Hier kan je een avontuurlijke mountain bike tocht ondernemen. Deze tocht is zeer beroemd en duurt 1 dag. Het is en fantastisch avontuur dat begint in La Paz en eindigt in het dorpje Coroico. Eerst ga je per bus naar de startplaats. Daar vertrek je voor een adembenemende tocht over "the most dangerous road in the world " (3600m afdaling!). Je fietst met een professionele gids en uitrusting!
---
Programma(hoogte 3600m)
Je verlaat La Paz rond 8.00 u met ons eigen vervoer en komt aan in la Cumbre na een rit per bus van 90 minuten. La Cumbre ligt op een hoogte van 4500m. Vanaf hier begint de afdaling tot Coroico, over een slingerende weg met veel bochten. Tijdens onze tocht van 64 km zie je het klimaat en landschap voortdurend veranderen: van bergen bedekt met sneeuw en mist naar het vochtige tropische woud. Je krijgt ook een lunchbox. Onderweg ben je steeds samen met een professionele gids en bestaat de mogelijkheid om regelmatig foto's te nemen. Na aankomst in het dorpje Coroico heb je wat tijd om te relaxen. Onderweg zie je typische dieren van deze streek, zoals de lama. Nadien rijd je per bus terug naar La Paz, waar je rond de avond aankomt.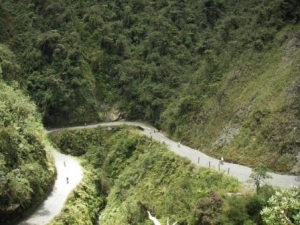 ---
Info
Totale duur van de tour: 13 u.
Afdaling: meer dan 3600 meter!
Geen ervaring noodzakelijk.
Complete fietsen met dubbele vering, helmen,handschoenen en gidsen, eten, reserve kit
Klimaat: in het begin koud, nadien warm.
Terugkeer naar La Paz per bus: 3 tot 4 u
Voel je veilig op goede mountainbikes en professioneel team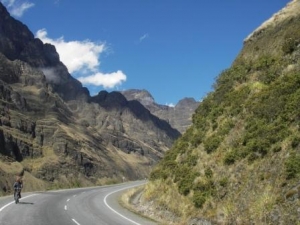 ---
inbegrepen:
– Je rijdt op professionele merk fietsen met full suspension met hydraulische schijf remmen.
– Six one brand helmen en handschoenen, veiligheidsvesten, stofmasker.
– Professionele gidsen, die de groep begeleiden en coachen tijdens de route.
– 2 snacks onderweg
– Volgwagen die de veiligheid van de groep waarborgt tijdens de hele route.
– Buffet voor lunch, douches en een zwembad in een hotel bij aankomst in Coroico (Drank is niet inbegrepen)
– De "Ik overleefde de death road " T – shirt!
– De foto's van de toer op CD
Dit alles maakt van "The most dangerous road " een veilige en zeer aanbevolen ervaring!
niet inbegrepen:
– Inkom van het Nationale Park: 40 bolivianos.
https://southamericaplanet.com/en/start-packet-dead-road-amazing-mountain-bike-tour-la-paz-bolivia-coroyco/
https://southamericaplanet.com/es/paquete-de-inicio-dead-road-increible-recorrido-en-bicicleta-de-montana-la-paz-bolivia-coroico/
https://southamericaplanet.com/nl/start-pakket-bouwsteen-mountain-bike-fiets-tocht-deadroad-la-paz-coroyco-fantastische-afdaling-per-mountainbike-bolivie/