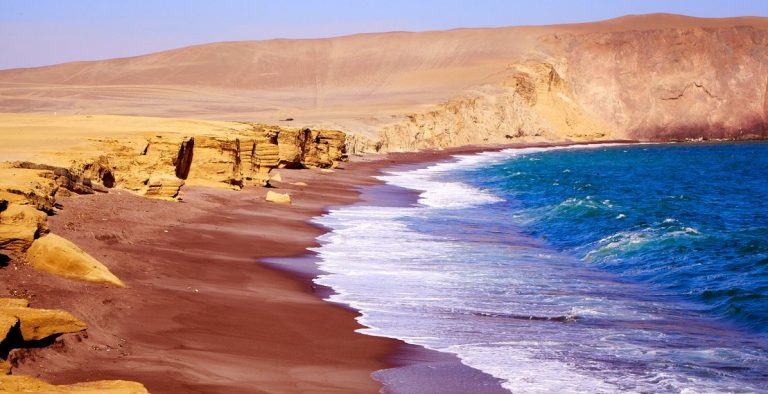 Start pakket – bouwsteen Paracas – Ica – Huacachina in 3 dagen
Start pakket voor in Paracas – Ica en Huacachina in 3 dagen
---
Paracas is 4 h rijden vanaf Lima. Direct voel je dat het een stuk warmer is. De laatste tijd is Paracas een rustplaats en strand, voor relax vakantie geworden, daar er tegenwoordig zeer mooie luxe hotels zijn. Terwijl je een mooi hotel met zwembad hebt, kan je ook de pracht in deze omgeving bezoeken. De toppers zijn, de Ballestas eilanden met duizenden zeeleeuwen en vogels, + het prachtige Paracas reservaat. Ook huacachina is bekend om zijn fantastische zandduinen. In deze duinen kan je met Zand buggy's het echte avontuur opzoeken.
er zijn geen afbeeldingen gevonden
---
We bieden deze pakketjes aan in 3 versies
1 Budget tour : in hostels
2 classic tour: in 3* hotels
3 Luxe tour: in 4 * hotels
---
Dag 1 aankomst Paracas
Bij aankomst staat onze contactpersoon te wachten om je naar je hotel te brengen. Hier heb je een hotel met zwembad dicht bij de zee aan de haven. Wandel over de boulevard en geniet van de heerlijke verse visgerechten. En van je eerste Pisco sour met prachtige zonsondergang. Naargelang het uur van aankomst kan je optioneel vandaag ook een excursie maken in de namiddag.
---
Dag 2 Ballestas + Huacachina+ Ica
Deze ochtend rond 8 Am gaan we naar de eilanden van Ballestas, met honderden zeeleeuwen en vogels en schitterende rotsformaties. Ze worden daarom wel eens vergeleken met de kleine Galapagos-eilanden. De meest voorkomende dieren zijn zeehonden, pelikanen, aalscholvers, jan van genten, pinguïns en andere vogelsoorten die de rotsen gebruiken als broed- en rustplaats. De grote hoeveelheid vogelpoep lokt miljoenen vissen, die weer als voer dienen voor de vogels, maar die ook jarenlang gebruikt is als kunstmest.
Deze mest was 1 van de grootste exportproducten van Peru! Je vaart met een speedboot naar de eilanden met een Engelstalige gids, die veel van de dieren weet. Om het gevoelige ecosysteem te beschermen mag je niet op de eilanden zelf komen. Op de heenweg vaart de boot langs de 100 m hoge 'Kandelaar', een grote tekening in het woestijnzand op een heuvel langs de kust. Nadien doe je om 11 Am nog een excursie naar het reservaat van Paracas. Nadien hebben we een privé auto die ins eerst in 1 h rijden naar een pisco brouwerij brengt voor een gratis toertje met proeven ! ( eventueel kan je hier ook lunchen ) En nadien rij je 10 min verder naar Huacachina, dit is een oase in de woestijn tussen prachtige immense zandduinen. Hier doe je de prachtige 1 h zand buggy toer om 4 Pm, adrenaline verzekerd, maar ook prachtige vergezichten. We worden in ons hotel in Ica of Huacachina gedropt.
---
Dag 3 Transfer out
Vandaag transfer naar het busstation van Ica
Nota /We kunnen ook Bustickets naar Lima – Nazca – Arequipa regelen, alsook privé vervoer !
---
Inbegrepen in dit pakket
– Transfers in vanaf busstation / hotel ( in de haven)
– Assistentiepersoneel digitaal in het Engels en Spaans.
– Ballestas eilanden tour in groep
– Piertax en inkom reservaat paracas
– Paracas Reservaat tour in groep 11 Am
– 1 nacht hotel – Hostal Paracas
– 1 nacht hostal – hotel in Ica of Huacachina
– 2 ontbijten in de hotels
– privé auto Paracas Ica
– Zandbuggy tour in gedeelde service 1 h 30 min
– zandbuggy tax
– transfer naar busstation Ica
– Professionele tweetalige gids (Engels – Spaans) voor alle excursies.
– Persoonlijke 24-uur assistentie tijdens uw bezoek aan Peru
---
Niet inbegrepen:
-maaltijden niet vermeld.
-Andere dingen die niet genoemd worden ​​in het programma.
-Bustickets
---
Optionele excursies en trektocht als je meer tijd hebt in Paracas/ ook kan je enkel Paracas doen en terugkeren naar Lima.
| | | |
| --- | --- | --- |
| | Optionele excursies in Paracas- ica | Klik hier |
| | In gedeelde of Prive service PARACAS | |
| 1 | Ballestas in groep | Klik |
| 2 | Paracas reservaat in groep | Klik |
| 3 | Trekking in Paracas reservaat | Klik |
| 4 | Luxe jacht in paracas baai in groep | Klik |
| 5 | Zee Kajaks in Paracas | Klik |
| 6 | Zeeschelpen zoeken en proeven in luxe hotel | Klik |
| 7 | Premium boot naar Ballestas | Klik |
| 8 | E – Bike Fietsen in Paracas reservaat | Klik |
| 9 | Outriggers in het reservaat Paracas | Klik |
| 10 | Tambo Colorado Ruine complex | Klik |
| | | |
| --- | --- | --- |
| | In gedeelde of Prive service Huacachina – ICA | |
| 1 | Vlucht over de Nasca lijnen uit ICA | Klik |
| 2 | Zandbuggy tour Huacachina | Klik |
| 3 | Glamping overnight in Huacachina zandbuggys 2 d luxe | Klik |
| 4 | Kamperen in Woestijn Huacachina 2 D | Klik |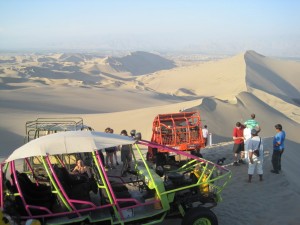 ---
Wat hebben we nodig voor reservatie?
* Volledige naam zoals deze in uw paspoort staat.
* Gescande kopie van uw paspoort.
* exacte aankomstdatum en gegeven van transport
* vegetarisch of niet.
* soort kamer 2 bedden of 1 groot bed.
* wij vragen 40% aanbetaling bij reservering de rest 4 weken voor vertrek. Bankoverschrijving naar onze Peruaanse bankrekening of Wetravel ( +4,5%)
Voor algemene Info klik hieronder
https://southamericaplanet.com/en/start-packet-peru-paracas-ica-huacachina-in-3-days/
https://southamericaplanet.com/es/paquete-de-inicio-en-paracas-ica-y-huacachina-en-3-dias/
https://southamericaplanet.com/nl/start-pakket-bouwsteen-paracas-ica-huacachina-in-3-dagen/