Start pakket Cajamarca, Noord Peru
Cajamarca is een stad en de hoofdstad van de gelijknamige provincie, in de gelijknamige regio van Peru. De naam Cajamarca komt van het Quechua-woord Kashamarka, "land van doornen" of van Qasamarka, "koud land". De stad ligt op 2720 m hoogte. Het equatoriale klimaat is mild, droog en zonnig. De maximumtemperaturen liggen rond 22 °C en de minimum temperaturen rond 5 °C. Cajamarca staat bekend om zijn kerkgebouwen, hete bronnen en incabaden.
We bieden deze pakketjes aan in 3 versies
1 Budget tour : in hostels
2 classic tour: in 3* hotels
3 Luxe tour: in 4 * hotels
---
Dag 1
A.M. Aankomst in Cajamarca. Transfer naar het gekozen type hotel.
09:00 uur. STADSTOUR: Plaza de Armas, tempels (gevels), kathedraal, San Francisco en Belén; Musea: archeologisch, etnografisch en medisch; Reddingskamer, Santa Apolonia, natuurlijk uitkijkpunt, Sillas del Inca.
03:00. OTUZCO TOUR: Ventanillas de Otuzco (Cajamarca Cultuurbegraafplaatsen), Hortensiatuin, Cajamarca Ambachten, Boerderij "Los Alpes", ambachtelijke kaasfabriek.
Hotel in Cajamarca
---
Dag 2
08:00 uur. Ontbijt.
9:30 uur CUMBE MAYO TOUR: Bellavista (natuurlijk uitkijkpunt), Layzón, rotsbos of de fraylones, grillige rotsformaties die zich aanpassen door erosie, El Santuario, grotten of schuilplaatsen, La Piedra del Sacrificio, ceremoniële altaren, 3000 hydraulische kanalen , in de namiddag kan je zelfstandig naar de incabaden gaan.
---
Dag 3
Transfer naar de luchthaven of busterminal voor de vlucht naar Lima of bus naar Chiclayo of Trujillo
Als u door wilt gaan naar Leymebamba- Chachapoyas kunnen we privévervoer van 6 tot 7 uur met de auto regelen.
---
Wat is inbegrepen
* Transfers naar het busstation of de luchthaven 2 keer
* Stadstour in Cajamarca 1/2 dag
* 2 hotelovernachtingen in Cajamarca
* 2 ontbijten
* Cumbemayo-excursie
* Otuzco excursie
* alle toegangsprijzen
Niet inbegrepen?
* Andere maaltijden
* vluchten en bustickets
---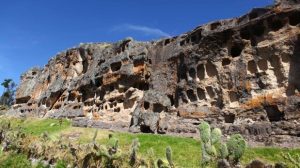 https://southamericaplanet.com/en/start-package-cajamarca-3-days-north-peru/
https://southamericaplanet.com/es/paquete-de-inicio-cajamarca-3-dias-north-peru/
https://southamericaplanet.com/nl/start-pakket-cajamarca-noord-peru/