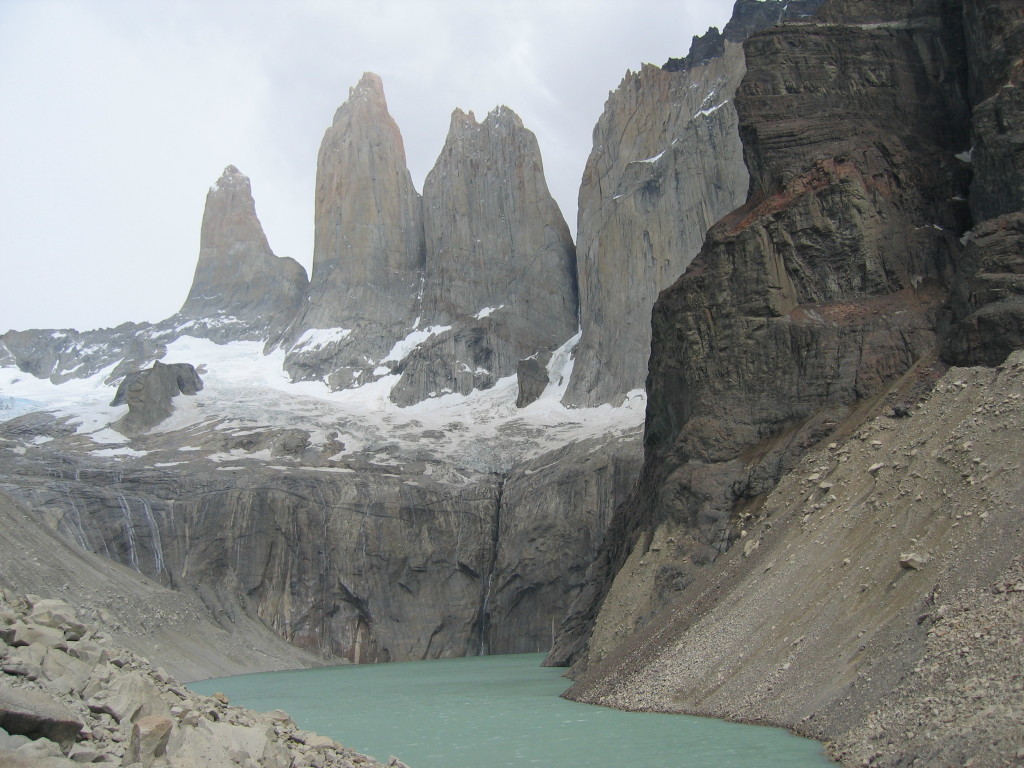 Torres del Paine – Puerto natales – Chile
Puerto Natales, Punta Arenas en Torres del Paine
De Magellan-regio van Chili bestaat uit de steden Punta Arenas, Puerto Natales en het mooiste, zo niet het mooiste nationale park van het land: Torres del Paine, dat is de belangrijkste attractie in het gebied. De regio, begrensd door de Magellan straat in het zuiden en Torres del Paine in het noorden, ligt tussen kanalen, fjorden en bergen.
Punta Arenas was een strategische haven voor bi-oceanisch verkeer en dit gaf de stad zijn rijkdom, zijn pittoreske Engelse architectuur en het uitzicht op de Magellan-straat maken het een plek die een bezoek waard is. Het vissersdorp Puerto Natales, Gelegen op 150 km (93 mijl) ten zuiden van het park, wordt beschouwd als de basis van waar Torres del Paine te bezoeken, reizigers die met de bus aankomen vanuit Punta Arenas of El Calafate, of met de veerboot vanuit Puerto Montt, brengen hier meestal een nacht door om uit te rusten en zet hun avontuur de volgende dag voort naar Torres del Paine. Het biosfeer reservaat van UNESCO is niets minder dan een complete verrassing, de toppen van de donkere hoorns van het granieten bereik zijn zichtbaar vanaf de ingang en ze verwelkomen de reiziger in een wereld van turquoise lagunes, hangende gletsjers en prachtige valleien waar trektochten mogelijk zijn zijn oneindig.
Klimaat
We kunnen het weer in de regio Magellan omschrijven als gematigde regenachtige kou. Het gebied van Torres del Paine is echter veranderlijk en onvoorspelbaar vanwege het microklimaat, typisch voor het park. Zelfs in de zomer kan regen je verrassen tijdens een trektocht op de helderste dag. Winderige dagen komen vaak voor, vooral in de warmste maanden. De gemiddelde temperatuur is 11 graden Celsius in de warme maanden en 3 graden Celsius in de winter.
Wanneer kom je?
De drie bestemmingen zijn het hele jaar door te bezoeken maar activiteiten zijn afhankelijk van de weersomstandigheden en sommige lodges in het park zijn in de winter gesloten. De beste periode om de Magellan-regio te bezoeken is tussen eind september en het begin van de B&B in mei. Als u van plan bent om in de maanden november, december, januari en februari te komen, boek dan uw accommodatie in Torres del Paine met een bepaalde tijd van tevoren
Hoe lang?
Een nacht in Punta Arenas wordt aanbevolen voor degenen die een ochtend bus of -vlucht nemen, twee nachten in Puerto Natales als u van plan bent een dag bezoek te brengen aan Torres del Paine. Als je aan trekking denkt, moet je minimaal twee nachten in een hotel, B&B / herberg, hut of lodge in het park verblijven voor een dagexcursie. Voor degenen die bereid zijn om "de W" te lopen, raden we aan om 3 of 4 nachten te blijven, afhankelijk van het gekozen type accommodatie.
Hoe daar te komen?
De enige beschikbare luchthaven bevindt zich in Punta Arenas, 250 km (155 mijl) ten zuiden van Puerto Natales, het ontvangt vluchten van Puerto Montt (2 uur en 10 minuten), Santiago de Chile (3 uur en 20 minuten) en Ushuaia. Over land Punta Arenas is te bereiken vanuit Ushuaia (12 uur) en Puerto Natales (2 tot 3 uur). Puerto Natales is toegankelijk vanuit Punta Arenas en El Calafate (7 uur). Er zijn twee opties om Torres del Paine te bereiken: over land vanuit Puerto Natales (2 uur) en El Calafate (5 uur); per boot vanuit Puerto Natales (dagexcursie). Ten slotte zijn Punta Arenas en Puerto Natales per boot bereikbaar vanuit Ushuaia en Puerto Montt aan boord van respectievelijk de Mare Australis en de Navimag.
Musea
– Patagonian Institute, History Museum (Punta Arenas)
– Silezisch Regionaal Museum "Maggiorino Borgatello" (Punta Arenas)
– Regionaal museum "Palacio Mauricio Braun Menéndez" (Punta Arenas)
De W van Paine
Dag 1
Laat zware uitrusting achter op het kampeerterrein van Las Torres, loop NW vanaf de Refugio langs de Campamento (Camping) Chileno en naar de W naar een klein meer net onder de Torres del Paine, waar waarschijnlijk het meest verbazingwekkende uitzicht in het park is – van de drie torens van Paine, gespiegeld in het meer.
Trek je terug in de Refugio en neem je uitrusting daar links.
Dag 2
Vandaag trek je langs het meer dat smal is met veel struiken aan de randen, waaronder de wilde berberis (Berberis Buxifolia of Calafate – de eetbare rood / roze / magenta bessen met een bitterzoete smaak als ze rijp zijn), wat het dragen van korte broeken onaangenaam maakt.
Je komt aan in Campamento Cuernos, waar je de tweede nacht zult doorbrengen.
Dag 3
Vertrek in de vroege ochtend naar Campamento Italiano.
Met alleen een dag rugzak loop je naar de Campamento Britanico en verder N of NE voor een uitzicht op de vallei. Als je hoog genoeg klimt richting een duidelijke pas naar het NO (geen duidelijk pad, je begint op moerassig gras te lopen en verder te gaan op onstabiele rotsen en bij harde wind, niet erg prettig, maar we hebben verschillende mensen ontmoet die daarheen gaan), je kunt de Torres del Paine van 'achter'. Trek je terug in de Campamento Italiano en slaap daar.
Dag 4
Trek van 2 uur naar Refugio Pehoe. Van Refugio Pehoe loopt u langs het Lago Grey naar het Campamento Gray.
De camping ligt dicht bij een mooi zandstrand, hoewel er maar weinigen tussen de ijs rotsen willen zwemmen. North walk voor een nadere blik op de glaciar Grey.
Dag 5
'S Ochtends gaat u aan boord van het schip voor navigatie over het Grijze Meer. Eenmaal aan wal gaat u terug naar El Calafate of Puerto Natales.
Gray Glacier Lake-navigatie
Grey Glacier is de grootste van alle die je kunt bezoeken door middel van een regelmatige tour door het park. Op dit moment kan dit natuurlijke wonder van indrukwekkende afmetingen – dat het einde van het zuidelijke ijsveld vormt – worden bezocht en bewonderd in al zijn omvang door het meer te zeilen aan boord van ons schip Gray II. Weeg anker van Hosteria Lago Gray en na 35 minuten zeilen tussen vele ijsbergen, waarvan de vorm en kleur ons unieke thema's bieden voor onze foto's en videobeelden, zullen we de voormuur van de gletsjer naderen, die in tweeën is gedeeld door een centraal eiland waar het landt is toegestaan. Hier is het mogelijk om in hun hele dimensie de oneindigheid van spleten en stijgingen te waarderen die de sneeuwlaag vormen die in de verte verdwaalt. Er zijn periodes waarin grote instortingen aan de voorkant van de gletsjer het meer vullen met ijsbergen van verschillende groottes; de dichtheid van deze massa drijvend ijs maakt de navigatie van ons schip Gray II onmogelijk en suggereerde vervolgens het zeilen in een opblaasboot rond deze ijsmassa's, niet ver van het hostel.
Dag Tour
Rijd Puerto Natales uit langs de Seno de Ultima Esperanza (Last Hope Sound) naar Milodón Cave, de grot, ongeveer 90 voet hoog, 200 voet diep, waarin kapitein Hermann Eberhard in 1896 de overblijfselen vond van een prehistorisch dier (dat hij noemde) Milodón). Je gaat verder door de heuvels en uitgestrekte pampa's van het prachtige en prachtig diverse Patagonische landschap. Betreed vervolgens het spectaculaire Torres del Paine National Park, dat deel uitmaakt van het World Biosphere Reserve-systeem van de Verenigde Naties. Hier bestaan ​​poema's, vossen, guanaco's en nandoe in het niets anders dan het Patagonische Eden, een rijk landschap van Lengas en Coigües, geurige heide, legendarische Calafate (men gelooft dat degenen die deze regionale bes proeven altijd terugkeren) en andere verbazingwekkende flora . Kijk hoe het smaragdgroene Nordenskjold-meer aan de voet van de bergen door brullende Salto Grande (Grand Waterfall) naar Pehoé Lake stroomt, een groot meer op zich en een geweldige plek om de Cuernos del Paine (hoorns van pijn) te bestuderen. Rijd langs de oever van het meer naar Salto Chico (kleine waterval); slenter door een oud lenga bos; geniet van een optionele picknick terwijl je gigantische stukken ijs, stukken van de nabijgelegen Grijze Gletsjer, langs het Grijze Meer ziet drijven. Voor de terugkeer steekt u de Amarga-lagune over voor nog een adembenemend uitzicht op de iconografische Torres del Paine van het park. Keer terug naar Puerto Natales.