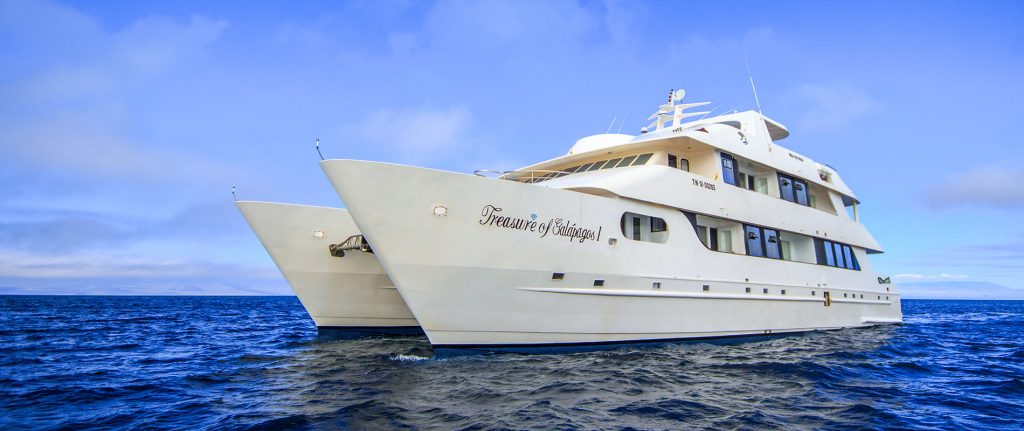 Treasury of Galapagos jacht van 5- en 7-daagse rondreis
Accommodatie op Treasure of Galapagos bestaat uit 1 Master-suite met kingsize bed, uitzicht op zee, 2 eigen balkons, 2 Junior-suites met tweepersoonsbed, queen size bed, met privé-balkon, 6 Junior-suites met oceaanzicht, eigen balkon, eigen badkamer, warm water, lucht conditioner, kluis.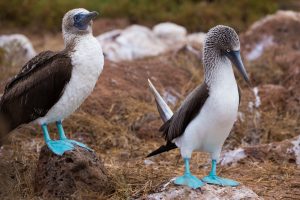 ---
| | |
| --- | --- |
| Category: | Catamaran |
| Year of Construction: | 2009 |
| Type: | Power Motor Catamaran |
| Lenght: | 31.60m |
| Beam: | 11.20m |
| Draft: | 2.60m |
| Gross Tonnage: | 343 tons |
| Capacity: | 16 passengers |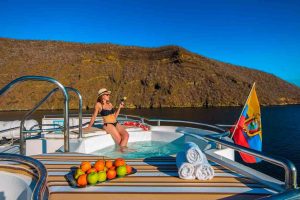 DAY:
VISITOR SITE
1 Friday
AM – Flight to Baltra Airport (GPS)
PM – Charles Darwin Station (Santa Cruz)
2 Saturday
AM – Sullivan Bay (Santiago)
PM – Bartolome
3 Sunday
AM – North Seymour
PM – Mosquera
4 Monday
AM – South Plaza
PM – Cerro Brujo (San Cristobal)
5 Tuesday
AM – Interpretation Center (San Cristobal)
– Transfer to San Cristobal Airport (SCY)
---
DAY:
VISITOR SITE
1 Tuesday
AM – Flight to San Cristobal Airport (SCY)
PM – Cerro Colorado (San Cristobal)
2 Wednesday
AM – Gardner Bay (Espanola)
PM – Punta Suarez (Espanola)
3 Thursday
AM – Post Office Bay (Floreana)
PM – Punta Cormorant (Floreana)
4 Friday
AM – Santa Fe
PM – Tortuga Bay (Santa Cruz)
5 Saturday
AM – El Chato (Santa Cruz)
– Transfer to Baltra Airport
---

---
Treasure of Galapagos – Itinerary – C
Hier vind je het dag aan dag programma in word Treasure_C Click in blauw voor word programma
DAY:
VISITOR SITE
1 Saturday
AM – Flight to Baltra Airport (GPS)
PM – Charles Darwin Station (Santa Cruz)
2 Sunday
AM – Islote Eden (Santa Cruz)
PM – Dragon Hill (Santa Cruz)
3 Monday
AM – Las Tintoreras – Sierra Negra
PM – Wetlands (Isabela)
4 Tuesday
AM – Punta Moreno (Isabela)
PM – Urbina Bay (Isabela)
5 Wednesday
AM – Punta Espinoza (Fernandina)
PM – Tagus Cove (Isabela)
6 Thursday
AM – Puerto Egas (Santiago)
PM – Rabida
7 Friday
AM – Las Bachas (Santa Cruz)
– Transfer to Baltra Airport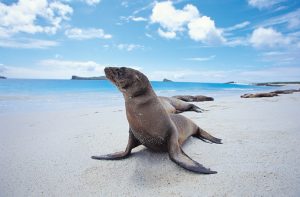 ---
Kleding voorgestelde paklijst
* Comfortabele wandelschoenen
* Sandalen met strings of Teva's voor natte landingen
* Lichte katoenen sokken
* Katoenen shirts en T-shirts met lange mouwen
* Lichte katoenen sjaal om je nek te beschermen
* Shorts
* Lichtgewicht lange broek of rok / jurk
* Lichte regenjas of windjack
* Sweatshirt, trui, lichte jas: de vroege ochtend / late avonden kunnen koel worden, vaak met een briesje
* Hoed met brede rand
* Badpakken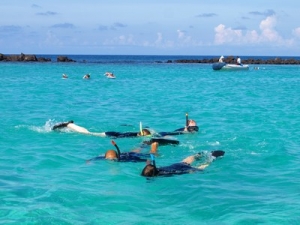 ---
Uitrusting
* Zonnebrandcrème
* PABA zonnebrandcrème (minimaal # 15)
* Lippenbalsem
* Zonnebril met riempje
* Extra bril / contactlenzen
* Insectenwerend middel
* Persoonlijke medicatie
* Zelfsluitende zakken voor elektronische apparatuur
* Camera
* Onderwatercamera's om foto's te maken van het dierenleven tijdens het snorkelen
* Camera-uitrusting
* Film en meer film of genoeg flash-geheugen om foto's te downloaden.
* Verrekijker voor het geval u een meer gedetailleerde kijk wilt krijgen op unieke dieren in Galapagos.
* Extra batterijen voor camera's
* Plastic zakken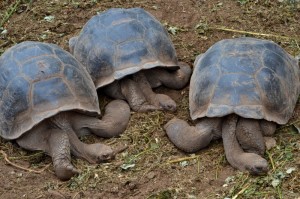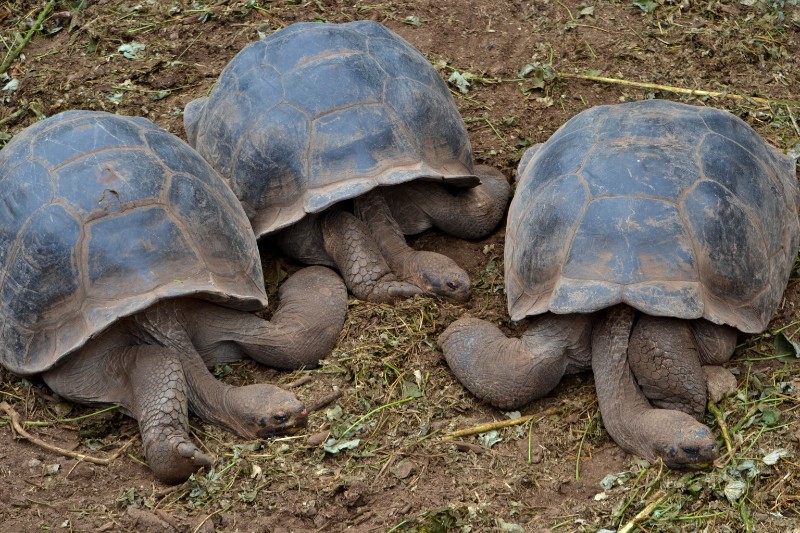 ---
Geld en verzekering
* Paspoort
* Kopie van paspoort
* US Cash voornamelijk rekeningen met een lage coupure ($ 5 tot $ 20)
* Reisverzekering
---
Reisziekte
* Gezouten crackers
* Gekonfijte gember- of gembertabletten
* Patch
Eerste hulp
* Pepto Bismol of Kaopectate voor maagklachten en milde diarree.
* Immodium of Lomotil voor ernstigere diarree
* Pleisters
* Antibiotische crème
* Aloë Vera crème of gel tegen zonnebrand
Hoe kom ik daar?
Eerst moet je naar contiental Ecuador vliegen naar Quito of Guayaquil; Er komen dagelijks verschillende commerciële vluchten aan in Ecuador.
De meest efficiënte manier om vanuit het belangrijkste Ecuador naar de Galapagos te komen, is per vliegtuig. Uw Galapagos-vluchtboeking is gegarandeerd met uw cruise-bevestiging. Alle internationale verbindingen zijn afkomstig van het vasteland van Ecuador. Er zijn vluchten vanuit Quito met een tussenstop in Guayaquil, en van Guayaquil naar Baltra of San Cristobal waar uw cruise begint. Je vlucht duurt 30 minuten om van Quito naar Guayaquil te komen en ongeveer anderhalf uur van Guayaquil naar Galápagos – Baltra of San Cristobal.
De luchtvaartmaatschappijen hebben het laag- en hoogseizoen voor de vluchten vastgesteld, en dit zijn:
Hoogseizoen: 01 nov. – 30 apr. + 15 jun. – 14 sep
Laagseizoen: 01 mei – 14 juni + 15 september – 31 oktober
FAQ
Wat is bij mijn cruisetarief inbegrepen?
Accommodatie aan boord in een hut met eigen voorzieningen; Alle maaltijden, water, koffie en thee; Alle excursies zoals vermeld in de reisbeschrijving (reisroute onder voorbehoud) met Engelssprekende natuurgids; Gedeelde pendeldienst naar de luchthaven van Quito of Guayaquil * alleen vertrektransfer (alleen inbegrepen als de Galapagos-vlucht via ons is geboekt op onze geplande vertrekcruisedata); Alle transfers in Galapagos (transfers van luchthaven-jacht-luchthaven zijn alleen gegarandeerd als de vlucht via ons is geboekt); Snorkeluitrusting (maskers, flippers en snorkel) en gebruik van kajaks op aangewezen locaties.
Wat zit er niet bij?
Retourvlucht naar de Galapagos-eilanden; Toegangsprijs Galapagos National Park (USD 100 pp, onder voorbehoud); Transit Control Card (USD 20 pp, onder voorbehoud van wijzigingen); Luchthaventransfers in Galapagos (alleen inbegrepen als de Galapagos-vlucht via ons is geboekt op de geplande cruisedata. * Als uw aankomst / vertrek anders is dan onze geplande cruisevluchten, is de pendeldienst niet inbegrepen); Wetsuit verhuur; Frisdranken en alcoholische dranken; Tips; Reisverzekering en andere persoonlijke zaken.
Kan ik de kosten van het Galapagos National Park betalen met mijn creditcard of reischeques?
Helaas kan er alleen contant betaald worden.
Waar gaat mijn toegangsprijs naartoe?
De toegangsprijs voor het park die bij aankomst van een bezoeker in Galapagos wordt geïnd, wordt gebruikt om parkbeheer en gemeenschaps- en natuurbeschermingsprojecten op de eilanden te financieren. De begunstigden zijn als volgt: Galapagos National Park Service (40%), gemeentelijke overheden (20%), de Galapagos Provincial Board (10%), Galapagos Marine Reserve (5%), het nationale systeem voor beschermde gebieden (5%), het National Galapagos Institute (10%), het quarantaine- en inspectiesysteem (5%) en de Ecuadoriaanse marine (5%).
Is de cruise-route onderhevig aan verandering?
Soms kan de kapitein van het schip het nodig vinden om de reisroute te wijzigen vanwege de voorschriften van het Galapagos National Park of om veiligheidsredenen.
Hoe zien de landbezoeken eruit?
De meeste bezoeken duren anderhalf tot drie uur. Ze zitten in onze kleine boten of panga's en het zijn droge of natte landingen. Er zal altijd een gids bij je zijn die regelmatig stopt om dingen uit te leggen of te laten zien, het tempo is zacht en nooit gehaast.
Wat gebeurt er als ik mijn cruise annuleer?
Bij annulering tot 61 dagen voor vertrek wordt 20% van het totale betaalde bedrag ingehouden als boete. 60 dagen of minder voor vertrek wordt 100% van de totale reissom verbeurd.
Hoe kan ik mijn uitgaven aan boord betalen?
Incidentele kosten aan boord kunnen contant worden betaald in Amerikaanse dollars.
Hoe ver van tevoren moet ik reserveren?
We raden u aan uw reis ten minste 6 maanden voor uw geplande vertrekdatum en 12 maanden voorafgaand aan de boeking voor vakantieseizoenen te boeken.
Vaar ik overdag of 's nachts tussen eilanden?
De dagen worden normaal gesproken verankerd doorgebracht op een van de eilanden. Hoewel er overdag soms korte afstanden tussen eilanden worden gevaren, worden 's nachts langere afstanden afgelegd om overdag verkenningen en natuurobservaties te maximaliseren
Is het vliegticket inbegrepen?
Nee, het is niet inbegrepen, maar we kunnen de tickets wel uitgeven. De vliegtickets zijn onderhevig aan verandering; wij zullen u het tarief verstrekken op het moment dat u boekt.
Heb ik een paspoort of visum nodig om naar Galapagos te gaan?
Een paspoort is vereist. Uw reisbureau kan u adviseren over eventuele visumvereisten wanneer u naar Ecuador reist.
Moet ik een reisverzekering afsluiten?
Ja, we raden u ten zeerste aan een reisverzekering af te sluiten voordat u op vakantie gaat.
Zijn er bagagebeperkingen?
Volgens de nationale luchtvaartwetgeving is 20 kilo per persoon toegestaan ​​voor uw bagage, exclusief kleine handbagage.
Welke tijdzone wordt gebruikt in Galapagos?
Ecuador ligt in de oostelijke tijdzone (GMT-5 op het vasteland). Galapagos ligt een uur achter het vasteland van Ecuador.
Hoe lang duurt de vlucht van Quito of Guayaquil naar Galapagos?
De vlucht van Quito naar Guayaquil duurt dertig minuten, van Guayaquil naar Galapagos duurt een uur en dertig minuten
Biedt Galapagos speciaal voedsel aan als ik voedselbeperkingen heb?
Ja, als je vegetarisch eten nodig hebt
Wat is de fysieke conditie nodig voor de cruise?
Ouderen of gehandicapten kunnen problemen hebben op de moeilijke paden. We raden passagiers aan om in een redelijk goede fysieke conditie te zijn, omdat sommige paden moeilijk te passeren zijn.
Kom ik ruwe zee of slecht weer tegen?
Door de sterke stroming zal het schip tijdens het navigeren matig bewegen. De meeste passagiers worden echter niet getroffen, maar als u vatbaar bent voor zeeziekte, raden we u aan een of ander medicijn mee te nemen om reisziekte te voorkomen.
Wat is het beste seizoen om de cruise te maken?
Het maakt niet uit in welke tijd van het jaar u de eilanden bezoekt, u zult altijd wilde dieren vinden.
Tijdens het "hete" seizoen zijn de eilanden over het algemeen veel groener en zijn de landvogels het meest actief. Het is ook in deze periode dat de oceaantemperatuur warmer is om te zwemmen en snorkelen. Tijdens het "koele" seizoen zijn de zeevogels en zeezoogdieren het meest actief. Dit is de beste tijd om paring bij zeevogels te observeren.
https://southamericaplanet.com/en/treasure-of-galapagos-yacht-from-5-to 15-days-tour/
https://southamericaplanet.com/es/yate-del-tesoro-de-galapagos-de-5-y-7-dias-de-recorrido/
https://southamericaplanet.com/nl/treasury-of-galapagos-jacht-van-5-en-7-daagse-rondreis/