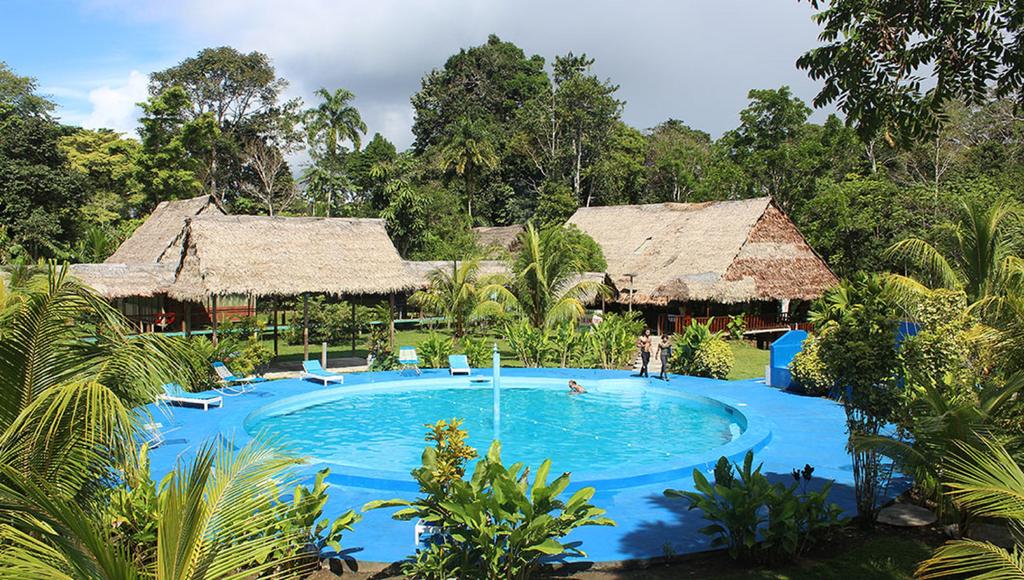 Tropical Cedar 4 Dagen 3 Nachten
Botanische tuin lodge Iquitos Jungle tour, Peru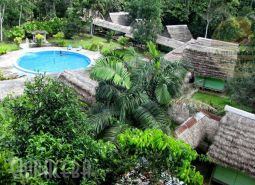 ---
Deze lodge ligt op 80 km van de stad Iquitos en stroomafwaarts over de Amazone. Dichtbij de monding van de Napo-rivier, waarvan de bron in het deel van de evenaar ligt.
Het heeft 15 hutten die volledig zijn beschermd tegen het binnendringen van insecten of muggen, allemaal met een eigen badkamer. Elektrisch licht van 18 tot 22 uur, daarna gaat de verlichting via zonne-energie. Het heeft dubbele, driedubbele, huwelijks- en vierpersoonshutten. Ruime woonkamer en hangmatten voor rust en ontspanning. Een groot en verfrissend zwembad met ruimte voor kinderen en volwassenen. Het is gelegen aan de oevers van een beek of zijrivier van de Amazone-rivier, in wiens wateren tijdens het regenseizoen van december tot juli interessante kanotochten zijn, vogels observeren, flora observeren en het leuke vissen is op meerval, sardines en vraatzuchtige piranha's.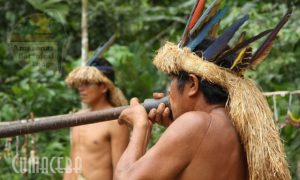 De botanische omgeving is indrukwekkend omdat het veel planten met medicinale kracht heeft dat de ribereño's ze blijven gebruiken om hun kwalen te genezen, zoals kattenklauw, kruidnagel Huasca, uvos, knoflooksacha, bloed van de kwaliteit, capirona, guayaba, chiriczanango en de voorouderlijke Ayahuasca.
Het heeft een grote ronde hut met een diameter van 15 meter in "MALOCA YAGUA" -stijl, speciaal ontworpen voor de rituele ceremonie van de Ayahuasca. Deze Eco Lodge kan worden gehuurd aan groepen die deze ceremonies voor de nodige tijd privé willen houden. We hebben alle benodigde kleding.
Onze meertalige gidsen en PERSONEEL zijn geboren in de Amazone, hiermee garanderen we een kwaliteitsservice omdat ze zeer goed geïnformeerd zijn over de geheimen van de jungle. In het nachtelijk vuur zullen verhalen en mythen over de jungle worden verteld.
Het gebied van flora en fauna onder beheer en bescherming van deze Eco Lodge is ongeveer 55 hectare groot en is sinds 2000 een natuurreservaat.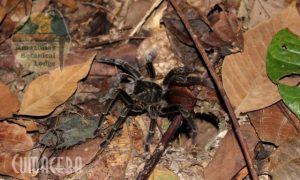 Dag 1: Amazon River – Cattery of Paiches
Ontvangst op de luchthaven van Iquitos, korte stadswandeling (aan het begin of einde van de tour). Transfer naar onze eigen steiger om aan boord te gaan van de snelle boot richting Botanical Garden, op de weg die we zullen observeren, woonboten (nov-jul), vereniging van de Itaya-rivieren en de Natural Wonder Amazon River, zullen we een stop maken om de eerste bezoek aan de grootste zoetwatervis van de Paiche Hatchery, observeer de grootste waterlila ter wereld "La Victoria Regia", korte pauze om te genieten van een verfrissend kokoswater, frisdrank, enz. Vervolg de reis door de Amazone, aankomst in de lodge, typisch drankje, toewijzing van bungalows. Typische lunch met zelfbediening
Loop naar planten en bomen met medicinale kracht die door de rivier worden gebruikt om hun kwalen en kwalen te genezen, waaronder de Sangre de Grado, Chirick Sanango, Uvos, Cat's Claw, Sacha Garlic, Pichirina, Clove Huasca. Vrije tijd om te ontspannen bij het verfrissende zwembad. Diner. Nachtelijke excursie in roeikano of jungletrek, afhankelijk van het nachtelijke rivierstation in de Cumaceba Botanische Tuin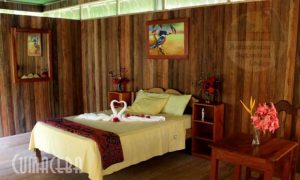 ---
Dag 2: Giant Tree – Bezoek aan een boerderij aan de rivier
Kano rit of ochtendwandeling afhankelijk van het seizoen, vogels observeren in hun leefgebied. Ontbijt. Loop door de jungle van gigantische bomen en leer de indrukwekkende en wulpse Ceiba (Lupuna) en andere soorten houtbomen kennen. (Flora & Fauna) Deze expeditie duurt ongeveer 4 uur. Keer terug naar de Lodge. Typische lunch met zelfbediening. 'S Middags een rondleiding door de Amazone-rivier en een bezoek aan het gehucht San Juan aan de rivier, waar we kennis zullen maken met de kleine school en de dagelijkse activiteiten van de inwoners, fruitplanten en weegbree, cassave, enz. Afhankelijk van de weersomstandigheden zullen we een indrukwekkende zonsondergang observeren, gelegen op een bevoorrechte plek. Nachtelijke kanotocht, afhankelijk van het seizoen, luisterend naar de geluiden van het regenwoud. Diner Overnachting in de botanische tuin van Cumaceba.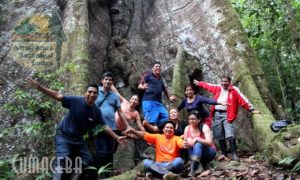 ---
Dag 3: Bezoek aan Artisan Trapiche + Rio Napo
Ontbijt. Excursie per boot door de Amazone-rivier naar de monding van de Napo-rivier naar de Amazone in de stad en het district Francisco de Orellana, die de Amazone in 1535 ontdekte. We hebben een lunch box. En kunnen vissen en dolfijnen kijken. Bij terugkomst bezoeken ze een Amazone-bewoner die een ambachtelijke trapiche uitvoert, demonstratie en deelname van toeristen aan de extractie van suiker riet sap die de inwoners gebruiken om melasse te maken. Keer terug en ontspan met het verfrissende zwembad. Diner en overnachting in de Cumaceba Botanische Tuin.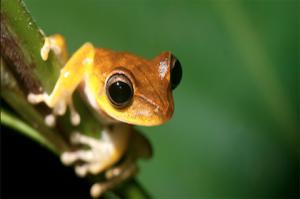 ---
Dag 4: CBG – Isla de Monos – Iquitos
Ontbijt. Bezoek op de aangegeven tijd een oeverbevolking om meer te weten te komen over hun gebruiken en dagelijkse activiteiten. Keer terug naar CBG en neem afscheid met lunch rond het zwembad. Keer terug naar de stad Iquitos. We bezoeken het natuurbeschermingsproject "The Island of the Monkeys" . We zullen soorten apen bewonderen die worden bedreigd als de Monkey CHORO, de Monkey SPIDER, COTO Monkey of Howler, Monkey TOCON en MUSMUKY, Monkey HUAPO Colorado en zwart. Aankomst in Iquitos en transfer naar het hotel of vliegveld. Einde van de service.
---

Aanbevelingen om naar de jungle te gaan
*Draag lichte, lichtgekleurde kleding, windjack, hoed, bril, kantine, wandelschoenen, zaklamp, insecten werend middel, zonnebrandcrème, antihistaminica en ontstekingsremmende pillen voor de effecten van muggenbeten en voor uw verblijf in de stad, draag kleding volgens uw smaak. Het gebruik van laarzen en plastic poncho voor de regen is noodzakelijk tijdens je verblijf in de jungle. Controleer de kosten bij de Lodge zelf.
*Geef aan uw reisagent eventuele beperkingen op uw dieet en / of elke aandoening in uw gezondheid door, om complicaties tijdens excursies door de jungle te voorkomen en te voorkomen.
*Kinderen reizend met ouders, het wordt aanbevolen vanaf 3 jaar.
*VACCINES, het is niet verplicht, al onze excursies vinden plaats in niet-endemische gebieden zonder epidemieën zoals malaria, knokkelkoorts en gele koorts. Op verzoek van de passagier kunnen ze 10 dagen voor hun reis naar de jungle worden ingeënt. Neem contact op met uw arts.
*Bagage in bewaring, laat ze op ons kantoor voor de dagen dat ze in de jungle zullen zijn, op dezelfde manier wordt aanbevolen om niet meer dan S /180 of 200 mee te nemen voor consumptiekosten in de bar en aankoop van souvenir. In het geval van waardevolle spullen, moet u deze aangeven bij het verantwoordelijke personeel en achterlaten in Iquitos stad. GRATIS. bewaring.
*Het bedrijf is niet verantwoordelijk voor verlies van voorwerpen en accessoires die onder haar verantwoordelijkheid vallen en die niet zijn aangegeven of in bewaring zijn genomen, het wordt aanbevolen om al deze persoonlijke voorwerpen in een persoonlijke tas (kangoeroe, rugzak) mee te nemen, evenals documenten en geld. Als er een incident is, breng dan onmiddellijk de Lodge-beheerder op de hoogte, voor de onmiddellijke oplossing, nadat de service is beëindigd kan je geen klacht meer indienen.
*De Lodge levert elektrische stroom van 18:00 uur tot 22:00 uur om de batterijen van elektronische apparatuur, zoals camera's, mobiele telefoons, videorecorders, enz. Van elektrische lading te voorzien.
*Draag uw servicevoucher MET CODE die de gecontracteerde diensten bevat en die zal worden verstrekt vanaf uw aankomst in de stad Iquitos.
*VOOR EXCURSIES: Houd rekening met en respecteer de aanwijzingen van de gids voor naleving van het programma. De volgorde van de excursies is afhankelijk van de weersomstandigheden. Gemiddelde temperatuur in IQUITOS 28 ° – 35 °.
*Helemaal VERBODEN, vuurwapens, te vervoeren die hun verblijf en andere passagiers in gevaar brengen.
*Voor mensen met een goed hart en liefdadige zielen die willen delen met kinderen en volwassenen uit inheemse gemeenschappen, kunnen ze zomerkleding, speelgoed of eten meenemen om te doneren. Dit is niet verplicht.
BELANGRIJK: VERPLICHT gebruik van reddingsvesten tijdens riviernavigatie en / of kanotochten. Wij zijn niet verantwoordelijk voor verlies, vertraging of annulering van vluchten, er worden kosten in rekening gebracht voor extra stadsjungleoverdracht of stads accommodatie namens de passagier. Koop een reisverzekering bij uw bureau.
SCHEMA'S:
City – Jungle elke dag om 09:00 uur.
Return Jungle – City na de lunch, aankomst in Iquitos 15:45 uur. Ca.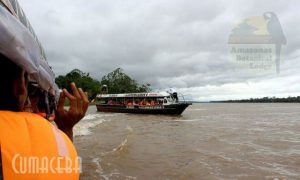 https://southamericaplanet.com/en/tropical-cedar-4-days-3-nights/
https://southamericaplanet.com/es/cedro-tropical-4-dias-3-noches-iquitos/
https://southamericaplanet.com/nl/tropical-cedar-4-dagen-3-nachten/