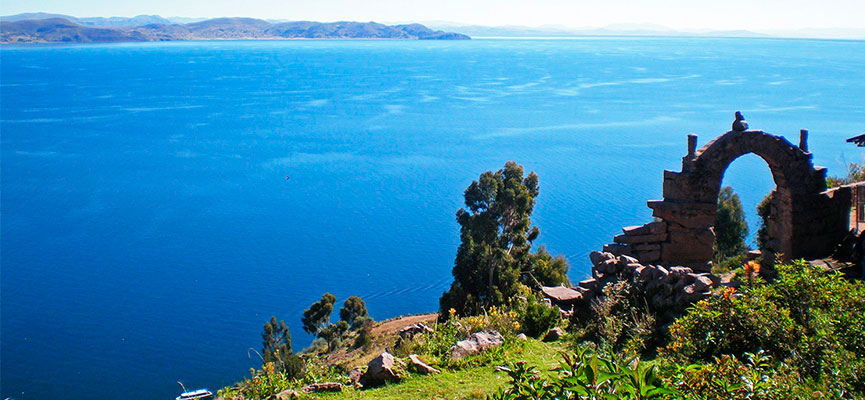 Uros vlottende riet eilanden + Homestay op Amantani en bezoek Taquile 2 d 1 n
Bezoek Uros + Taquile + Amantani met homestay 2 Dagen
Vandaag vertrekken we vanaf je hotel rond 7.30 am, naar de haven, voor een tocht over het hoogst gelegen bevaarbare meer ter wereld ,"het Titicaca meer ".
Je brengt in 2 dagen een bezoek aan de Uros/Amantani/Taquile eilanden en doen 90 Km. Eerst varen we 35 Min, de Uros stam leeft afgescheiden op het Titicaca meer en ze leven van visvangst + handel met het vasteland. Een
bezoek aan deze eilanden is, hoewel toeristisch, toch een unieke ervaring. De 300 inwoners leven op drijvende eilanden van totora riet waarop de kleine huisjes volledig in riet gebouwd zijn, evenals hun boten. Als je over het eiland loopt, voel je de zachte grond onder je voeten bewegen. Hierna vaar je 36 km verder door naar een van de schilderachtige rotseilanden "Amantani ", dat tot boven aan bedekt is met huizen. Hier wordt je ondergebracht bij gastgezinnen in hun huizen, een unieke kans om kennis te maken met het leven van alledag. De groep wordt over verschillende families verdeeld. De bevolking is vrij arm, maar je hebt de mogelijkheid om midden op het meer te slapen en uitgebreid kennis te maken met de leefwijze van de lokale bevolking . Houd er rekening mee dat de omstandigheden eenvoudig tot basic zijn. Er zijn geen privé badkamers, enkel een WC buiten huis. De families verzorgen eveneens de lunch en het avondeten. Na de middag kun je een mooie wandeling maken naar de top van de heuvel, voor een prachtig uitzicht over het meer. Bovendien zijn hier de resten van een pré-Inca ruïne te zien, font-family: die toegewijd werd aan de vruchtbaarheid van de aarde (Pachamama en Pachatata).S,avond ga je met het hele dorp een biertje drinken en dansen op grote hoogtes,,,in locale poncho,s. Jawel ook jij moet hier de plaatselijke klederdracht dragen, maar geen nood, daar zorgt je plaatselijke moeder wel voor !
Voor ons vertrek uit Puno kopen we ook eerst in de haven een welkomst geschenk in de vorm van melk of fruit.
Nota: laat je grote bagage achter in Puno aan de receptie van je hotel en vertrek met dag rugzak voor 1 nacht slapen. Er zijn zware dekens in de home stay.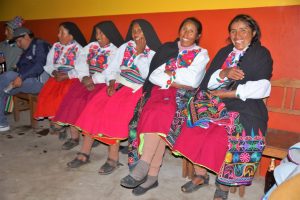 ---
Dag 2
Deze ochtend na ons ontbijt, afscheid van je familie en varen we naar "Taquile". De klederdracht van de mensen hier verschilt hier. Op het eiland zijn er geen auto's of honden. We maken een wandeling over paadjes, en klimmen naar de top van het eiland ( 45 min) tussen de terrassen met kleine stenen huisjes, die her en der tussen de hoge eucalyptusbomen verspreid liggen. Onderweg komen we breiende mannen tegen. Je waant je in een vredige uithoek van het Inca rijk van zo'n 800 jaar geleden. Na de lunch dalen we 500 treden af naar de haven en varen in 3 h terug naar Puno + transfer naar je hotel waar we tussen 4 en 5 Pm aankomen.
Inbegrepen:
Transfer van en naar de haven vanuit uw hotel
Spaans / Engelse gids
Uros en Taquile + Amantani-tour 2 d 1 n
inkom voor alle plaatsen
Gemotoriseerde motorboot.
Lunch + diner in Amantani
Nee inbegrepen:
Lunch in Taquile
Andere uitgaven die niet gedetailleerd zijn
tips
Nota / 1/ Laat grote bagage achter bij receptie van je hotel in Puno en reis met kleine dagrugzak
2/ neem warme kleding mee daar het s,nachts op hoogte koud kan worden
https://southamericaplanet.com/en/uros-floating-islands-amantani-homestay-taquile-in-2-days/
https://southamericaplanet.com/es/islas-flotantes-de-los-uros-casa-familiar-amantani-taquile-en-2-dias/
https://southamericaplanet.com/nl/uros-vlottende-riet-eilanden-homestay-op-amantani-en-bezoek-taquile-2-d-1-n/