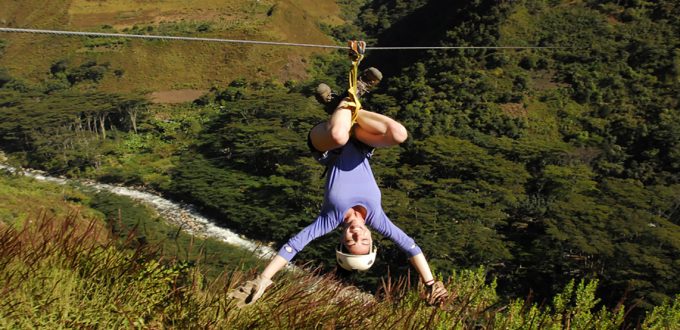 Via Ferrata & Zip line in de heilige vallei- Cusco
VIA FERRATA & ZIP LINE
Vlieg over de heilige vallei.
We zeggen niet de grootste of langste of hoogste te zijn, we zeggen we DE VEILIGSTE en beste te zijn.
De veiligste manier om op 400 meter rotsformatie te klimmen. You Probeer de 300 meters klim en de 100 meter rappel op de gecombineerde Via ferrata & Zip-line toer.
Deze toer is gemaakt om een fantastische berg beleving te hebben voor mensen zonder enige ervaring, Het is een beleving van je leven. Klim 400 Mt via ferrata en daal af vanaf de bergwand door gebruik te maken van 6 zipkabels (150 mts tot 700 mts).
In de prijs is inbegrepen/ Transport vanuit Cusco of heilige vallei, Gids, Materiaal,( Harnas, helm, kabels , zip line en handschoenen. en een lunch box.Vraag voor Privé groepsprijzen. Gemiddeld duurt de excursie 4 tot 5 h + transport tijd.
Wat is een zip-line of canopy?
een zip-line (ook bekend onde de naam vliegende vos, foefie slide, zip wire, aerial runway) bevat een hangende kabel, stevig bevestigd aan de bergwand om af te dalen. Het is gemaakt om reizigers van een top naar een bodem of andere kant te schuiven over een kabel, je hangt aan een soort rolschaats die veilig op de kabel bevestigd is, zodat je veilig naar beneden kan rollen, je remt met je handschoen door een remsysteem in te drukken .
1. Wat is een via ferrata?
Een via ferrata is een weg gebruikt om een bergwand veilig te beklimmen, met een permanent veiligheids- systeem. Ht geeft de kans voor mensen zonder ervaring, om een rotswand te beklimmen. Dit via prachtig berglandschap met een minima aan benodigdheden.
De klimmer is permanent vastgeklikt aan een stalen kabel via de hele route. Normaal heb je ook geen klim touw nodig. Een metalen ladder, bruggen en andere vergelijkbare dingen worden gebruikt. Dit helpt de moeilijkheid om een stijle bergwand te beklimmen. Het geeft de mogelijkheid voor beginners om via een stijle rotswand naar hoogtes te klimmen zonder al te veel inspanningen.
---
Inclusief
Engelstalige gids
Lunchbox
Transfer
Uitrusting
Nota / deze excursie kan enkel bij een Pakketreis geboekt worden
https://southamericaplanet.com/en/via-ferrata-zip-line-in-sacred-valley-cusco/
https://southamericaplanet.com/es/via-ferrata-zip-line-en-valle-sagrado-cusco/
https://southamericaplanet.com/nl/via-ferrata-zip-line-in-de-heilige-vallei-cusco/