The rainbow mountain or 7 color mountain from cusco Peru in 1 day

De Regenboog berg ( Hoogte 5100 M.S.N.M)  in Peru 1 dag trek.
Een fantastische dag toer( met trekking ) naar de 7 kleuren berg , door een prachtig landschap en  wilde hoogvlaktes landschappen.  Start vanuit Cusco. De regenboog berg, geeft je verlaten landschap en een uniek contact met natuur cultuur en dieren van deze hooggelegen plaatsen. Is ook gekend als  Vinicunca berg, geeft je prachtig besneeuwde bergtoppen, kuddes Alpacas, en natuurlijk schoonheid. De trekking brengt je naar de top van meer dan 5,100 m hoogt
Dit in kleine groepjes van  6 tot 10 personen in een  Sprinter( of in privé tour)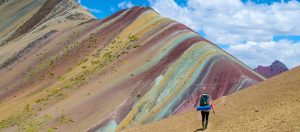 Dicht bij  "Ausangate berg ", De heilige berg(of mountain spirit) volgens  lokale Peruvianen. (6,385 m / 20,945 ft), De hoogste berg in Cusco regio. In deze zone wonen nog de echte Andeans of  Quechuas. Hier kan je het echte Peruviaanse leven bewonderen.
1 Dag toer
Je dag start vroeg in Cusco, we halen je op bij je hotel tussen 5:50 – 06:20 am. We hebben 3 h transport in privé vervoer, tot de start van de trektocht. Alvorens we starten aan onze trektocht, stoppen we bij CUSIPATA  waar we genieten van een ontbijt. Dan rijden we voor voor ongeveer 1 h 30 min meer tot de start van de wandeling. De trektocht duurt ongeveer 2 h over 5 km afstand.  We passeren een groene vallei met prachtig besneeuwde bergtoppen.  van de Ausangate berg (6,380 m) die over ver boven uitsteekt. Onderweg kom je honderden Alpacas tegen, en je ziet hoe echte Quechua mensen leven.  Vanaf we dichter bij de regenboog berg komen, zie de eerste tekenen van de gekleurde mineralen, die zorgen voor de gekleurde rots- berg . De gids geeft je uitleg hoe alles is ontstaan. Na de laatste inspanning, bereiken we de top, waar we een prachtige 360 graden beeld hebben van dit heilige land en landschap. Na ongeveer een uur op de top, starten we onze afdaling terug tot de start van de wandeling (1.h 30 Min ). We genieten van onze verdiende lunch in een lokaal restaurant en rijden terug naar Cusco, waar we tussen 5 en 6 Pm terug aankomen, na een vermoeiende maar fantastische dag.
Nota: Het programma kan veranderen zonder voorafgaande verwittiging, afhankelijk van de weer situatie  en de conditie van de wandelaars, of door stakingen, wegblokkades of andere dingen buiten onze controle en wil om.
Overzicht
Tijd: Volle dag- 5.40 am- 5 pm
Afstand: 10km. (rond trip)
Hoogte: 4450 m.  – 5100 m.
Zwaarte : Moeilijk
Inbegrepen:
*meertalige gids
*kleine groepen MIN 2 PERS   —   MAX 16 PERS
*Transport van en nar hotel cusco
*ontbijt en lunch in lokaal huis
*First aid kit (zuurstof )
*Inkom (10 soles ( kan veranderen )
Niet inbegrepen:
*Hotel
*inkom (10 soles tot rode kleur berg optioneel)
*Water
*paard optioneel
*Tips
*Reis verzekering
*Trekking wandel stokken– Te huur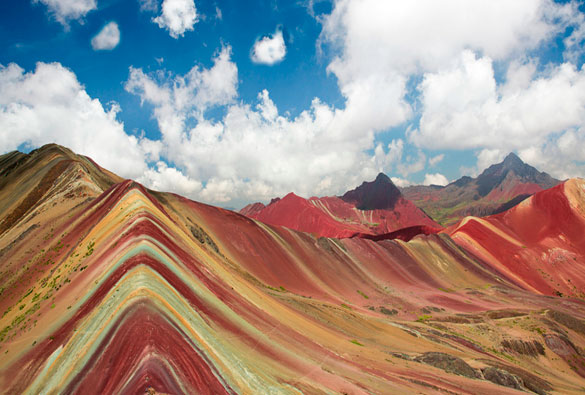 Wat mee te brengen:
*Paspoort
*Water
*Poncho , rain jacket
*trekking schonen
*Muts en wanten
*Regen broek
*Zaklamp
*Snacks
*Zonne creme, factor 35+ aanbevolen
*Zonne bril
*Camera
*verrekijker
*cash
*Trekking stokken
Belangrijke  info
* Deze tocht is minima 10 Km wandelen, op hoge hoogtes, dus conditie vereist en fit zijn
*Start minimum hoogte: 4450 m
*Maximum hoogte: 5,035 m
*This is a challenging day of hiking. Spend some time in Cusco to acclimate (we recommend 3 days in Cusco or similar elevation). The hike takes place over 4500m (15,000ft) and is about 10 kilometers in length , with an elevation gain of 685m (2250ft). The main reason this trek is difficult is because of the elevation. The terrain is a gradual climb and you are walking in a wide valley for the majority of the trek.
*Level :  Challenging
*Keep in mind that colors are only  strong on sunny days!
*There is a requirement of a minimum of 2 people to confirm this tour but it is usually confirmed everyday as it is popular.