Departure dates trekking Cusco- Machu Picchu Peru 2018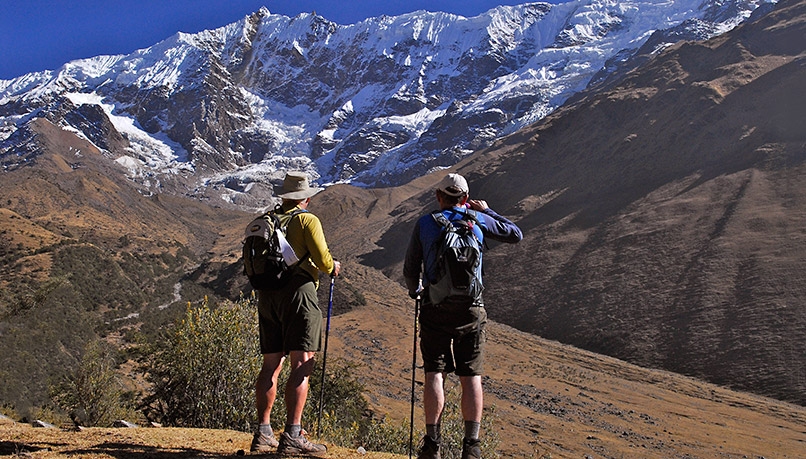 Dear trekking and nature lover !
Also for 2018 we have the licence to operate the famous incatrail. We Are Official incatrail operator!
incatrail permits 2018 are running out very fast! So don,t wait to long !
Now August 2018 is almost full !
If incatrail is full, we also have the amazing Lares and Salkantay trekking,  4 d including Machu Picchu
Here we have a list of our trekking leaving in 2018
All the trekkings are leaving any day from 4 persons/ For the next days we have groups confirmd
To see all our trekking Programs, click on this link  Trekking Programs
INDEX 
CI2D = Incatrail 2 days
CI4D = Incatrail 4 days ( incatrail permits are runnung out fast !)
SALK = Salkantay 4 Days  with Machu Picchu
LARES = 3 days without or 4 days With machu picchu
INCA JUNGLE= 4 days trekking + bike with Machu picchu
For this dates we have reservations, these dates we operate the trekking indicated, other dates also possible but in cooperation with other company
Last Update 02-06-2018


JUNE  2018

| | | |
| --- | --- | --- |
| 2/jun | SALKA 4D | 4 DIAS |
| 4/jun | CI2D | 2 DIAS |
| 5/jun | CI2D | 2 DIAS |
| 6/jun | SALKA 4D | 4 DIAS |
| 7/jun | CI2D | 2 DIAS |
| 8/jun | CI2D | 2DIAS |
| 8/jun | CI4D | 4 DIAS |
| 9/jun | SALKA 4D | 4 dias |
| 11/jun | CI4D | 4 DIAS |
| 12/jun | CI2D | 2 DIAS |
| 13/jun | SALKA 4D | 4 DIAS |
| 13/jun | CI4D | 4 DIAS |
| 15/jun | CI4D | 4 DIAS |
| 15/jun | CI2D | 2 DIAS |
| 16/jun | SALKA 4D | 4 DIAS |
| 17/jun | CI2D | 2 DIAS |
| 17/jun | CI4D | 4 DIAS |
| 17/jun | LARES 3D | 3 DIAS |
| 18/jun | CI4D | 4 DIAS |
| 20/jun | CHOQUE | 4 DIAS |
| 20/jun | MONTAÑA 7 | 1DIA |
| 20/jun | CI2D | 2 DIAS |
| 20/jun | CI4D | 4DIAS |
| 22/jun | CI2D | 2 DIAS |
| 22/jun | CI4D | 4 DIAS |
| 23/jun | CI2D | 2 DIAS |
| 24/jun | CI4D | 4 DIAS |
| 24/jun | CI2D | 2 DIAS |
| 25/jun | CI2D | 2 DIAS |
| 26/jun | CI2D | 2 DIAS |
| 29/jun | MONTAÑA 7 | 1 DIA |
| 29/jun | CI2D | 2 DIAS |
| 29/jun | CI4D | 4 DIAS |
JULY 2018
| | | |
| --- | --- | --- |
| 1/jul | CI2D | 2DIAS |
| 3/jul | MONTAÑA 7 C | 1 DAY |
| 5/jul | CI2D | 2DIAS |
| 6/jul | CI4D | 4 DIAS |
| 7/jul | SALKA 4D | 4 DIAS |
| 8/jul | CI2D | 2 DIAS |
| 8/jul | CI4D | 4 DIAS |
| 8/jul | INKA JUNGLE | 3 DIAS |
| 9/jul | CI2D | 2 DIAS |
| 10/jul | CI2D | 2 DIAS |
| 11/jul | CI2D | 2 DIAS |
| 12/jul | CI2D | 2 DIAS |
| 13/jul | CI2D | 2 DIAS |
| 14/jul | CI2D | 2 DIAS |
| 16/jul | CI2D | 2 DIAS |
| 16/jul | SALKA 4D | 4 dias |
| | | |
| 17/jul | SALKA 4D | 4 DIAS |
| 18/jul | CI2D | 2 DIAS |
| 18/jul | CI4D | 4 DIAS |
| 19/jul | CI2D | 2 DIAS |
| 19/jul | SALKA 4D | 4 DIAS |
| 20/jul | CI2D | 2 DIAS |
| 20/jul | SALKA 4D | 4 DIAS |
| 21/jul | INKAJUNGLE | 4 DIAS |
| 21/jul | RAINBOUW | 1 DAY |
| 21/jul | CI2D | 2 DIAS |
| 22/jul | CI2D | 2 DIAS |
| 22/jul | RAINBOUW | 1 DIAS |
| 22/jul | LARES 3D | 3 DIAS |
| 23/jul | LARES 3D | 3 DIAS |
| 23 JULIO | SALKA 4D | 4 DIAS |
| 23/jul | CI2D | 2 DIAS |
| 24/jul | CI2D | 2 DIAS |
| 24/jul | SALKA 4D | 4 DIAS |
| 25/jul | CI2D | 2DIAS |
| 26/jul | MONTAÑA 7 C | 1 DIAS |
| 26/jul | SALKA 4D | 4 DIAS |
| 26/jul | AUSANG 5D | 5 DIAS |
| 26/jul | CI2D | 2 DIAS |
| 26/jul | CI4D | 4 DIAS |
| 27/jul | CI2D | 2 DIAS |
| 27/jul | LARES 3D | 3 DIAS |
| 28/jul | LARES 3D | 3DIAS |
| 28/jul | CI4D | 4 DIAS |
| 28/jul | CI2D | 2 DIAS |
| 28/jul | SALKA 4D | 4 DIAS |
| 29/jul | SALKA 4D | 4 DIAS |
| 29/jul | CI2D | 2 DIAS |
| 29/jul | CI4D | 4 DIAS |
| 30/jul | SALKA 4D | 4 DIAS |
| | | |
| 31/jul | SALKA 4D | 4 DIAS |
| 31/jul | CI2D | 2 DIAS |
AUGUST  2018
| | | |
| --- | --- | --- |
| 1/aug | CI2D | 2 DIAS |
| 2/aug | LARES 3D | 3 DIAS |
| 2/aug | CI2D | 2 DIAS |
| 2/aug | CI4D | 4 DIAS |
| 3/aug | CI4D | 4 DIAS |
| 3/aug | CI2D | 2 DIAS |
| 4/aug | MONTAÑA | 1DIA |
| 4/aug | CI4D | 4 DIAS |
| 4/aug | CI2D | 2 DIAS |
| 4/aug | CI2D | 2 DIAS |
| 4/aug | LARES 3D | 3 DIAS |
| 5/aug | INKA JUNGL | 4 DIAS |
| 5/aug | SALKA 4D | 4 DIAS |
| 5/aug | CI2D | 2 DIAS |
| 5/aug | CI4D | 4 DIAS |
| 6/aug | CI4D | 4 DIAS |
| 6/aug | INKA JUNGLE | 4 DIAS |
| 6/aug | SALKA 4D | 4 DIAS |
| 6/aug | CI2D | 2 DIAS |
| 7/aug | CI2D | 2 DIAS |
| 7/aug | LARES 3D | 3 DIAS |
| 7/aug | LARES 4D | 4 DIAS |
| 8/aug | CI4D | 4 DIAS |
| 8/aug | CI2D | 2 DIAS |
| 8/aug | RAINBOWM | 1 DIA |
| 9/aug | CI4D | 4 DIAS |
| 9/aug | CI2D | 2 DIAS |
| 10/aug | CI2D | 2 DIAS |
| 11/aug | LARES 3D | 3 DIAS |
| 12/aug | CI4D | 4 DIAS |
| 12/aug | CI2D | 2 DIAS |
| 13/aug | LARES 3D | 3 DIAS |
| 13/aug | CI2D | 2 DIAS |
| 14/aug | CI2D | 2DIAS |
| 16/aug | CI2D | 2 DIAS |
| 17/aug | SALKA 4D | 4 DIAS |
| 17/aug | CI2D | 2DIAS |
| 18/aug | CI2D | 2 DIAS |
| 18/aug | LARES 3D | 3DIAS |
| 19/aug | INKA JUNGL | 4 DIAS |
| 20/aug | CI2D | 2DIAS |
| 20/aug | CI2D | 2 DIAS |
| 21/aug | CI2D | 2 DIAS |
| 22/aug | CI4D | 4 DIAS |
| 22/aug | SALKA 4D | 4 DIAS |
| 22/aug | ci2d | 4DIAS |
| 24/aug | LARES 3D | 3DIAS |
| 24/aug | ci2d | 2 dias |
| 24/aug | CI2D | 2DIAS |
| 25/aug | CI2D | 2 DIAS |
| 27/aug | CI2D | 2 DIAS |
| 28/aug | CI2D | 2 DIAS |
| 29/aug | CI4D | 4 DIAS |
| 30/aug | CI4D | 4 DIAS |
| 30/aug | CI2D | 2 DIAS |
| 31/aug | CI4D | 4 DIAS |
| 31/aug | CI2D | 2 DIAS |

SEPTEMBER 2018
| | | |
| --- | --- | --- |
| 1/sep | CI4D | 4 DIAS |
| 1/sep | CI2D | 2 DIAS |
| 4/sep | CI2D | 2DIAS |
| 4/sep | CI4D | 4 DIAS |
| 5/sep | CI2D | 2 DIAS |
| 6/sep | LARES 3D | 3 DIAS |
| 6/sep | CI2D | 2 DIAS |
| 6/sep | CI4D | 4 DIAS |
| 7/sep | CI2D | 2 DIAS |
| 7/sep | CI4D | 4 DIAS |
| 8/sep | CI2D | 2 DIAS |
| 8/sep | CI4D | 4 DIAS |
| 9/sep | CI4D | 4 DIAS |
| 10/sep | CI4D | 4 DIAS |
| 11/sep | CI4D | 4 DIAS |
| 11/sep | MONTAÑA | 1 DIA |
| 12/sep | CI4D | 4 DIAS |
| 12/sep | CI2D | 2 DIAS |
| 13/sep | CI2D | 2 DIAS |
| 13/sep | CI4D | 4 DIAS |
| 14/sep | CI4D | 4DIAS |
| 14/sep | LARES 3D | 3 DIAS |
| 15/sep | CI2D | 2 DIAS |
| 15/sep | INKA JUNGLE | 4 DIAS |
| 15/sep | SALKANTAY | 4DIAS |
| 16/sep | CI4D | 4 DIAS |
| 17/sep | INKA JUNGL | 4 DIAS |
| 17/sep | CI2D | 2DIAS |
| 17/sep | CI4D | 4 DIAS |
| 18/sep | INCA JUNGLE | 4DIAS |
| 18/sep | ci2d | 2 dias |
| 19/sep | SALKANTAY | 4DIAS |
| 19/sep | CI4D | 4 DIAS |
| 19/sep | CI2D | 2 DIAS |
| 20/sep | SALKA 4D | 4 DIAS |
| 20/sep | CI2D | 2DIAS |
| 20/sep | CI4D | 4 DIAS |
| 21/sep | RAINBOUW | 1 DIA |
| 21/sep | CI4D | 4 DIAS |
| 21/sep | INKA JUNGL | 4 DIAS |
| 21/sep | CI2D | 2 DIAS |
| 21/sep | SALKANTAY 4D | 4 DIAS |
| 22/sep | CI4D | 4 DIAS |
| 22/sep | CI2D | 2 DIAS |
| 24/sep | CI4D | 4DIAS |
| 24/sep | CI2D | 2 DIAS |
| 25/sep | CI2D | 2 DIAS |
| 25/sep | CI4D | 2 DIAS |
| 26/sep | CI4D | 4DIAS |
| 26/sep | CI2D | 2 DIAS |
| 28/sep | CI4D | 4 DIAS |
| 28/sep | CI2D | 2 DIAS |
| 30/sep | CI4D | 4 DIAS |
| 30/sep | LARED 3D | 3 DIAS |
| 30/sep | CI2D | 2 DIAS |
OCTOBER 2018
| | | |
| --- | --- | --- |
| 2/okt | CI4D | 4 DIAS |
| 2/okt | CI2D | 2 DIAS |
| 3/okt | SALKA 4D | 4 DIAS |
| 3/okt | CI2D | 2 DIAS |
| 4/okt | CI4D | 4 DIAS |
| 5/okt | CI4D | 4DIAS |
| 5/okt | CI2D | 2 DIAS |
| 6/okt | CI2D | 2 DIAS |
| 6/okt | CI4D | 4 DIAS |
| 7/okt | CI4D | 4 DIAS |
| 10/okt | CI4D | 4DIAS |
| 11/okt | CI2D | 2DIAS |
| 11/okt | CI4D | 4 DIAS |
| 11/okt | SALKA 4D | 4 DIAS |
| 14/okt | CI4D | 4 DIAS |
| 13/okt | SALKA 4D | 4 DIAS |
| 16/okt | CI4D | 4 DIAS |
| 16/okt | CI2D | 2 DIAS |
| 17/okt | CI2D | 2 DIAS |
| 18/okt | CI4D | 4DIAS |
| 19/okt | CI2D | 2 DIAS |
| 19/okt | CI4D | 4 DIAS |
| 22/okt | CI4D | 4 DIAS |
| 24/okt | CI2D | 2 DIAS |
| 24/okt | CI4D | 4 DIAS |
| 25/okt | CI2D | 2 DIAS |
| 26/okt | CI4D | 4 DIAS |
| 28/okt | CI2D | 2 DIAS |
| 28/okt | CI4D | 4 DIAS |
| 29/okt | CI4D | 4 DIAS |
| 30/okt | CI4D | 4 DIAS |
| 30/okt | CI2D | 2DIAS |

NOVEMBER 2018
| | | |
| --- | --- | --- |
| 4/nov | CI4D | 4 DIAS |
| 6/nov | CI2D | 2 DIAS |
| 8/nov | CI4D | 4 DIAS |
| 9/nov | MONTAÑA 1DAY | 1 DIA |
| 11/nov | SALKA 4D | 4 DIAS |
| 16/nov | CI2D | 2 DIAS |
| 16/nov | CI4D | 4 DIAS |
| 19/nov | CI4D | 4 DIAS |
| 19/nov | CI2D | 2 DIAS |
| 26/nov | CI4D | 4 DIAS |
| 30/nov | CI2D | 3 DIAS |
December 2018
| | | |
| --- | --- | --- |
| 2/dec | 2/dec | 4 DIAS |
| 25/dec | CHOQ6D/5N | 6 DIAS |
| 26/dec | CI4D | 4DIAS |