Cerro blanco, sand board and trekking
CERRO BLANCO – WHITE SAND DUNE HILL the highest sand dune in the world in Nazca,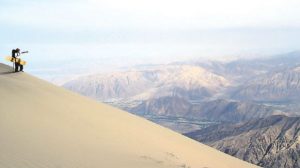 ---
At 5.00 AM the transport will pick you up from the hotel to travel to the Cerro Blanco. We will take the road to Ayacucho – Puquio during 40 min, until to arrive at the point where we start to walk. Cerro Blanco is a dune that is located in the valley of Nasca and has a height of 2.100 meters above sea level.
We start this tour of adventure with a spectacular trek across the mountains that form a part of the chain of the Peruvian Andes. In the time of the Incas, el Cerro Blanco was a sacred apú and today it is an ideal place for the practice of sports happening in beautiful natural landscapes. After a 3 hour-walk, to the top of the highest dune of the world. From his top, the visitors will be able to enjoy a beautiful natural landscape, surrounded by dunes in capricious forms, which offer the perfect scene to practice sand boarding. From the top you will be able to jump with your sand board on a slope of more than 1.000 meters and to live through a real experience full of adrenaline. After that we will go back to hotel. The tour takes around 6 hours in total. We will return to the city of Nazca.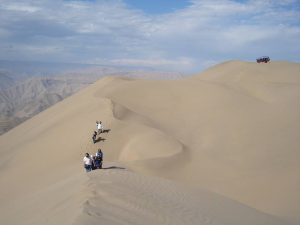 ---
Included:
– Transport.
– Permanent assistance throughout the tour (guide).
– Table for sand boarding
– bottle of water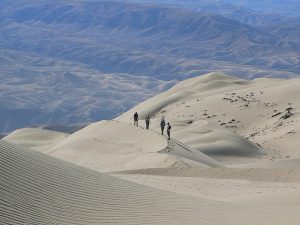 ---
Recommendations:
– Sunblock.
– Hat or cap
– Sunglasses.
– Camera.
– Hiking shoes.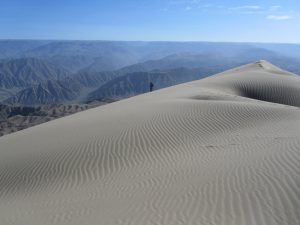 https://southamericaplanet.com/en/cerro-blanco-sand-board-and-trekking/
https://southamericaplanet.com/es/cerro-blanco-sandboard-y-trekking/
https://southamericaplanet.com/nl/cerro-blanco-de-hoogste-zandduin-zand-surfen-en-trek/