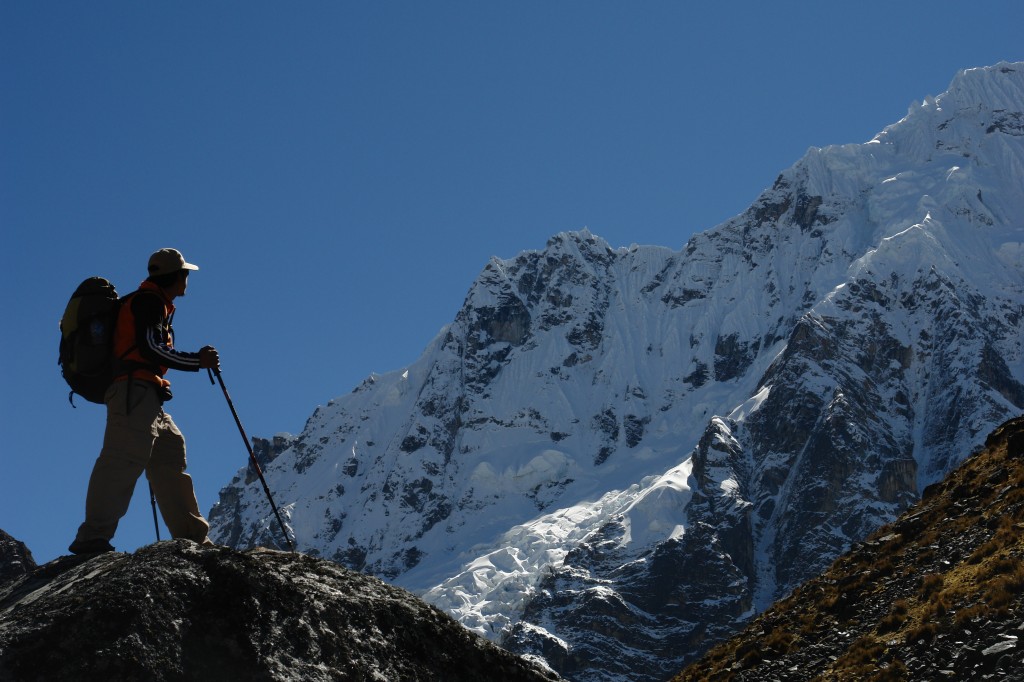 Beklim de prachtige Huayna Potosi berg 6088 MT
In 2 dagen 1 nacht vanaf La Paz, Bolivia, mogelijk van april tot november
Huayna Potosi, op 6088 m, is de meest bekende bergtop van Bolivia. Dit om zijn pracht en makkelijke beklimbaarheid, maar ook omdat hij boven de magische 6000 m ligt. Hij is ook uitnodigend omdat hij kan beklommen worden door beginnelingen en is een echte uitdaging voor iedereen die reeds even op hoogte is. Voor je aan de klim start, moet je wel voldoende acclimatiseren. De uitzichten zijn adembenemend met de schitterende lichtjes s,nachts van de grote stad La Paz onder je, en de sterrenhemel die je bijna kan aanraken. De zonsopgang over de cordillera real zal je nooit vergeten!
---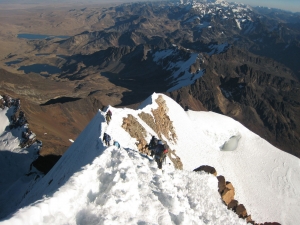 ---
Dag 1: La Paz – Base Camp – High Base Camp
Start om 9.30 Am vanaf La paz naar el alto. Onderweg hebben we reeds prachtige zichten over de steeds groeiende stad en de prachtige omgeving met de hoogste bergpieken van Bolivia zoals de
Illimani, Mururata, Huayna Potosí ,en vele andere bergtoppen over de 5000 meter. Nadien gaan we verder over een onverharde weg naar de Zongo vallei één van de dichtste wolken wouden of Yungas genoemd vanaf La Paz. De weg passeert uitgestrekte velden en een vallei met zijn typische Fauna en flora. Onderweg hebben we een korte stop om de lagune Milluni Lagoon te zien, en een verlaten mijn. Rond 12 Am arriveren we het lagere base camp dat gelegen is op 4700 Mt Hier lunchen we en nadien start de klim naar het hogere camp tot 5250 Mt . Deze langzame klim kan je in 2 h doen. Het is een goede opwarming voor de volgende dag. We hebben een warm maar licht avondmaal en kruipen vroeg onder de wol in een refugio
---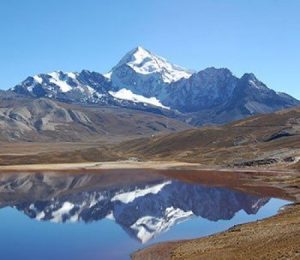 ---
Dag 2: High Camp – Huayna Potosi top- La Paz
Ontbijt om 1 AM , daarna langzame klim in het donker die start om 2 Am . Dit vroeg vertrek is belangrijk om de latere sneeuwreflexy te voorkomen. Je start met zaklamp, en het is Grade 2 van klimmen of 45 ° en duurt 6 h. We arriveren na ongeveer 6 klimmen op de top wanneer het ongeveer 8 AM is. De zonsopgang op de Huayna Potosí is oogverblindend mooi
Op heldere dagen kan je een 360 graden zicht hebben over deze prachtige oost andes.
Het open landschap toont je stukken van de sajama vulkaan, de hoogste pieken in Bolivia, het prachtige wolkenwoud of Yungas en La paz en el Alto stad.
Nadien dalen we af van de top naar het 1 ste base camp. Dit duurt ongeveer 3 h . Lunch in het kamp rond 1 Pm en vertrek naar La Paz per auto. Onderweg tijdens de zonsondergang zie je de Prachtige Huayana potosi en de gletsjer vallei als afscheid
---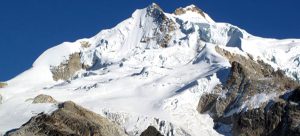 ---
Inbegrepen
*Prive transport
*Certified gidsen(AGTM and ENSA)
*ontbijt, lunch en diner
*Assistant gids indien meer dan 3 personen
*Tent (mountaineering quality)
*Porter(s) naar de High Camp
*eerste hulp kit
*Group medical kit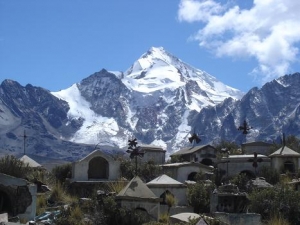 ---
niet inbegrepen
*Persoonlijk materiaal en verzekering
*Persoonlijke medicijnen
*Tips
*inkomgelden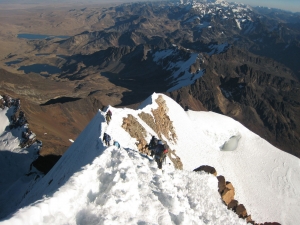 ---
Wat nodig ?
*Warme kleding
*Polar fleece
*Pet/ Handschoenen
*Trekking boots
*Hoge factor zone creme
*Zonnebril(preferably polarized)
*Zeer warme slaapzak
*Thermal ondergoed
---
Optioneel
*eigen klimspullen
*eigen eerste hulp kit
---
Technical Equipment Inbegrepen
*Klim schoenen
*Crampons
*Ice axe
*Harness
*Gaiters
*Hoofdlamp
*Mittens
---
Optioneel kan je het ook in 3 dagen 2 nachten doen
Wat hebben we nodig voor reservatie?
*Een scan of foto van je paspoort
*je gewenste vertrekdata
*We vragen 40 % waarborg via Visa Online of Pay pall via onze website ( +5.5% kosten die kredietkaarten ons aanrekenen ) of via wetravel 4,5 % de rest betaal je in Cusco in ons kantoor voor de start van de trekking. Indien je niet voor de trek naar Peru komt, vragen we 100 % deposit. Klik op het gewenste logo aan de rechterkant van deze website.( Wetravel aan ons vragen )
https://southamericaplanet.com/en/climb-the-amazing-huayna-potosi-6088-mt/
https://southamericaplanet.com/es/sube-al-increible-huayna-potosi-a-6088-metros/
https://southamericaplanet.com/nl/beklim-de-prachtige-huayna-potosi-berg-6088-mt/