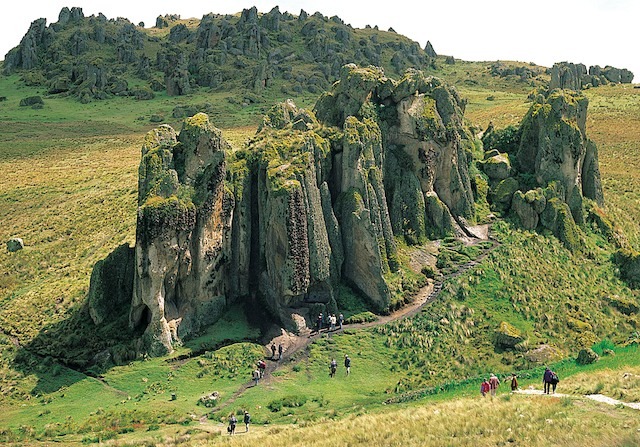 Cajamarca – Noord Peru
De stad Cajamarca is een prachtige toeristische bestemming.
Het grenst aan de berg Santa Apolonia.Het heeft een grote historische en culturele achtergrond en was door het Inca rijk omgevormd tot een belangrijk administratief, militair en religieus centrum. 16 november 1532 is voor Cajamarca en voor de geschiedenis van Latijns – Amerika een belangrijke datum. Op die dag nam een groep Spaanse soldaten, geleid door Francisco Pizarro, de Inca leider Atahualpa gevangen.
De stad weerspiegelt Spaanse invloeden in zijn architectuur, zoals de Kathedraal. Deze is gebouwd in de 17de eeuw en heeft een imposante voorgevel, gedecoreerd met vulkanische steen.Binnen heeft het zeer fijn gedetailleerd beeldhouwwerk.
De kerk van San Francisco werd gebouwd in 1687 en is uniek omgeven door engeltjes met trompetjesDe kerken van ;La Recoleta, San Jose en La Belen hebben smaakvol geschilderde beelden in geel, rood en blauw en hebben prachtig uitgehouwen stenen voorgevels. Dit is een bezoek waard! Ten oosten van de stad liggen de Incabaden. Dit zijn natuurlijke warmwaterbronnen. Het district heeft ook de Vensters van de Otuzco, een groot complex van grotten, die gebruikt werden als begraafplaats in de pré – Inca periode.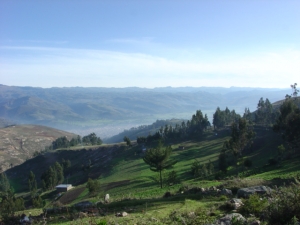 De provincie San Pablo is de thuisbasis voor 2 belangrijke archeologische complexen
Cumbemayo, een ceremonieel altaar en Inca aquaduct. Kuntur Wasi, een ceremonieel complex van verschillende pleinen en platvormen, gestut door een grote stenen muur. Ten Noorden van de stad ligt Granja Porcón, een boerderij waar reizigers kunnen meehelpen op de boerderij. De boerderij is bekend voor zijn herten en koeien, die elk een naam dragen.
Carnaval is in Cajamarca één van de belangrijkste feesten in februari;in Peru.De bevolking is zeer vriendelijk en aangenaam. Hele buurten en bewegingen doen mee aan carnaval, dit tot aan de laatste dag van het festival, wanneer er traditioneel Ño Carnavalón, de koning van het carnaval verbrand wordt. Het feest duurt een maand, maar er zijn 8 hoofddagen waar de deelnemers meestal een douche van water krijgen.
Paatsen die een bezoek waard zijn Inca Baden zijn voor Cajamarca de grootste toeristische attractie. Deze speciaal gebouwde baden hebben heet solferwater, dat gemengd wordt met het koude rivierwater. Deze zijn een bewijs van de befaamde Inca ingenieurs. Bezoekers kunnen nog steeds genieten van deze warme baden, waar de bubbels opborrelen vanuit de stenen bodem. De meest bekende warme bron in de Baños del Inca zijn El Tragadero enLos Perolitos. De bezoekers kunnen comfortabel relaxen in baden met een temperatuur van 25°C en meer. De natuurlijke omgeving van de baden is spectaculair!
Een geologisch punt van belang is het rotsuitsteeksel van Santa Apolonia, waar het zetelvormige uitsteeksel de naam van Inca's Troon verdiend heeft. Een legende zegt dat er ondergrondse tunnels zijn, die vanaf dit punt tot onder de stad lopen. Sommigen beweren zelfs dat ze geluiden horen vanuit het ondergrondse, alsof er een strijd zou woelen met kanon geluiden.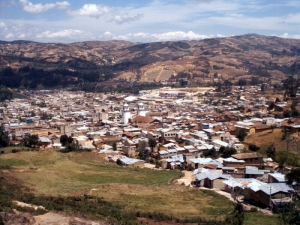 Veel indrukwekkender is het Cumbe Mayo Aquaduct. Dit start vanaf Cumbe Bluff, 20 kilometer vanaf de stad. Het is gebouwd op 3600 m. Deze hydraulische engineering verbaasd iedereen, niet alleen vanwege zijn waterkanalen die in de rotsen zijn uitgehouwen, maar ook omdat ze in zigzag stijl met perfecte rechte hoeken lopen om de snelheid van het stromende water tegen te houden. Ze zorgen ook voor de waterstroom van de Pacific terug naar Atlantic tot het uiteindelijk Cajamarca bereikt. Ondanks het naar beneden stromen in steile hoeken,stroomt het water zeer rustig. Lokalen zeggen dat er tunnels met rotstekeningen en inkervingen lopen tot in Cusco!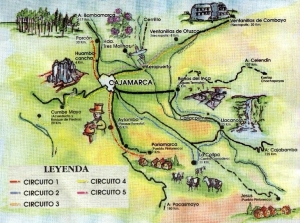 Plaats om te bezoeken
De Inca-baden zijn mogelijk de belangrijkste toeristische attractie van Cajamarca. De speciaal gebouwde zwembaden laten heet zwavelhoudend water zich vermengen met koel rivierwater, een bewijs van de beroemde Inca-techniek. Bezoekers kunnen nog steeds ontspannen in de warme baden, waar het water door de stenen bodem borrelt. De bekendste thermale bronnen in de Baños del Inca zijn El Tragadero en Los Perolitos – respectievelijk The Drain en The Little Pots – waar het water heet genoeg is om een ​​ei te koken. Bezoekers kunnen er comfortabel ontspannen in minder brandende zwembaden bij een temperatuur van 25 graden Celsius (77 graden Fahrenheit). Het landschap rondom de baden is spectaculair.
Een geologische bezienswaardigheid is een vreemde rotspartij op Santa Apolonia, wiens stoelvormige uiterlijk hem de naam Inca's Throne heeft opgeleverd. Een legende zegt dat ondergrondse tunnels vanuit dit uitkijkpunt naar de stad leiden. Sommigen beweren zelfs geluiden uit de diepten van de aarde te horen, alsof er een strijd woedt, 'met botsende sabels en brullende kanonnen',