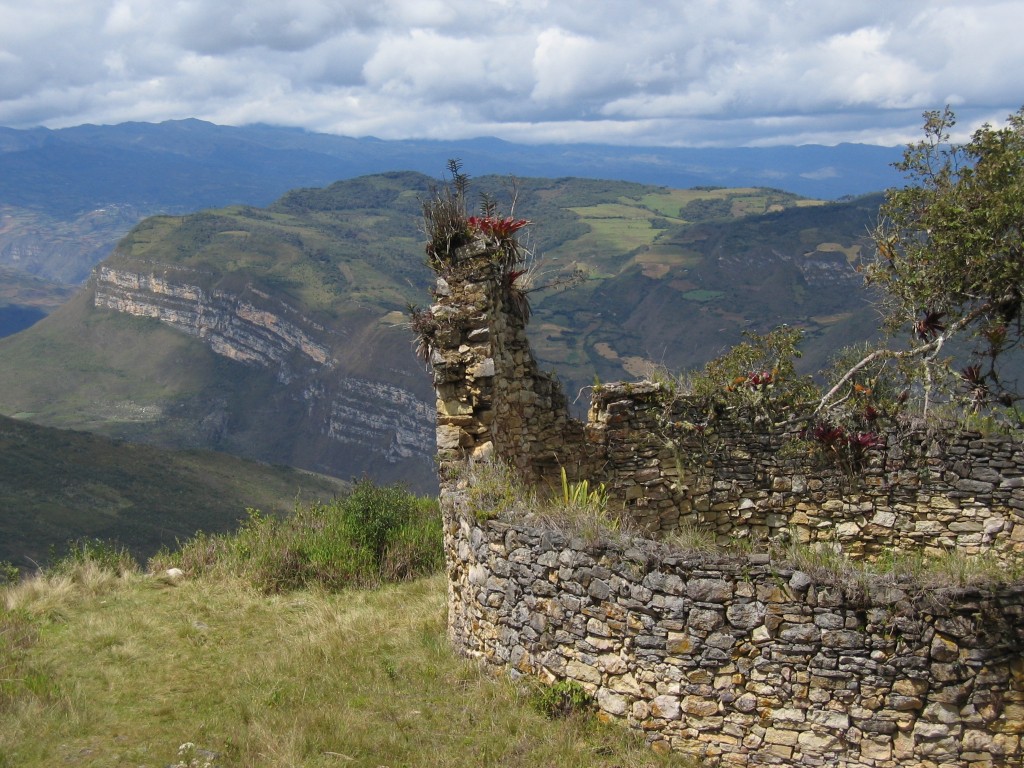 Chachapoyas – Noord Peru
Alle wonderen van natuur en geschiedenis
Bereikbaarheid tot de Chachapoyas regio bestaat nog maar sinds enkele jaren. Er is nog steeds veel te ontdekken in deze streek!
CHACHAPOYAS: Deze hoofdstad van het departement Amazones is één van Peru's oudste kleine steden, gesticht in 1538 door Alonso de Alvarado. Het is 1 van de weinige steden dat zijn Spaanse invloeden bewaard heeft. Het was verbonden met de hoofdstad Lima. Vanaf 1930 per vliegtuig en vanaf 1960 over land. Het is een stad van orchideeën, suikerriet, koffie, hanen gevechten en heerlijk eten. Deze stad charmeert iedere bezoeker! Chachapoyas bevindt zich in het NO van Peru, op een hoogte van 2335 m. De naam is afkomstig van het woord Chachapoyacuno, wat zoveel betekent als 'bos of berg of mist'. Ook 'Mensen van de wolken'. De stad is nu herontdekt als een belangrijk archeologisch complex, aangezien er ongeveer 500 belangrijke sites in de omgeving liggen die iets te maken hebben met de Chachapoyan cultuur. Er zijn graven, sarcofaag, fort, afgeschermde torens, wegen, rotsinkervingen, schilderijen, textiel, keramiek en nog vele andere overblijfselen die de belangrijkheid van deze cultuur bewijzen. Een cultuur die de Inca's menige malen hoofdpijn bezorgde. Ze waren net zo grote artiesten als deze van de Chimu cultuur. We zien huizen met grote binnenplaatsen en een centraal bad in adobe gebouwd. Er zijn overal veelkleurige bloemen. Chachapoya is een startpunt voor een uitstap naar Kuelap, ontdekt dicht bij het dorpje Tingo, in Luya provincie. Deze beschaving had het imposante fort van Kuelap. Dit fort had zicht op de toegang tot de Marañon omgeving en was gebouwd op de toppen van de bergen. Er werd maximaal gebruik gemaakt van het te bewerken land voor de landbouw.
De overblijfselen van dit imposante fort hebben duidelijke invloeden van de Chimu en de Inca's met offer – en begravingsconstructies op hoge onbereikbare rotsen. De belangrijkste sites liggen verspreid over de smalle vallei van de Utcubamba rivier.
Het fort van KUELAP
Je kan dit fort via 2 zijden bereiken. Langs het ZW, komend van Cajamarca of vanuit het Noorden. Chachapoya ligt verborgen in de mist van de bergen en is overwoekerd door orchideeën enbromelias.
Kuelap is dubbel zo oud als het Inca rijk en de stenen zijn in zeer goede conditie! Het werd gebouwd door de Chachapoyan, het wolken volk, waarschijnlijk om de invasie te stoppen van het in de Andes meest spectaculaire Tiahunaco – Huari rijkdom dat van Bolivia kwam. De archeologische resten zijn bij de belangrijksten in het Noorden van Peru en liggen op een hoogte van 3050 meter. Het ligt boven op de bergtoppen en overkijkt het prachtige landschap. Het werd in de 15de eeuw overmeesterd door de Inca's. Het werd in 1843 ontdekt door Juan Crisostomo Nieto. Het uitgraven en terug blootleggen van het fort werd gestart in 1967 omdat de ruïnes volledig verdoken lagen en volledig overgroeid waren door vegetatie. Kuelap was waarschijnlijk de hoofdstad van het immense Chachapoyas koninkrijk. Aan het begin van de 16de eeuw bouwden de Chachapoyas dit immense fort. Het meet 500 bij 110 meter, met hoge muren van 20 meter. Het heeft 5 verdiepen met gigantische muren en bevat 400 stenen huizen. Het materiaal dat gebruikt werd, was roos graniet in blokken en cement met gele klei. De hoofd beschermingsmuur werd gemaakt met meer dan 100 000 blokken van gegraveerde stenen en wordt verondersteld 10 000 ton te wegen. Binnenin het fort zijn er 34 ronde huizen in een hoger en lager gelegen niveau. Er wordt verondersteld dat het beschutting bood voor 2000 bewoners. De Chachapoyans herkomst is onbekend en later werd er door de Inca's verteld dat ze grote, eerlijke strijders waren. De Italiaanse onderzoeker, Antonio Raimondi, die in 1860 de eerste persoon was die deze streek bestudeerde, ontdekte een skelet van een man die 2 meter groot was. Deze had een schedel met blond haar. Het is een mysterie dat tot op heden nog niet verklaard is.
Karajia Sarcofaag
Dit is een spectaculaire begraafplaats, gelegen rond de 2600 m. Hier vinden we beelden van ongeveer 3 meter en houten kisten onder een rots. Er werden in elke kist mummies bewaard. Het is niet zo simpel om dit te bezoeken en vergt een 50 minuten durende wandeling. Eerst naar beneden maar nadien een fikse klim om terug te keren. Eigenlijk zijn het geen beelden maarsarcofagen die al sinds eeuwen op deze berg staan, verborgen om ongewilde indringers tegen te houden. Ze weerstaan alle weertypes en nog steeds verbazen ze toeristen die met verrekijkers en camera's het mysterie van deze figuren proberen te doorbreken. De Chachapoyans verbrandden hun doden in capsule vormige graven, gemaakt van steen, hout of klei. De beelden staan als bewakers langs de steile bergwand en overkijken de linkerkant van de Utcubamba vallei.
Leymebamba Mummy museum
Leymebamba is een afgelegen dorpje in the Utcubamaba vallei. Hier bevindt zich een prachtig museum: het Leymebamba Museum. Dit heeft meer dan 2000 Inca – en Chachapoyan mummies, gevonden aan het meer van de Condors. Een hardwerkende archeoloog studeert hier. Hij verzorgt en bewaakt de mummies. De directeur van dit museum is de bekende Peruviaanse archeoloog Dra Sonia Guillen.
Het Mausoleums van REVASH
Ten zuiden van het fort van Kuelap ligt een ander belangrijke ruïne, De begraafplaats van Revash. Deze bevat verschillende potten en holen zoals een mausoleum. Het is gebouwd tegen de steile rotswand. Deze plaats werd bekend door de Franse ontdekker Charles Wiener's, die in 1881 deze plaats bezocht. Dit complex werd onderzocht in 1987, tijdens een Peruviaanse expeditie. Het mausoleum bezit miniatuurversies van huizen. Deze werden gebouwd als een klein dorpje dat met klei en bewerkte stenen bedekt werd. Ook werden er rode rotstekeningen aangetroffen die lama's en andere dieren voorstelden. Er zijn ook onherkenbare karakters en geometrische designs te zien.
Hoe geraak je in Chachapoya?
Je kan Chachapoyas bereiken met privé of openbaar vervoer vanaf invalssteden zoals Chiclayo, Tarapoto, Piura, Cajamarca, of Trujillo. Tarapoto en Moyobamba als je van de Amazone of het regenwoud komt. De eerste slechte maar berijdbare weg voor voertuigen werd 35 jaar geleden gebouwd. Een nachtbus brengt je rechtstreeks vanaf Chiclao naar Chachapoyas en dit in 12u. Het is mogelijk om naar Tarapoto te vliegen en van daaruit per bus naar Chachapoyas verder re rijden. De weg van en naar Cajamarca is zeer mooi, maar zwaar en niet geasfalteerd. Het is beter om dit in 2 dagen te doen.
Al onze programma's zijn nieuw en vooral voor mensen die speciaal geïnteresseerd zijn in archeologie en mensen met zin voor avontuur!!!
Nota: Voor elk programma's is er een bepaalde fitheid en incasseringsvermogen vereist!
De Sechin site
Op 50 km ten zuiden van Chimbote. Het is één van de oudste ruïnes in Peru (gebouwd rond 1500 voor Christus) en is ook één van de belangrijke bewaarde kust ruïnes. Zijn principiële attractie is de buiten muur van de hoofdtempel, bedekt met macabre sculpturen van strijders. Er zijn weinig restaurants en hotels. De afstand om dit te bezoeken is groot!