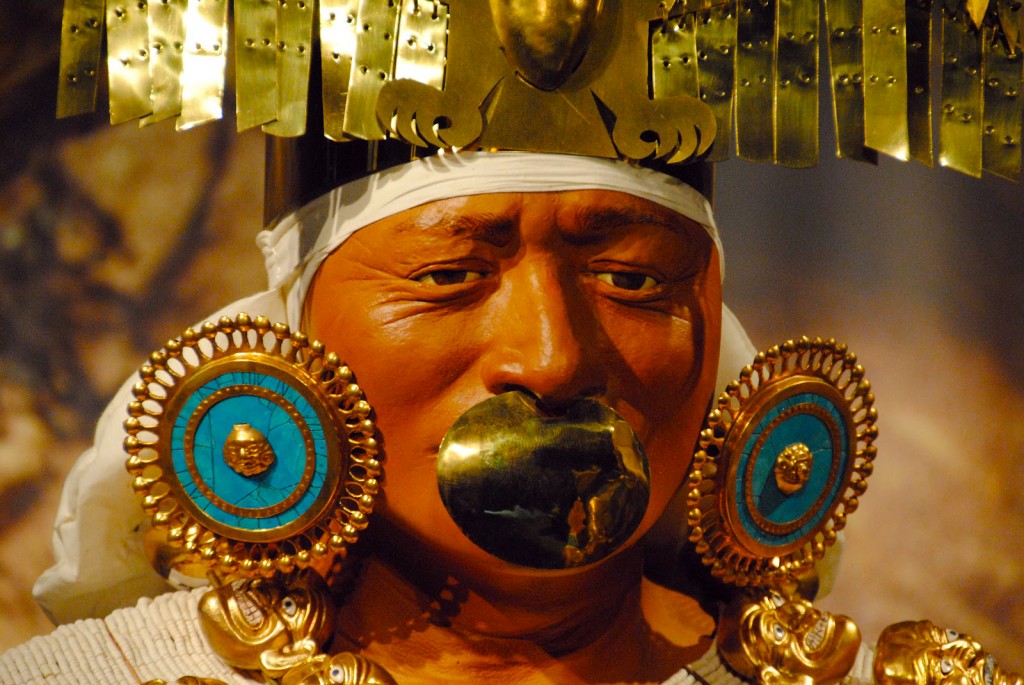 Chiclayo -Noord Peru
Het graf van de Lord van Sipan in Chiclao
Op 25 km van Chiclayo en 780 km van Lima, op 43 m hoogte, op 200 h Alva en zijn archeologisch team ontdekten het graf van de Lord van Sipan, de 'Koning Tutankhamen voor Amerika', de meest spectaculaire grafontdekking in de westerse wereld.
Vier graven zijn er gevonden in Sipan en Huaca Rajada, dicht bij de kuststad Chiclayo. De Huaca is nu een mausoleum, gebouwd tijdens de Moche cultuur. Deze cultuur overheerste de kust in het Noorden van Peru tijdens de periode van Christus tot 700 na Christus, maar voor de Inca's. De schat van Sipan toont ons de Moche cultuur met allerhande metalen zoals: goud, zilver, koper en fijn steenwerk. Er zijn ook sierraden van een hoge kwaliteit gevonden, zoals maskers, halskettingen, oorringen en andere sierraden. De ontdekking van de the Lord of Sipan, werd in vele tijdschriften, zoals National Geographic, benadrukt en heeft daarom wereldwijde faam gemaakt. Nu is er in Lambayeque het moderne en zeer mooie museum over al de ontdekkingen en goud van de Lord Of Sipan!!!
Ten noorden van Chiclayo is er een ander monument van de Moche cultuur:
26 kolossale piramides in de Vallei van de piramides, ook de laatste jaren ontdekt. Het grootste project is: El Tucume. Deze is ontdekt door Thor Heyerdahl (Capitain van de Kontikl) Deze Moche schat is tentoongesteld in het Bruning Museum in de stad Lambayeque, enkele km van Chiclayo. De stad Chiclao heeft ook een mooie kruiden – en heksenmarkt, met al de natuurlijke geneesmiddelen uit de streek. Ze worden gebruikt worden door de kruidendokters. Sipan, Sican en Tucume hebben op de site ook een museum.
Hoe kom je er:
Dagelijkse vlucht vanuit Lima /Chiclayo (1 u), Trujillo /Chiclayo (15 minuten).
Per bus naar Chiclayo langs de Noord Panamericana highway vanaf Lima (780km, 14 u), vanaf Trujillo (210km, 4 u) en vanaf Piura (270km, 4 u).
Toeristentransport is te huur vanaf Chiclayo naar Sipan (25km, 30 minuten), Bruning Museum (17km, 25 minuten) en naar de vallei van de PYRAMIDS (40km, 50 minuten).
Hotels en hostals: l * – tot 4* * * * – hotels in de stad Chiclayo en Lambayeque. Er zijn geen hotels in Sipan.
ALGEMEEN
-Bank: Banco de credito in Balta 630. Er is ook bankautomaat.
-Internet: Er is overal internet;in de San Jose straat.
-Taxi's zijn goed en goedkoop. 2 SOL in het centrum. Ze zijn allemaal zeer klein!
Wat is er te zien en te doen in CHICLAYO
-de kathedraal: Palacio Municipal en Club de la Union
-de markt. Het is1 van de meest levendige markten in Peru. Ze is zeer kleurrijk. Mercado Modelo.
-de heksenmarkt, ook in de Mercado de Brujas genoemd, met exotische objecten en kruiden, apenklauwen enz. In de middenbeuk van de modelo markt
LAMBAYEQUE
– 12 km van Chiclayo. Er zijn mooie koloniale huizen zoals Casa Iturregui Aquilarte, Casona Cuneo, Casona Descalzi enz.
– Bruning archeological museum. Bruning gaat over Mochica, Lambayeque, Sican, Chimu Culturen. Heel de week open vanaf 9.00 u.
-Musea de las Tumbas Reales de Sipan. Zeer mooi en nieuw, met al de voorwerpen van de opgravingen van het graf van Lord of Sipan. Het heeft een mooie collectie goud. Open van 9.00 – 12.00 u en van 16.00 – 19.00 u. In de piramide vorm zie je de schatten van de Moche strijder en pastoor, gevonden in 1987. Op MAANDAG GESLOTEN!
FERRNAFE
18 km van Chiclao. Koloniaal stadje met het musea Nacional Sican. Gesloten op maandag.
SIPAN
35 km ten zuidwesten van Chiclayo: twin piramide complex met het graf van el Senor de Sipan! Een priester, gevonden en behangen met goud. Er zijn 3 graven gevonden. Voor een prachtig zicht, klim je op de grote piramide. De weg naar boven is soms gesloten! Open van 9.00 tot 17.00 u. Er zijn veel replica, maar het is toch indrukwekkend.
PAMPAGRANDE en CHONGOYAPE
25 km van Sipan. Het was 1400 jaar geleden het grootste Moche complex met 10.000 mensen, een ceremonieel centrum met vroeger veel rituele offers.
TUCUME
35 km ten noorden van Chiclayo ligt de ruïne van deze stad van meer dan 1000 jaar oud. Je bezoekt deze ruïne het best rond zonsondergang. Er zijn mooie uitkijkposten op Cerro la Raya en el Purgatorio met een prachtig zicht over de 26 HOOFDPIRAMIDES. Het hele complex is 200 ha groot. 1 piramide, Huaca Larga is de langste adobe structuur in de wereld, nl. 700 m lang en 280 m breed. Het museum is open van 9.00 tot 17.00.
BATAN GRANDE
50 km van Chiclayo
o vind je 50 adobe piramides uit 900 a 110 AD. Veel goud is verwijderd en ligt in het goudmuseum in Lima.