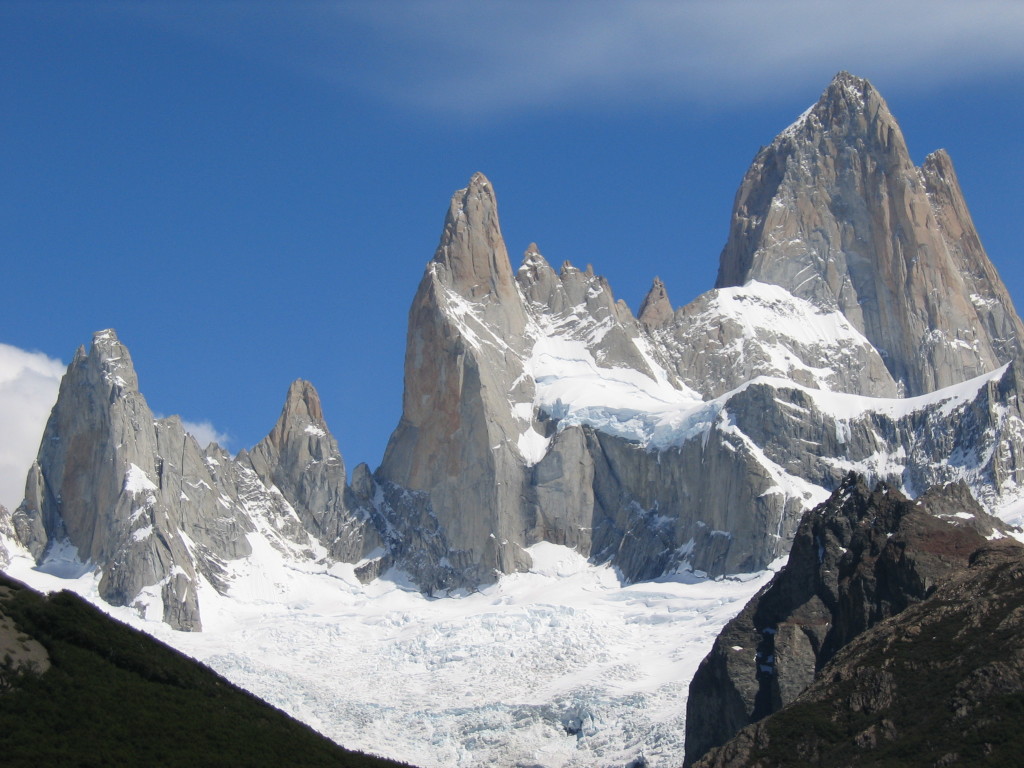 El Chalten – Argentine
El Chalten
Dit kleine dorp met 200 inwoners, dat is uitgeroepen tot de trekking hoofdstad van Argentinië, ligt in een prachtige riviervallei met de toppen van de Fitz Roy Range als achtergrond en wordt door veel trekkers en klimmers beschouwd als de grote uitdaging van Patagonië. De beperkte toegang, het gebrek aan diensten gedurende een deel van het jaar en het ruige weer tijdens de herfst- en wintermaanden hebben El Chalten met zijn mystieke sfeer behouden, een plek waar bergliefhebbers dagen en nachten kamperen of genieten van een buitenactiviteit.
Chalten is de plaats waar de Mapuches de berg Fitz Roy noemden, het betekent "berg die rookt" en het geeft duidelijk aan hoe de berg vaak te zien is, met een wolk die de top bedekt. Het bereiken van de basis van de Chalten duurt een dag van gematigde trektochten door het bos met een schilderachtig uitzicht op smaragdgroene of saffierkleurige lagunes en met graniet besneeuwde reuzen. Onder andere gletsjertrekking, bergbeklimmen, wandelen, meerdaagse trekking zijn mogelijk.
Andres Madsen, de beroemde Deense pionier in Patagonië, schreef over El Chalten in zijn boek "The old Patagonia" in zijn kronieken: … daar vond ik mijn kinderdroom: veel ruimte en land zonder eigenaars … We geloven dat dit magische stuk land behouden blijft dezelfde oude essentie …
Klimaat
Wat El Chalten kenmerkt als het over weer gaat, is onvoorspelbaarheid; velen van ons waren getuige van het ervaren van de vier seizoenen op dezelfde dag. Activiteiten zijn beschikbaar van oktober tot april, wanneer toegang en sneeuw geen probleem zijn. De gemiddelde temperatuur tijdens deze maanden ligt tussen 15 graden Celsius (59F) het maximum en 1 graden Celsius (34F) het minimum. In de zomer is er altijd sterke wind, maar het is geen obstakel, aangezien de meeste wandelpaden beschut zijn door het bos en de bergen.
Wanneer kom je?
Bekend om zijn buitenactiviteiten, is de beste periode om naar El Chalten te komen tussen de maanden oktober en april.
Hoe lang?
We raden je aan om minimaal twee nachten in El Chalten te blijven, wat precies het juiste moment is om naar Laguna Los Tres en Laguna Torre te kunnen trekken. Indien mogelijk, raden we aan om drie nachten te blijven om niet te haasten en er zeker van te zijn dat het weer uw plannen niet in de weg staat
Hoe daar te komen?
De enige manier om bij dit trekkers dorp te komen is over land. Verschillende busmaatschappijen bieden dagelijkse diensten aan vanuit El Calafate (200 km, 5 uur), de schema's variëren afhankelijk van het seizoen, in de piekmaanden zijn er maximaal twee vertrekken, 's ochtends en' s middags. Als u ervoor kiest om vanuit het noorden naar El Chalten te komen, via Route 40, of u nu op een tour bent of met uw eigen voertuig rijdt, duurt het minimaal 2 of 3 dagen. Er zijn verschillende Estancia's en kleine steden met eenvoudige accommodatie op weg van Bariloche naar het zuiden van Patagonië.
Trekking naar Laguna Los Tres
1. Moeilijkheidsgraad: matig.
2. Duur: 10 uur.
Dit traditionele circuit is een must. Als u Chalten verlaat, gaat u naar het Poincenot-kamp, ​​met een prachtig uitzicht op de Fitz Roy Mt. Na een uur klimmen, bereik je de eerste uitkijkpost van Fitz Roy Mt. Vandaar, na nog twee uur lopen naar de camping Rio Blanco, nog een uur het pad op naar Laguna de los Tres. In de verte zijn ook Laguna Sucia en Lago Viedma te zien. Na de lunch en wat vrije tijd, keert u terug naar Chalten.
Trekking naar Laguna Torre
1. Moeilijkheidsgraad: eenvoudig.
2. Duur: 7 uur.
Je neemt het pad Laguna Torre vanuit El Chalten. Na een uur wandelen bereik je het eerste uitkijkpunt. Vervolgens loop je nog twee uur totdat je bij de Laguna Torre komt, een van de belangrijkste attracties van het gebied. Na de lunch keert u terug naar El Chalten.
Glaciar Torre Trekking
1. Moeilijkheidsgraad: matig.
2. Duur: 12 uur.
Deze tour volgt hetzelfde pad dat wordt beschreven naar Laguna Torre. Bij aankomst begint u aan een trekking van twee uur op de Torre-gletsjer.
Trekking naar Pliegue Tumbado
1. Moeilijkheidsgraad: matig.
2. Duur: 8 uur.
Deze trektocht biedt het beste panoramische uitzicht over de omgeving, een geweldig uitkijkpunt van het hele assortiment. U zult ook Del Viento Pass waarderen, toegang tot het continentale ijs kamp. Je neemt eerst het Laguna Toro-pad vanuit El Chalten, na een uur wandelen bereiken we ons eerste uitkijkpunt van Cerro Fitz Roy, Cerro Torre en Cerro Huemul. Vervolgens passeer je de "Pampa de las Carretas" waar je van pad verandert. Eenmaal boven het vegetatieniveau (ca. 1000m / a / s / l) vind je onder fossielen zoals ammonieten en belemnieten. De beschreven trektocht heeft ook het voordeel dat hij niet zo populair is als de andere, wat betekent dat er minder reizigers in de buurt zijn. Middag terugkeer naar El Chalten.
Viedma Discovery (trekking en navigatie)
1. Moeilijkheidsgraad: eenvoudig.
2. Duur: 6 uur.