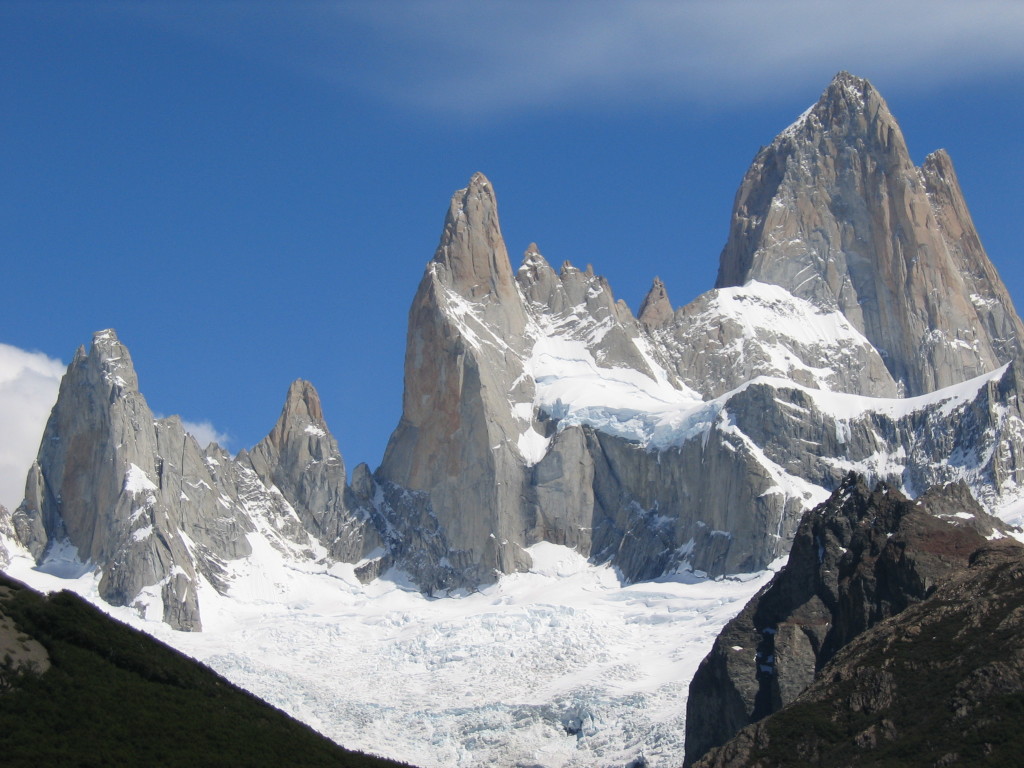 El Chalten – Argentina
El Chalten
Declared as the Trekking Capital of Argentina, this small 200-inhabitant village, set in a wonderful river valley with the peaks of the Fitz Roy Range as background, is considered by many trekkers and climbers the great challenge of Patagonia. Its limited access, the lack of services during part of year and the rough weather during fall and winter months have kept El Chalten with its mystical atmosphere, a place where mountain lovers share days and nights camping or enjoying any outdoor activity.
Chalten is the way the Mapuches named the Mount Fitz Roy, it means "mountain that smokes" and it clearly represents how the mountain can be frequently seen, with a cloud covering its top. Reaching the base of the Chalten takes a day of moderate trekking through the wood with scenic views of emerald or sapphire colored lagoons and granite snowcapped giants. Among other options, glacier trekking, mountain climbing, hiking, multi-day trekking and sailing are possible.
Andres Madsen, the famous Danish pioneer in Patagonia wrote about El Chalten in his chronicles' book "The old Patagonia": …down there, I found my childhood dream: lots of space and land without owners… We believe this magical piece of land preserves the same old essence…
Weather
What characterizes El Chalten when talking about weather is unpredictability; many of us were witness of experiencing the four seasons during the same day. Activities are available from October to April, when access and snow are not a problem. Average temperature during these months is between 15 Celsius degrees (59F) the maximum and 1 Celsius (34F) the minimum. Strong winds are always present during the summer time but it is not an obstacle as most of the trekking paths are sheltered by the wood and mountains.
When to come?
Known for its outdoors activities, the best period to come to El Chalten is between the months of October and April.
How long?
We suggest you to stay at least two nights in El Chalten, which will be the exact time to be able to trek to Laguna Los Tres and Laguna Torre. If possible, in order not to rush and be sure that the weather will not cause troubles to your plans, we suggest staying three nights
How to get there?
The only way to get to this trekkers village is by land. Several bus companies offer daily services from El Calafate (200km, 5h), schedules vary according to the season, in the peak months there are up to two departures, in the morning and in the afternoon. If you choose to get to El Chalten from the north, following the Route 40, whether on a tour or driving your own vehicle, it will take you at least 2 or 3 days. There are several Estancias and small towns with plain accommodation facilities on the way from Bariloche to the southern Patagonia.
Trekking to Laguna Los Tres
1. Difficulty: Moderate.
2. Length: 10 hours.
This traditional circuit is a must. Leaving Chalten, you will head to Poincenot camp, with magnificent views of the Fitz Roy Mt. After an hour of ascending, you will reach the first look-out of Fitz Roy Mt. From there, after walking two more hours reaching Rio Blanco camp site, another hour up the trail to Laguna de los Tres. You can also see Laguna Sucia and Lago Viedma in the distance. After lunch and some time at leisure, return to Chalten.
Trekking to Laguna Torre
1. Difficulty: Easy.
2. Length: 7 hours.
You will take the Laguna Torre path from El Chalten. After an hour of hiking you will reach the first lookout point. Then, you walk two more hours until getting to the Laguna Torre, one of the main attractions of the area. After lunch return to El Chalten.
Glaciar Torre Trekking
1. Difficulty: Moderate.
2. Length: 12 hours..
This tour will follow the same path described to Laguna Torre. Upon arrival, you will start a two-hour trekking on the Torre Glacier.
Trekking to Pliegue Tumbado
1. Difficulty: Moderate.
2. Length: 8 hours.
This trek provides the best panoramic views of the area, a great lookout point of the whole range. You will appreciate as well Del Viento Pass, access to the continental ice camp. You will first take the Laguna Toro trail from El Chalten, after an hour of hiking we reach our first lookout point of Cerro Fitz Roy, Cerro Torre and Cerro Huemul. Then, you will pass through the "Pampa de las Carretas" where you change path. Once above the vegetation level (approx. 1000m/a/s/l), you will find amongst fossils such as ammonites and belemnites. The described trek has also the advantage of not being as popular as the others which means less Travelers around. Afternoon return to El Chalten.
Viedma Discovery (trekking and navigation)
1. Difficulty: Easy.
2. Length: 6 hours.