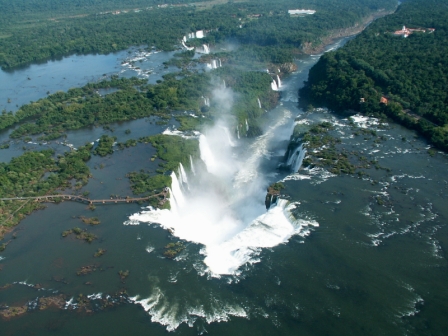 Iguazu- Argentinië
Iguazu
De Iguazu-watervallen bevinden zich in het Iguazu National Park dat wordt gedeeld door Argentinië en Brazilië, dat in 1984 is opgenomen in de UNESCO-lijst van menselijk en natuurlijk erfgoed. Het gebied wordt omarmd door een enorm en weelderig subtropisch regenwoud met duizenden watervallen, klein en groot rivieren die meerdere activiteiten mogelijk maken, meer dan 2000 soorten vaatplanten, en de thuisbasis is van de typische fauna van de regio: tapirs, reuzenmiereneters, brulapen, ocelotten, jaguars en kaaimannen.
Iguazu betekent in guarani "groot water" en er is een serieuze reden, er zijn ongeveer 275 watervallen tot 70 meter hoog. Het krachtige geluid van het vallende water is werkelijk geweldig. De meest verbazingwekkende site is Garganta del Diablo (Devil's Throat), de grootste val, aan de Argentijnse kant.
Weer
Het Iguazu-gebied geniet van subtropisch vochtig weer. De rivieren Parana en Iguazu, evenals de Itaipu-dam, beïnvloeden de vochtigheid van de bestemming. De heetste maanden in Iguazu Falls zijn van oktober tot april. Wintermaanden zijn wat koeler, vooral 's nachts. Het hele jaar door kunt u genieten van een warme sfeer.
Wanneer kom je?
Velen zeggen dat de beste tijd om Iguazu Falls te bezoeken van januari tot maart is, tijdens het regenseizoen; dit is wanneer de waterstroom van de waterval aanzienlijk wordt verhoogd. Gedurende de rest van het jaar is de doorstroming meer verminderd en zijn er weinig andere variaties. De waterval ziet er nog steeds het hele jaar door ongelooflijk uit
Hoe lang?
We raden je aan om minimaal twee nachten in Iguazu te blijven, waardoor je een hele dag kunt genieten van de Argentijnse kant van het Nationaal Park. Als je niet veel dagen hebt om aan dit wonder te wijden, kun je maar één nacht blijven, maar op deze manier wordt de beschikbare tijd voor rondleidingen aanzienlijk verminderd
Hoe geraak je er ?
De Iguazu-watervallen zijn per vliegtuig toegankelijk vanaf elk van de Argentijnse of Braziliaanse luchthavens – Puerto Iguazu (Arg) of Foz do Iguacu (Brz) – vanuit respectievelijk Buenos Aires (1: 45 uur) of Rio de Janeiro (2 uur). Met de bus vanuit Buenos Aires (16 uur), Rio de Janeiro (18 uur), Campo Grande (16 uur), Posadas (4 uur) of Salta (24 uur).
Watervallen
Deze tour neemt je mee naar het Iguazú National Park aan de Argentijnse kant van de grens, zodat je verschillende spectaculaire uitkijkpunten kunt verkennen van waaruit je de donderende watervallen kunt observeren. Twee van de hoogtepunten zijn uitkijkpunten over de Dos Hermanas (Two Sisters) -watervallen en La Garganta de Diablo (The Devil's Throat). Om bij de hoogste val te komen, neem je een ecologische trein die langs de rivier rijdt. Er zijn veel paden die u kunt verkennen om de kleurrijke en diverse flora en fauna van de regio te laten zien.
Gran adventure navigatie
De tour begint achterin een militaire vrachtwagen die je langs het ruige junglepad naar de dokken bij de rivier brengt. Met de 'open' vrachtwagen is het een geweldig uitkijkpunt om de vele parkieten, papegaaien, ara's, toekans en vele andere vogels, hagedissen, apen en talloze vlinders, 85 soorten orchideeën, bromelia's en guembes te zien die dit jungle-gebied noemen hun huis. Na ongeveer 45 minuten rijden door het bos, kom je aan bij hun dokken aan de rivier, waar je aan boord gaat van rivierboten die je adembenemend dicht bij de watervallen brengen voordat je aankomt bij een ander dok verder stroomopwaarts. Vanaf hier is er een optionele gratis reis naar het nabijgelegen eiland San Martin en de kans om het te verkennen.