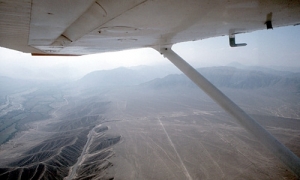 Nazca -Zuid Peru
De mysterieuze Nazca Lijnen
Nazca: 444 km vanaf lima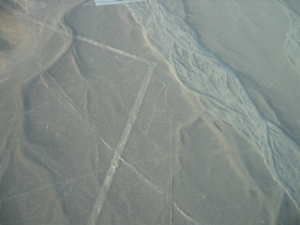 ---
Gelegen in een groene vallei tussen woestijn en bergen, ligt Nasca. De hoofdreden voor een bezoek aan dit dorpje, zijn demysterieuze Nasca lijnen. Juist voor je aankomt in Nasca, rijd je door een grote woestijnvlakte, vergelijkbaar met de Sahara. Het is in deze pampa dat de figuren in 1939 gevonden zijn. Het donkere oppervlak heeft een lichtere ondergrond. De figuren zijn waarschijnlijk gemaakt rond de jaren 300 en 900. Spijtig genoeg heeft de Pan-Amerikaanse weg deze streek met lijnen in 2 gedeeld. Sommige lijnen zijn wel 60m lang. Er zijn ook figuren zoals een walvis, een aap, een hond, een spin en een bloem. De lijnen zijn pas in 1939 vanuit een vliegtuig ontdekt. De grote figuren, gekerfd of getekend in de woestijn van Nasca, strekken zich uit over een 12 – tal km. Ze zijn overal en soms gekerfd in rotsen. Deze figuren gaan over ravijnen en bergen zonder dat de vorm van de lijnen of figuren vervormen. Deze lijnen hebben soms een breedte van 3 meter. Zelfs vandaag is niet geweten wie deze lijnen getekend heeft. Archeologen herkennen in de lijnen een astronomische kalender, maar kunnen eveneens aantonen waarom deze lijnen in de woestijn getekend zijn en op deze plaats.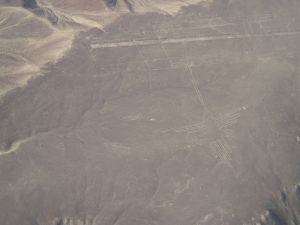 De Nasca priesters waren bekende astronomen. We denken dat deze figuren copies zijn van figuren, gevormd door de sterren. Dit laat ons toe een lijst te hebben van de beweging van de sterren. Dezelfde symbolen verschijnen in de lucht op bepaalde momenten, welke overeenkomen met belangrijke tijden voor de landbouw zoals regen en oogst. Naar aanleiding van de sterren, beslisten de landbouwers hun activiteiten. De diepte is de voorarm van een mens (32,5 cm) en 8 is een heilig nummer. (de spin heeft bijv. 8 poten) Maar het grootste mysterie zijn de grote lange lijnen die overal doorlopen. Volgens sommige etnologen, inbegrepen Charroux, kunnen ze een teken zijn van een andere wereld. De lijnen zijn perfect recht. Sommigen hebben een lengte van 10 mm en zijn volgens sommige mensen landingsbanen voor UFO 's… Ze laten licht toe van de zon, de maan en de sterren, zodat de seizoenen kunnen geteld worden.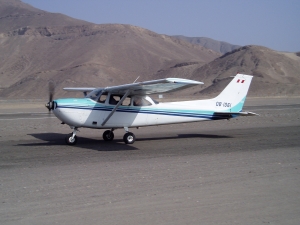 Een aap, een vis, een spin en een kolibrie zijn enkele van de vele figuren. Ze zijn enkel te bewonderen vanuit de lucht.
Nog niet zo lang geleden verliet Maria Reiche (1903 Duitsland-1998 Peru), de dame die genoemd wordt als de The Nasca Lady, Nasca. Ze kwam in 1946 eerder toevallig in Nasca en is blijven hangen! Dankzij haar hebben we de meest denkbare verklaring. Ze leefde heel de tijd in toeristenhotels aan de ingang van het dorp. Dit werd volledig betaald door de Peruviaanse regering als eer voor het onderzoekswerk dat ze deed. Interessante anekdote: al de Nasca figuren hebben 4 vingers en zij had… er ook maar 4!
De meer excentrieke Eric Von Daniken zegt dat de lijnen toehoren aan bezoekers van een andere planeet. Omdat de meeste lijnen georiënteerd zijn naar waterbronnen. Heel wat mensen veronderstellen dat het routes zijn voor processies naar waterbronnen. Ze zijn voor een ritueel en als offers om het volgende jaar water te krijgen (een belangrijk iets in de woestijn die nu reeds jaren droog staat!).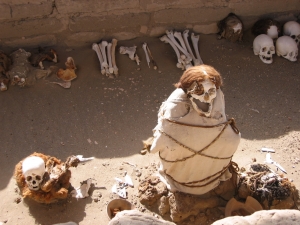 ---
De beste manier om de lijnen te bewonderen, is vanuit de lucht.
In een klein vliegtuigje ver de lijnen vliegen, is een onvergetelijke belevenis! Vluchten over de lijnen vertrekken heel de dag. Dit gebeurt in vliegtuigjes van 3 à 5 en 12 personen. De vlucht duurt 30 minuten en hangt af van het weer, zichtbaarheid en wind. Er kan dus vooraf geen uur van vliegen bepaald worden.
Een advies voor je de vlucht neemt. Eet niet te veel! Je kunt er spijt van krijgen! Eet wel iets want een lege maag is erger. Omdat de vliegtuigen op een hoogte van 300m vliegen en aan 220 km/h, gebruik je best een snelle film en een polariseer filter om foto 's te maken. Dit om reflectie in het glas te vermijden. Geadviseerde lenzen: 50 en 135 mm. Uiteindelijk koop je beter postkaarten, dan door de zoeker van je camera alles te volgen. Het weer in deze regio is warm en droog, het hele jaar door!
Chauchilla kerkhof
Nabij Nasca kan je ook een bezoek brengen aan het Chauchilla kerkhof. Nasca en omgeving hebben meer dan 100 kerkhoven met perfect bewaarde mummies en kleding. Chauchilla ligt op 30 km van Nasca en is het meest populaire kerkhof met goed bewaarde mummies en graven. Na de tour bezoek je ook nog een kleine pottenbakkerij en een goudmijn project.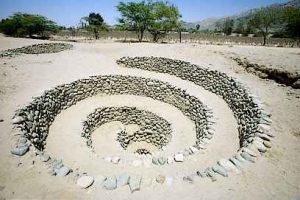 ---
Het ondergrondse aquaduct werken nog steeds!
De provincie Nasca aan de zuidkust is een zeer droge omgeving. Water is er enkel in rivierbeddingen en zelfs deze staan meestal droog. Historisch: Het aquaduct voorziet de vallei van een redelijke bron van water, zelfs in de jaren dat de rivieren droog staan en de waterputten leeg zijn. Het ondergrondse aquaduct wordt bevoorraad met water en ondergrondse kanalen, die van de Andes komen. Het smeltwater van de Andestoppen vloeit terug naar de vallei, richting kust. Deze aquaducten zijn met elkaar verbonden en zorgen zo voor een constant water systeem. Verschillende bronnen zeggen al lang dat de Nasca lijnen verbonden zijn aan de waterbronnen, maar nog niemand heeft ooit iets kunnen bewijzen.
ALGEMEEN
-BANK: Banco de credito. Hoek Callle Lima en Grau. Wisselt cash en travel cheques. Er is ook Interbank op de plaza. Pinautomaat voor hotel Casa Andina op jr Bolognesi.
-Internet: Op verschillende plaatsen in het centrum. Velen hebben pas na 19.00 verbinding.
-Post: Op Fermin de Castillo 37
De naam Nazca of Nasca is afgeleid van het quechua – woord 'Nanay' dat pijn betekent (Nanasca= hij die pijn geleden heeft). In deze dorre woestijnomgeving is dit een toepasselijke benaming. Nasca is een woestijndorpje zo´n 443 km via de Panamericana ten zuiden van Lima en voornamelijk bekend om de mysterieuze Nasca – lijnen. Even ten noorden van Nasca is een uitkijktoren vanwaar je drie Nasca – symbolen kunt zien: de hagedis (doorsneden door de Panamericana), de boom en de hand (taxi vanuit Nasca = 30 sol). Een paar kilometer verderop, bij een rivierdal, is een klein museum in het huis waar Maria Reiche lange tijd gewoond heeft. In de tuin met fraaie bougainvillias liggen Maria Reiche en haar zuster begraven. In hotel Nasca Lines kan je 's avonds een lezing bijwonen over de theorie van Maria Reiche, gecombineerd met een sterrenobservatie.