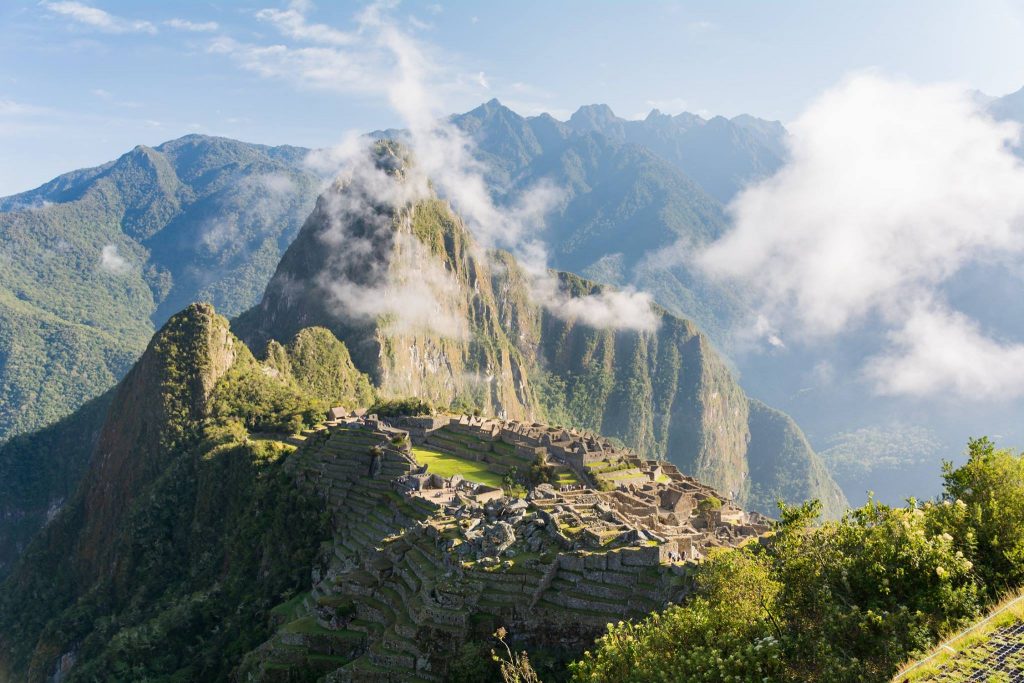 Regels 2020 Machu Picchu en meer ,,,
Enkele nieuwe dingen 2020 !
1 Machu picchu
* iedereen verplicht vast circuit te volgen ,,, op het einde ga je dan buiten aan andere uitgang dan ingang ,,,, dus het is niet mogelijk om terug binnen te gaan om eventueel naar zonnepoort te wandelen
* verplicht met gids en gids doet tour van 2 1/2 h
* mensen die huayna picchu permit hebben mogen iets langer blijven/ Er zijn maar 3 inkom uren met elk 100 permits per dag die snel uitverkocht zijn 6-7 en 8 AM. Indien iemand Machu picchu Montagne berg wil doen moet hij 2 dure inkomtickets kopen daar het niet lukt op gegeven tijden ,,( op dit moment)
* eens je buiten bent mag je ook niet meer binnen ,,,, ook niet om te gaan plassen en binnen is er geen wc
* Elk uur 6 – 7 – 8 AM zijn er 800 Permits/ de eerste uren zijn snel uitverkocht daar iedereen deze uren wenst / dus snel wezen als je bij de eerste uren op machu picchu wil, nadien is het 560 Permits per uur/laatste inkomtickets zijn om 14 H
* NEW alle plastiek is verboden, op machu picchu en eender welk ander nationaal park. Enkel mogelijk om met aluminium of camel bag te betreden. Dus dit meebrengen of in Peru kopen.
LET OP DEZE INFO VERANDERD NOG CONSTANT EN STAAT DUS NIET 100 % VAST.
2 Bagages tijdens een Peru reis
* als je op titicaca gaat slapen op amantani, blijft grote bagage in puno aan de receptie van je hotel achter.
* als je in heilige vallei gaat slapen en eventueel nadien naar aquas calientes ( Machu Picchu) gaat, ook grote bagage in cusco hotel achter laten, grote bagage mogen niet op de trein !
* bij elke jungle lodge in Puerto Maldonado, moeten mensen met kleine bagage voor 3 a 4 dagen naar de lodge gaan, elke lodge heeft een kantoor IN Puerto Maldonado, waar je de grote bagage veilig kan achterlaten, en voor de vlucht naar Lima, terug kan oppikken, je hebt tijd ter plaatse om te herpakken, maar de boten zijn niet voorzien op grote bagage en zo kunnen er ook geen allerhande dieren in bagage kruipen ,,,,
3 nieuwe wet minderjarigen onder de 18 mogen niet alleen reizen, mits voorlegging officieel attest
4 toerisme is al jaren vrijgesteld van 18 % taks op excursies en overnachting , maar dit is ENKEL , als je niet langer dan 30 dagen in Peru blijft, ben je langer dan 60 dagen in Peru, komt er op alles 18 % tax bovenop ,,, dus goed uitrekenen hoeveel dagen je in Peru blijft, ga je na 60 dagen even de grens over, en komt je terug binnen, heb je opnieuw een 60 dagen stempel.
5 Dat is dus ook de reden dan we een scan en foto maken en vragen van paspoort en inkom stempel in Peru, door de privacy wet is het moeilijker, maar noodzakelijk voor vrijstelling 18 % aankoop Muchu pichu tickets, treinen, bussen en vluchten. We verklaren hier daarom ook dat paspoorten ENKEL voor deze doeleinden gebruikt worden en NIETS ANDERS
6 Incatrail permits 2020 worden reeds volop verkocht, verschillende maanden zijn reeds volzet ,,,, maar er zijn mooie alternatieve trektochten ! ook in 2020-2021 zijn we officiële operator van de incatrail met de vergunning, eigen tenten en materiaal. Ook inca trailers mogen maar maxima 4 h op machu picchu en zijn niet toegelaten op op Huayna Picchu berg. Indien je met oud paspoort boekt of met identiteitskaart nr , is het zeer belangrijk ook dat document waarop geboekt is samen met actuele paspoort mee te brengen!
7 Speciale data PERU
* er in Arequipa de internationale mijn conventie is, ook hier 1 week alles volzet of aan belachelijke prijzen
Hou rekening met deze data van verhoogde prijzen in hotels of geen plaats
CUSCO Inti Raymi (Cusco: 21 tot 24 de Juni)
CUSCO Semana Santa (Cusco: 17 tot 21 de April
Fiestas Patrias (: 26 tot 29 de Juli)
Een Fantastische reis 2020-2021 gewenst vanwege het voltallige Southamericaplanet team !