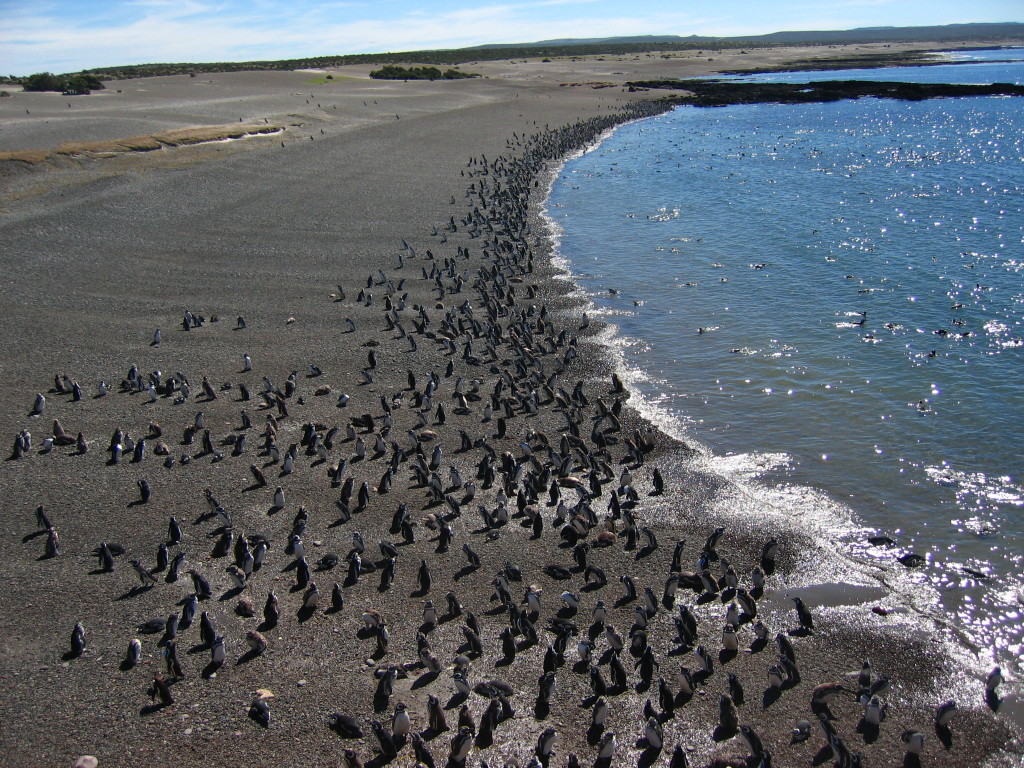 Puerto Madryn – Peninsula valdes – Argentinië
Puerto Madryn en valdes  het schiereiland
Puerto Madryn, gelegen aan de Atlantische kust van de provincie Chubut, 1400 km (870 mijl) ten zuiden van Buenos Aires, werd in 1865 gesticht door immigranten uit Wales.
Het belang van de stad ligt in de nabijheid van twee belangrijke beschermde natuurgebieden: Peninsula Valdes en Punta Tombo-pinguïn  Het werd al snel een internationaal toeristisch centrum om verschillende soorten te zien: Southern Right Whale, Magellan's Penguin, Sea Lions, Elephant Seals, Commerson's Dolphins, Orcas en verschillende soorten vogels. Tegenwoordig stoppen zelfs cruisemaatschappijen tijdens hun reis in Puerto Madryn.
De stad werd uitgeroepen tot nationale hoofdstad van het duiken dankzij de enorme activiteit, veel duikliefhebbers komen hier alleen maar om dichter in contact te komen met zeedieren die zich onderdompelen in de koude wateren van de Golf van Nuevo of San Jose.
In de zomer wordt het druk in de stad omdat veel inwoners van de omgeving Puerto Madryn kiezen als strandresort, daar stranden de oplossing zijn voor de warme dagen.
Weer
Ondanks dat het in Patagonië is gelegen, genieten Puerto Madryn en het schiereiland Valdes van een gematigd weer dankzij de oceaan. In de zomer zijn de dagen warm en de nachten koel. In de winter zijn de dagen koel en de nachten koud. Regen is niet gebruikelijk, vooral niet op het schiereiland.
Wanneer kom je?
Aangezien Puerto Madryn en het schiereiland Valdes  belangrijke regionale fauna heeft , wordt de beste tijd om het gebied te bezoeken bepaald door de periode waarin deze fauna te zien is. In de onderstaande lijst ziet u de dieren kalender
pinguïns van september tot april
Walvissen van juni tot november
Orka's van november tot april
Zee leeuwen het hele jaar
Zeeolifanten van september tot april
Dolfijn van sept tot april
Hoe lang?
We raden je aan om minimaal drie nachten in het gebied te blijven, zodat je zowel Peninsula Valdes als Punta Tombo zonder haast kunt bezoeken. In het geval dat u tussen mei en september reist, zijn twee nachten voldoende om alleen Peninsula Valdes te bezoeken, aangezien het Punta Tombo-reservaat gesloten is.
Hoe geraak je er?
Puerto Madryn is het hele jaar door per vliegtuig bereikbaar vanuit Buenos Aires (2 uur) en het hele jaar door vanuit Ushuaia (2 tot 3 uur) of El Calafate (1,4 uur) volgens het schema van de luchtvaartmaatschappij. Met de bus kunt u het hele jaar door vanuit Buenos Aires (18 uur) of Bariloche (14 uur) naar Puerto Madryn reizen. Er is een optie om vanuit Bariloche naar Puerto Madryn te komen, met een nachttrein naar San Antonio Oeste en een bus naar de eindbestemming, de vertrektijden variëren afhankelijk van het seizoen.
Musea
– Eco Centro, Puerto Madryn Interpretation Centre & Museum (PMY)
– Museum voor Moderne Kunst (PMY)
– Natuurwetenschappen en Oceanografisch Museum (PMY)
– Schiereiland Valdes Interpretatiecentrum en Museum (PIR)
– Salesian Regional Museum (RAW)
– Paleontologisch museum Edigio Feruglio (REL)
– Pueblo de Luis Museum (REL)
Tour Peninsula Valdez (11 uur)
We vertrekken vroeg in de ochtend naar Puerto Pirámides. Daar heb je van mei tot december de mogelijkheid om een ​​boot te nemen om walvissen te spotten en zeeleeuwen en aalscholvers te zien. Vanaf Pirámides vertrekken we naar het zuiden van het schiereiland via Salinas Grande y Chica. Als je rond het middaguur naar Punta Delgada gaat, heb je tijd voor de lunch. In Punta Delgada hebben we de kans om de kliffen af ​​te dalen en bij de zeeolifanten te wandelen. Vervolgens gaan we naar Punta Cantor om de buitenkust van het schiereiland te zien en komen we bij Caleta Valdés om geologische formaties te interpreteren. Op weg naar Ameghino Landengte hebben we goede kansen om wilde landfauna tegen te komen, zoals guanaco's, nandoes, vossen, mara's (Patagonische haas), gordeldieren, stinkdieren, etc. Aankomst in uw hotel in de late namiddag.